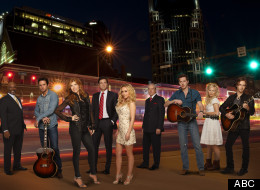 We've seen ABC's new fall and midseason pilots, and while they're not for review (things often change drastically before the shows are set to premiere), we do want to share our first reactions with you.
This quick guide is designed to get you excited for some new shows ... and to warn you to curb your enthusiasm for others. Just keep in mind that we'll have full reviews of the final pilots closer to airdate. For now, here are our snap judgments of all of ABC's new shows for the 2012-2013 TV season.
There are 10 new scripted shows coming to ABC that were ready to preview -- the good (welcome back, Shawn Ryan), the questionable (an "ER" alum in a drama with Nazis?) and the someone-please-save-Reba-McEntire ("Malibu Country," just stop) -- and HuffPost TV staff Maureen Ryan, Maggie Furlong, Jaimie Etkin, Chris Harnick, Alex Moaba, Leigh Weingus and Laura Prudom had plenty of varying opinions.
Here's how we broke them down:
Watch It - awesome show, can't wait for more
Skip It - it's either horrible or just totally not their thing
DVR It - there's potential, will give it a second chance
FALL 2012


"666 PARK AVENUE"
Read more about "666 Park Avenue" and watch the trailer here
Ryan: Skip It
"Revenge" has fun with its status as a classic nighttime soap, so why can't this show have a good time with its melodramatic premise? Sadly, "666" takes itself deadly seriously, which is kind of goofy given the "killer apartment building" concept at the show's core. I love me some Terry O'Quinn, but I'm far from convinced that this can work long-term or even medium-term.
Furlong: Watch It
I think this could be the supernatural show for people who don't really like supernatural shows. The cast is phenomenal and there's plenty of mystery to uncover.
Etkin: DVR It
It's no "Lost," but I will watch Terry O'Quinn play his typecast friendly, yet creepy bald character any day, especially in a New York City apartment building as stunning as this one.
Harnick: DVR It
While the pairing of Terry O'Quinn and Vanessa Williams steals the show, I'm not exactly convinced this supernatural thriller has the chops to make it into my official TV schedule.
Moaba: Skip it
Why are everyone's hands bleeding? Why do John Locke and Ben Linus from "Lost" only get cast in shows where they're playing mysterious puppetmasters? Why do I care? Wait, I don't.
Weingus: Watch It
If you're a fan of thrillers and don't mind jumping our of your seat every few scenes, don't miss this one.
Prudom: Watch It
It needs to decide whether it wants to be campy or a real drama, because right now the bipolar tone is throwing me a little, but the cast is great and I like supernatural shows, so I'm willing to see where it goes.
"LAST RESORT"
Read more about "Last Resort" and watch the trailer here
Ryan: Watch It
Easily the most exciting new show of the fall. I can't exactly see how they'll turn this excellent pilot into a TV show, but I can't wait to see the creative team try.
Furlong: Watch It
I'm not sure where this one goes after the pilot, but with Shawn Ryan at the helm and this cast, I'll keep watching to find out.
Harnick: Skip It
Just not my thing, but it wasn't terrible.
Moaba: Watch It
Andre Braugher kills it as a kick-ass submarine commander who's forced to go rogue after his ship is used as a pawn to provoke a nuclear war with Pakistan. Most suspenseful, politically-relevant sub drama since "Crimson Tide." I DON'T HAVE TO THINK THIS OVER.
Weingus: Skip It
Everyone seems to be in a state of constant panic in "Last Resort" ... except maybe the viewer.
Prudom: Watch It
It boasts an excellent cast and a surprising amount of tension. I'm not sure what the long-term plan is, but the pilot is intriguing enough that I'm curious to find out -- parts of it felt like a Tom Clancy adaptation.
"MALIBU COUNTRY"
Read more about "Malibu Country" and watch the trailer here
Ryan: DVR It
I will not watch further episodes of this show, but I said "DVR It" because this very traditional sitcom will likely be perfectly acceptable to fans of Reba McEntire (and Lily Tomlin, who plays her sassy mama). It's this year's "Last Man Standing": inoffensive, corny, competent and not really for me, but it may well find an audience.
Furlong: Skip It
Reba is a star, people, but someone needs to tell her and this show's writing staff that it's 2012. Even a pot-loving granny (come on, Lily Tomlin) can't counteract the hokey jokes and an unforgivable homophobic moment. Have fun on Friday nights with that awful Tim Allen show that I've also forgotten about since the pilot!
Etkin: Skip It
I loathed nearly everything about this, yet I assume it will be the most watched show in its timeslot.
Harnick: Skip It
Is it too early to start the "Save Lily Tomlin!" campaign? Never trust a multi-camera sitcom that has gay and drug jokes in the pilot.
Moaba: Skip It
The studio audience/laugh track found it a lot funnier than I did (the lone exception being when when Lily Tomlin's character got a hold of a weed lollipop). But I could see middle America tuning in to watch Reba and Tomlin navigate the culture shock of moving their family from Nashville to Southern California.
Weingus: Skip It
Reba's no fun, the supporting characters are obnoxious, and laugh tracks are (or should be) a trend of yesteryear!
Prudom: Skip It
Everything I hate about multi-camera sitcoms. If you, like me, dig the southern accents, just cut your losses and watch "Nashville" instead.
"NASHVILLE"
Read more about "Nashville" and watch the trailer here
Ryan: Watch It
I'm not necessarily interested in the lives of country singers in Nashville, but this show made me interested. Connie Britton anchors a strong cast and there's some real potential (and pretty good music) here.
Furlong: Watch It
Connie Britton country catfighting with Hayden Panettiere? And some good music to boot? Even if you don't like country music, tune in for this soapy drama.
Etkin: DVR It
So it is "Country Strong" without the drinking problem. But it is Tami Taylor so it'd make for an entertaining marathon after saving enough episodes up on my DVR.
Harnick: Watch It
You won't get a much better feud than Connie vs. Hayden this season. Lots of interesting plots to explore in this soapy musical.
Moaba: Skip It
"Smash" for country fans. In other words, see you never.
Weingus: Watch It
It's heartwarming. It's fun. Plus, Tami Taylor's back!
Prudom: Watch It
One of my top three pilots of the year -- Connie Britton is flawless, the script is engaging and the songs will be stuck in your head for days.
"THE NEIGHBORS"
Read more about "The Neighbors" and watch the trailer here
Ryan: Skip It
I don't have the words. Except this one: NO!
Furlong: Skip It
I didn't give up on this show when I heard the neighborhood-full-of-aliens premise, but I gave up pretty quickly when I saw how poorly executed that concept is here. (Sidenote: Apologies to the stars of this show, but they didn't cast a single "star" that can carry a sitcom.)
Etkin: Skip it
Stay as far away from this show as humanly and alien-ly possible. Plus, "Coneheads" called and they would want the rights to this ripoff ... that is, if anyone would dare want to be associated with this abomination.
Harnick: Skip It
The only reasonable explanation for "Neighbors" is ABC is playing an elaborate, expensive prank on the public.
Moaba: Skip It
I almost want to recommend watching it -- just once, or really, just for five minutes -- to take in the sheer weirdness, unintentional comedy factor and campy "Mars Attacks" vibe.
Weingus: Skip It
It's like "Pleasantville" meets "Stepford Wives" ... or something equally as horrible.
Prudom: Skip It
What were they thinking? "Third Rock From The Sun," this ain't.
MIDSEASON 2013
"THE FAMILY TOOLS"
Read more about "The Family Tools" and watch the trailer here
Furlong: Skip It
Why can't Kyle Bornheimer find a show that's right for his particular brand of hilarious-guy-next-door comedy? I was pumped when I heard he'd gotten a new show ... then I watched this. Maybe next season!
Etkin: Skip It
On the upside, there's a pretty adorable puppy that shows up mid-pilot. On the downside, everything besides the puppy.
Harnick: Skip It
Tropey and boring. No mas!
Moaba: Skip It
Such a weak, laughless pilot that I felt like a tool for watching it.
Weingus: Skip It
In what world is a failure of a son taking over his father's repair business against a suburban backdrop even slightly interesting?
Prudom: DVR It
The first half made me snore, but moments in the second half made me chuckle, so I guess it has potential?
"HOW TO LIVE WITH YOUR PARENTS (FOR THE REST OF YOUR LIFE)"
Read more about "How To Live With Your Parents (For the Rest of Your Life)" and watch the trailer here
Ryan: DVR It
Sarah Chalke long ago proved that she's one of TV's most consistently winning and skilled comedy performers, and if the rest of this show is a little broad and manic, it might settle down into something sweet and mildly entertaining. Fingers crossed it's the next "Suburgatory."
Furlong: DVR It
Get past the name -- seriously, just do it -- and give this show a shot, just for the cast alone. Quirky and cute, it has potential.
Etkin: DVR It
Another one of those shows that I want to like because of its stars -- Sarah Chalke! Elizabeth Perkins! Another adorable little girl! -- but it didn't quite work. But "HTLWYPFTROYL" has some things to work out ... obviously.
Harnick: DVR It
It's sort of cute, but annoying at the same time. Hopefully the kinks will get worked out.
Moaba: DVR It
Nothing lol-worthy, but Elizabeth Perkins, Brad Garrett and Brad Garrett's earring playing kooky, too-sexually adventurous grandparents had me chuckling occasionally. Enjoyed the final montage set to Edward Sharpe & The Magnetic Zeros' "Home" more than the rest of the pilot, which probably isn't a great sign.
Weingus: DVR It
The pilot was entertaining, but the pathetic "I'm in my 30s and live with my parents" storyline will likely get old.
Prudom: DVR It
The pilot was light on laughs, but it has a great ensemble, so I'm hoping the scripts sharpen up.
"MISTRESSES"
Read more about "Mistresses" and watch the trailer here
Furlong: DVR It
After that soft core porn excuse for a trailer (cheesy clips, bad lighting and all), I was dreading this one, but was pleasantly surprised. These four women are like the modern-day L.A. version of "Sex and the City" -- and, thankfully, there's nothing desperate or housewife-y about them.
Etkin: DVR It
It's a little bit "Desperate Housewives" without the camp -- with storylines both mysterious and realistic -- and I don't think that's a bad thing. Plus, Sun!
Harnick: DVR It
Not a perfect pilot, but I would definitely give this show another shot.
Prudom: Skip It
It's not terrible, but there's nothing original, inventive or all that compelling about it, and you can see the "twists" coming from a mile away.
"RED WIDOW"
Read more about "Red Widow" and watch the trailer here
Furlong: DVR It
This is what Ashley Judd's "Missing" wishes it had been. Radha Mitchell is a badass, and there's plenty of intrigue here. Curious to see where it goes next.
Harnick: Skip It
There's sort of a "Missing" vibe, but not nearly as hammy. "Red Widow" seems a bit out of place on ABC and I will happily ignore it.
Moaba: Skip It
Not bad, not good, not particularly memorable in any way. A show about pot smuggling should be a lot cooler, man.
Weingus: DVR It
Thanks to a stone-faced little kid with a gun and a mysterious plot, "Red Widow" is definitely DVR-worthy.
Prudom: DVR It
The pilot felt about two hours long and got bogged down in laying groundwork for the rest of the season, so I didn't see much actual plot movement, but I might check out the second episode to see where it intends to go from here, since it seems to have ambition and a strong female lead.
"ZERO HOUR"
Read more about "Zero Hour" and watch the trailer here
Ryan: DVR It
Did Anthony Edwards' "ER" money run out already? What's up with that? Having said that, I have a weak spot for mythology-oriented shows, and amid the hyperactive melodrama and leaden dialogue, there were some nice "X-Files"-ish flourishes, so I'll give "Zero Hour" a few episodes to find itself. I may well regret it, but I can't help myself.
Furlong: Skip It
If the bizarro Nazi conspiracy theories don't turn you off, the repeated clock imagery certainly will. When a show's this dull, you might not want to keep reminding your audience of how much time they're wasting watching.
Harnick: Skip It
Dr. Greene's return to TV is a mix of "National Treasure" and "The Da Vinci Code," but I still expect him to save strap on a stethoscope and save me from my boredom.
Moaba: Skip It
Nazis, treasure-hunting, Anthony Edwards. Zero interest.
Weingus: Skip It
Enough with the melodrama, ABC!
Prudom: DVR It
It has "Da Vinci Code" aspirations and an intriguing premise, so I'll give it a second look, although Anthony Edwards is surprisingly low energy. Glad to see "Greek's" Scott Michael Foster livening things up.
Tell us: Which of these new ABC shows are you excited to see for yourself?
Check out our snap judgments of other pilots here, by network:

NBC | Fox | The CW | CBS
Check out trailer and more info on ABC's new 2012-2013 shows here:
Chart-topping Rayna James (Connie Britton) is a country legend who's had a career any singer would envy, though lately her popularity is starting to wane. Fans still line up to get her autograph, but she's not packing the arenas like she used to. Rayna's record label thinks a concert tour, opening for up-and-comer Juliette Barnes (Hayden Panettiere), the young and sexy future of country music, is just what Rayna needs. But scheming Juliette can't wait to steal Rayna's spotlight. Sharing a stage with that disrespectful, untalented, little vixen is the last thing Rayna wants to do, which sets up a power struggle for popularity. Could the undiscovered songwriting talent of Scarlett O'Connor (Clare Bowen) be the key to helping Rayna resurrect her career? Complicating matters, Rayna's wealthy but estranged father, Lamar Hampton (Powers Boothe), is a powerful force in business, Tennessee politics, and the lives of his two grown daughters. His drive for power results in a scheme to back Rayna's handsome husband, Teddy, in a run for Mayor of Nashville, against Rayna's wishes.

Welcome to a provocative and thrilling drama about the scandalous lives of a sexy and sassy group of four girlfriends, each on her own path to self-discovery, as they brave the turbulent journey together. Meet Savi (Alyssa Milano), a successful career woman working toward the next phase in her life -- both professional and personal -- simultaneously bucking for partner at her law firm while she and her husband, Harry (Brett Tucker), try to start a family of their own. Savi's free-spirited and capricious baby sister, Josselyn (Jes Macallan), couldn't be more different - living single, serial dating and partying, and regularly leaning on her big sister along the way. Their common best friend, April (Rochelle Aytes), a recent widow and mother of two, is rebuilding her life after tragedy and learning to move forward, with the support and guidance of her closest girlfriends. And friend Karen (Yunjin Kim), a successful therapist with her own practice, reconnects with the girls after her involvement in a complicated relationship with a patient goes far too deep. Based on the U.K. television series, "Mistresses" is from K.J. Steinberg ("Gossip Girl").

When Reba Gallagher (Reba) discovers that her husband, Bobby, (Jeffrey Nordling) a country music legend, has a cheatin' heart, her world is turned upside down. Reba dreamt of becoming a country star herself, but put her career on hold to raise a family. Now she's questioning all of that, big-time. With the ink on her divorce barely dry, Reba packs up her sharp-tongued mother, Lillie May (Lily Tomlin), her two kids and the U-Haul and heads for sunny California to begin a new chapter. Leaving Nashville in the rear view, they start over at their Malibu residence -- the last remaining asset they have. Reba gets to know her new open and loving neighbor Kim (Sara Rue) and her son, Sage, but also discovers that relocation to Southern California is going to be quite an adjustment for a traditional southern belle: the West Coast seems like the polar opposite of Music City, and Reba feels like an outsider. Still, with the support of her family she sets about finding her voice, jump-starting her music career with the help of her new music agent, Geoffrey (Jai Rodriguez), and embracing this chance to begin again.

Based on the book series by Gabriella Pierce, at "666 Park Avenue," anything you desire can be yours. Everyone has needs, desires and ambition. For the residents of The Drake, these will all be met, courtesy of the building's mysterious owner, Gavin Doran (Terry O'Quinn). But every Faustian contract comes with a price. When Jane Van Veen (Rachael Taylor) and Henry Martin (Dave Annable), an idealistic young couple from the Midwest, are offered the opportunity to manage the historic building, they not only fall prey to the machinations of Doran and his mysterious wife, Olivia (Vanessa Williams), but unwittingly begin to experience the shadowy, supernatural forces within the building that imprison and endanger the lives of the residents inside. Sexy, seductive and inviting, The Drake maintains a dark hold over all of its residents, tempting them through their ambitions and desires, in this chilling new drama that's home to an epic struggle of good versus evil.

Polly (Sarah Chalke) is a single mom who's been divorced for almost a year. The transition wasn't easy for her, especially in this economy. So, like a lot of young people living in this new reality, she and her daughter, Natalie (Rachel Eggleston), have moved back home with her eccentric parents, Elaine (Elizabeth Perkins) and Max (Brad Garrett). But Polly and her parents look at life through two different lenses. Polly's too uptight. Her parents are too laid back. Polly's conservative when it comes to dating (no action, whatsoever), while her parents are still sexually adventurous. They think Polly turned out okay, so what's the big deal? Well, they say it takes a village to raise a child...and in Polly's case, this village is on fire. But with help from her best friend Gregg (Orlando Jones), her lovable yet irresponsible ex-husband Julian (Jon Dore) and her cool and fun assistant Jenn (Rebecca Delgado Smith) Polly takes her first steps toward getting a life, starting with a social one.

As the publisher of a paranormal enthusiast magazine, Modern Skeptic, Hank Galliston (Anthony Edwards) has spent his career following clues, debunking myths and solving conspiracies. A confessed paranormal junkie, his motto is "logic is the compass." But when his beautiful wife, Laila (Jacinda Barrett), is abducted from her antique clock shop, Hank gets pulled into one of the most compelling mysteries in human history, stretching around the world and back centuries. Contained in one of his wife's clocks is a treasure map, and what it leads to could be cataclysmic. Now it's up to Hank to decipher the symbols and unlock the secrets of the map, while ensuring the answers don't fall into the wrong hands -- a man they call White Vincent (Michael Nyqvist). With his two young associates, Rachel (Addison Timlin) and Arron (Scott Michael Foster), in tow, along with Becca Riley, a sexy FBI agent (Carmen Ejogo), Hank will lead them on a breathless race against the clock to find his wife and save humanity.

Written by Shawn Ryan ("The Shield," "The Unit," "The Chicago Code"), "Last Resort" is set 500 feet beneath the ocean's surface, where the U.S. ballistic missile submarine Colorado receive their orders. Over a radio channel, designed only to be used if their homeland has been wiped out, they're told to fire nuclear weapons at Pakistan. Captain Marcus Chaplin (Andre Braugher) demands confirmation of the orders only to be unceremoniously relieved of duty by the White House. XO Sam Kendal (Scott Speedman) finds himself suddenly in charge of the submarine and facing the same difficult decision. When he also refuses to fire without confirmation of the orders, the Colorado is targeted, fired upon, and hit. The submarine and its crew find themselves crippled on the ocean floor, declared rogue enemies of their own country. Now, with nowhere left to turn, Chaplin and Kendal take the sub on the run and bring the men and women of the Colorado to an exotic island. Here they will find refuge, romance and a chance at a new life, even as they try to clear their names and get home.

When Marta Walraven's (Radha Mitchell) husband is brutally murdered, her first instinct is to protect her three young children. Her husband's business partners -- Irwin Petrova (Wil Traval), Marta's scheming and untrustworthy brother, and Mike Tomlin (Lee Tergesen) -- were involved in an illegal drug business deal with rival gangsters, and Marta's husband paid the ultimate price. She already knows the violent world of organized crime; her father, Andrei Petrova (Rade Sherbedzija), and loyal bodyguard Luther (Luke Goss) are gangsters too. She and her sister Kat (Jaime Ray Newman) had always wished for a safer life without bloodshed and fear. For a while Marta lived happily as a stay at home housewife in San Marta's cooperation, FBI Agent James Ramos (Mido Hamada) now promises justice. Marta discovers a tenacity she never knew she had, and takes on the gangsters and the FBI to unveil the truth about her husband's death. As she digs into this dark underworld, she'll test her own strength, relying on her resourcefulness, determination and family ties like never before. To get out of this mob, she needs to beat the bad guys at their own deadly game.

Mixing family with business is never easy, and Jack Shea (Kyle Bornheimer) is about to learn that lesson the hard way. When Jack's father, Tony (J.K. Simmons), has a heart attack and is forced to hand over the keys to his beloved handyman business, Jack is eager to finally step up and make his father proud. Unfortunately Jack's past career efforts have been less than stellar, so everyone seems to be waiting for him to fail. His new job isn't made any easier by Tony's rebellious, troublemaker assistant, Darren (Edi Gathegi), and Darren's flirtatious sister, Liz (Danielle Nicolet), who works at the local hardware store. Yet with the support of his Aunt Terry (Leah Remini) and his oddball yet endearing cousin Mason (Johnny Pemberton), Jack Shea may just find his true calling right at home.

How well do you know your neighbors? Meet the Weavers, Debbie (Jami Gertz) and Marty (Lenny Venito). Marty, in hopes of providing a better life for his wife and three kids, recently bought a home in Hidden Hills, a gated New Jersey townhouse community with its own golf course. Hidden Hills is so exclusive that a house hasn't come on the market in 10 years. But one finally did and the Weavers got it! It's clear from day one that the residents of Hidden Hills are a little different. For starters, their new neighbors all have pro-athlete names like Reggie Jackson (Tim Jo), Jackie Joyner-Kersee (Toks Olagundoye), Dick Butkis (Ian Patrick) and Larry Bird (Simon Templeman). Over dinner, Marty and his family discover that their neighbors receive nourishment through their eyes by reading books, rather than eating. The Weavers soon learn that the entire community is comprised of aliens from Zabvron, where the men bear children and everyone cries green goo from their ears. The Zabvronians have been stationed on Earth for the past 10 years, disguised as humans, awaiting instructions from home, and the Weavers are the first humans they've had the opportunity to know. As it turns out, the pressures of marriage and parenthood are not exclusive to planet Earth. Two worlds will collide with hilarious consequences as everyone discovers they can "totally relate" and learn a lot from each other.