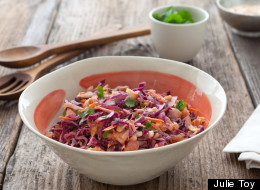 Cabbage doesn't get its due respect -- most people just think of it as an odiferous vegetable that always gets cooked down until unrecognizable, but cabbage can be better than that. Slaws are one of the best ways to enjoy cabbage, because the cabbage keeps its texture and flavor -- plus it never gets smelly because it's never heated up, which is what makes cabbage emit gasses. The great thing about slaws is that they can be made in advance, which only makes them taste better as they marinade with dressing or vinaigrette.
Summer is the perfect time to enjoy cabbage raw -- a slaw makes the best side dish for hamburgers, hot dogs, steaks and any number of grilled foods. If you're really experimental you can even put that slaw on top of things like hot dogs, barbecued sandwiches, tacos and more. See all the ways you can make and use slaws in the slideshow below.
This homemade coleslaw has a bit of French flair from white wine vinegar, Dijon mustard and creme fraiche instead of sour cream. It's creamy, sweet and tangy. Get the Homemade Coleslaw recipe

A simple slaw is a great topping for tacos made at home. Try it on fish tacos, beef tacos or these pork tenderloin tacos. All the slaw recipe entails is tossing the cabbage with oil and lime juice. Get the Soft Tacos with Pork, Cabbage Slaw and Avocado Mash recipe

Chipotle peppers in adobo sauce add a unique smoky flavor to this coleslaw recipe. It's brightened by the addition of lime juice and cilantro. Get the Chipotle Citrus Coleslaw with Cilantro recipe

Coleslaw on hot dogs -- why not? These beef franks are topped with kimchi and a quick slaw made with cabbage, scallion and lime juice. A sesame seed mayonnaise is the unifier that brings everything together. Get the Kogi Dogs recipe

This slaw is a unique recipe you've probably never seen before -- it includes cabbage, oyster mushrooms, radishes, celery, cucumber and onions. Top with cold smoked salmon for a gourmet touch and serve it as an appetizer or main dish. Get the Smoked Salmon Slaw recipe

Raisins add bursts of subtle sweetness to this multicolor coleslaw. A touch of honey lends another level of sweetness. Pair it with your favorite picnic fare. Get the Coleslaw with Raisins recipe

Chili-spiced and grilled tofu makes a great accompaniment to a sweet and spicy cabbage slaw. Apple cider vinegar, chipotle, mustard and sugar give the slaw its unique flavor. Get the Sweet and Spicy Grilled Tofu with Cabbage-Carrot Slaw recipe

This classic coleslaw has everything you'd expect and it's exceptionally creamy because it's made with mayonnaise and yogurt. Make it in advance and chill it so the cabbage has a chance to soften. Get the Creamy Coleslaw recipe

Sweet red cabbage and bitter endive combine to create this flavorful salad. To soften the cabbage slightly you can toss it with the lemon vinaigrette and keep it in the fridge overnight. Get the Parsley, Red Cabbage and Endive Salad recipe

This slaw is packed with Asian vegetables and flavors. Napa cabbage and bamboo shoots bring all the crunch. The dressing includes rice vinegar, soy sauce, sesame oil and fresh ginger for some heat. Get the Hot and Sour Slaw recipe

A little bit of peppery cilantro adds a south-of-the-border touch to the average coleslaw. You'll want to serve it alongside tacos at your next get-together. Get the Mexican Coleslaw recipe

This Americanized version of an eastern European classic replaces sauerkraut with slaw to create a fresher, more flavorful meal. The apple, cabbage and carrot slaw gets paired with a flavorful paprika-and-cumin-rubbed pork chop. Get the Spice-Rubbed Grilled Pork Chops with Red Cabbage Slaw recipe

Put a whole new spin on your slaw by adding grated sweet potatoes and Savoy cabbage. It's a great-tasting sweet rendition that's great with steamed fish. Get the Sweet Potato and Cabbage Slaw recipe

The addition of rice vinegar, fish sauce and Napa cabbage turn the average coleslaw into a Vietnamese-inspired one. There's also a bit of brown sugar and red pepper flakes to round out the flavors. A topping of fried shallots is the crowning touch. Get the Vietnamese Slaw with Fried Shallots recipe

Kitchen Daily's Marcus Samuelsson shows you how to prepare Hot Dogs and Spicy Slaw.