Some parents regret choosing too-common appellations that fail to set their kids apart.
That's not something you'll have to worry about if you take Groupon up on its essentially unbelievable new offer.
Forget cheap vacations, dinner deals and budget spa days -- you can now outsource your choice of baby name to the online-offer giant. The name for sale is (drumroll, please) "Clembough." Never heard of it? Well, you're only a click and a thousand dollars away from claiming it for your child.
The offer in question -- which The Chicago Sun-Times reports is real, and Business Insider writes off as a publicity gimmick -- is written in Groupon's standard heavy-on-the-banter style; it starts off: "A rose by any other name would smell as sweet, but a baby that isn't named by Groupon smells like missed opportunity," going on: "All too often, the importance of a child's name takes a backseat to other 'needs' such as food, shelter, and clothing. Groupon, the World's Foremost Authority in Baby Naming™, has stepped up to address this issue."
The site adds: "Any attempt to name your child 'Clembough' independent of this exclusive Groupon will be recognized by the world as a cheap imitation." And indeed, the price tag doesn't appear to have stopped one intrepid Grouponer from signing his or her family up.
Understandably, some users have questions about the deal. In the "Deal Q&A" associated with the offer, Candace B. writes, "This has to be a joke" -- to which a Groupon representative replies: "This is the most serious deal that Groupon has ever seriously run in its serious history."
Baby name experts Pamela Redmond Satran and Linda Rosenkrantz didn't anticipate this particular eventuality when they wrote for HuffPost about common baby-naming mistakes -- but we asked them to weigh in on Groupon's deal today. Pam says, "We certainly hope it's a joke. But if we're going to take this seriously, a query by one of our berries, [readers on their site Nameberry.com] on whether they should name their baby Clembough would be met by a resounding no." She says there are several things wrong with the choice. "Pronunciation and spelling problems would abound. Does it rhyme with snow or cow? And is that a boy or a girl?"
And while you might not be able to get 60 percent off that "Swedish Massage with Optional Organic Seaweed Facial and Lip and Eye Treatment" anywhere else, Pam points out, you can name your baby anything you want. So why not save the $1,000 for yoga deals and discount sushi?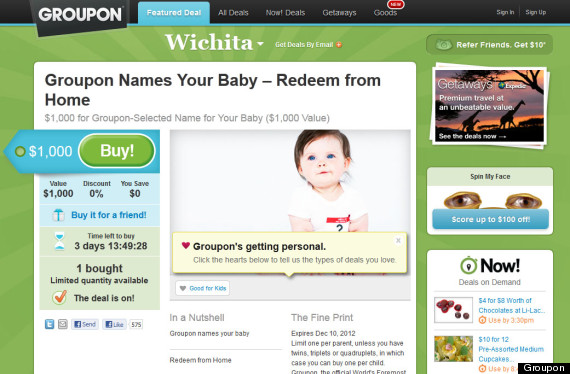 Related on HuffPost:
Loading Slideshow
Corleone

This gives a whole new meaning to Family Names. Corleone, the name of six babies last year, joins future troublemakers named Capone, Gotti, Bates, and Juvenal. Potential sister names include Sicily and Sicilia.

Cougar

We've been predicting the rise of fierce names, and this year's roster includes a pack of them: six boys named <a href="http://nameberry.com/babyname/Cougar" target="_hplink">Cougar</a> along with 86 named Fox, 85 called Bear, 29 Hawks, 14 named Wolf, seven Broncos, and five girls named Tiger. To the six girls named Bunny out there: Watch out.

Draper

The other Don, as in "Mad Men's" <a href="http://nameberry.com/babyname/Draper" target="_hplink">Draper</a>, inspired six namesakes this year. Draper is also one of the new occupational names, ala Mason which shot to the national Number 2. Among the other strange occupational names on the list: Strummer, Governor, and Pilot.

Eh

Canada's favorite interjection -- or perhaps the international expression of apathy -- was given to 14 girls last year. Were their parents excited? Eh....

Graceland

<a href="http://nameberry.com/babyname/Elvis" target="_hplink">Elvis</a> is back in the building, returning after a one year hiatus to the Top 1000, and now the name of his home, Graceland, is in the baby name lexicon too, given to seven girls. Grace and Gracelyn are popular for girls, along with Grayson and Greyson for boys, and Presley and Memphis for both sexes.

Kingsolomon

The name of the Biblical royal, spelled as one word, was given to five boys last year. Brother conjoined names include Princewilliam, Princemichael, Sircharles, and Marcjacob.

Moo

We have to believe that somewhere, beyond the bounds of Googleable English, Moo is a valid name and that five parents last year did not decide to name their daughters after the sound a cow makes. But, we want to believe in Santa Claus and instant weight loss too....

Notorious

If it was good enough for Biggie... Along with children named Marvelous, Brilliant, Famous, Beautiful, and Cyncere, there were five bad boys named Notorious. Destined to tangle with the five named Tupac.

Penisimani

Could you pronounce that for us? While Penisimani seems to be an established if rare name in the South Sea Islands, the six boys who received it in the U.S. are sure to encounter problems with pronunciation and, oh, everything. As are the children named Asser, Peniel, Dearria and Virginia.

Swayze

Big "Dirty Dancing" fan? You can be sure the five boys who received this name last year, along with their parents, will be fielding that question for a lifetime. Swayze is one of the newest of the modern hero names on the rise, which include such popular choices as Jeter and <a href="http://nameberry.com/babyname/palin" target="_hplink">Palin</a>.

Tank

These times demand toughness, and the boys named Tank, Trek, and Courage come pre-armed for the battle. Other badass baby names include Breaker and Ryker, especially hot in Utah where they presumably have never heard of the prison.

Tequila

Brandi is so yesterday. Today's most intoxicating alcohol name is Tequila. Newborn girls were also named Chardonnay, Henessy, and Syrah, while a handful of boys were named Abeer.

Tomorrow

Day names, from Friday to Christmas to August, are traditional in many cultures, but today's parents are expanding the lexicon. On the 2011 list were girls named Tomorrow, Evening, and Future.

Wrigley

No, not like the snake, like the baseball field. Fourteen girls and 25 boys were named after the classic Chicago stadium. There were also about 150 children of each sex named Shea along with five boys named Fenway. None, however, named Yankee.