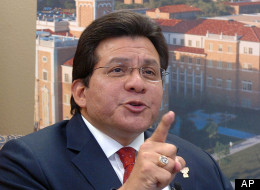 ATLANTA -- After a primary full of hardline statements on immigration, from vowing to veto the Dream Act to promising to encourage "self-deportation," presumptive Republican presidential nominee Mitt Romney has quieted down on the issue.
It's not too late for him to speak up with a different message, even if shifting on policy holds its own political risks, Alberto Gonzales, who served as attorney general during the George W. Bush administration, told The Huffington Post on Monday.
"That's the challenge, of course, that every candidate has, once you stake out a position and you change that position, particularly during a campaign," he said in an interview at a southeast summit of conservative immigration reform-supporters hosted by National Immigration Forum. "You run the risk that you're going to be viewed as a flip-flopper, but I'd rather be right on the policy and accused as a flip-flopper than continue to be wrong on the policy."
Gonzales and other reform-minded conservatives have been critical of the GOP's rhetoric and policies on immigration, particularly after the reform-friendly Republicans of the Bush era -- Sens. John McCain (R-Ariz.) and Orrin Hatch (R-Utah), among others -- moved to the right on the issue as state Republicans around the country advanced a flood of legislation targeting unauthorized immigration. The supporters of immigration reform's main message: Republicans are hurting their standing among Latino voters with their rhetoric, from GOP hardliners advocating for large-scale deportation to Romney's attacks on Texas Gov. Rick Perry's law allowing in-state tuition for undocumented students.
Democrats plan to hammer Romney for his past statements on immigration, which remains an important issue to Latinos though it is not their top priority. President Barack Obama already holds a significant advantage with Hispanic voters, and two Obama-supporting groups, Priorities USA Action and the Service Employees International Union, came out with an ad on Monday showing Romney making "extreme" statements on immigration.
"The Republican party has done a terrible job talking about this issue ... whether or not Governor Romney can recover from that remains to be seen," Gonzales told the roughly 150-person gathering of business, evangelical and law enforcement leaders from the southeast.
Romney could improve his lot among Latino voters by shifting away from phrases like "self-deportation" and policies that would drive out the undocumented, Gonzales said, suggesting that the candidate has begun to do so already.
But for the most part, Romney and the Republican National Committee have avoided discussing immigration, preferring to target Latino voters by discussing the economy. Gonzales said he doesn't disagree with that strategy -- jobs and the economy typically rank as the top issue for Latino voters -- but he doesn't think the GOP should hide from immigration, particularly if it wants to talk about frustration over Obama's broken promises.
"My concern is that they would like to do that," he told The Huffington Post. "I don't know. As I travel the country, I find a lot of Hispanics who are interested in learning where Governor Romney is on this issue."
Other conservative leaders at the conference, all of whom support comprehensive immigration reform, said they hope Romney will come out with a plan to deal with undocumented immigrants in a broader way than he discussed during the primary campaign.
Utah Attorney General Mark Shurtleff, a Republican and strong proponent of comprehensive immigration reform, said there is proof within the states that being pro-immigrant isn't a death knell for GOP politicians. In Utah, where legislators, including Republicans, passed an immigration bill with enforcement and pro-immigrant provisions, there was outrage from hardliners. But when voters had the chance to oust GOP members who supported the law, they didn't -- instead, some of the opponents of the law lost their primaries.
"The message is, to national candidates, to Republicans, to Congress, that you're pandering to the wrong crowd in the party. You really are," he said. "You can do what's just, fair, comprehensive. That's what the majority of Republicans in this country want."
If Romney wants to come back toward the center on immigration, he can do so, Shurtleff said.
"It's going to be rough, because he was so strong," he said, referring to Romney's statements on immigration during the primary. "I think he does it by saying, 'Look, I'm listening to other voices now within the party, to the [Sen.] Marco Rubios of the party, and realizing how important the Latino vote is to the general election.'"
Rubio, a Republican from Florida and potential vice presidential pick, plans to soon introduce a bill that would allow some young undocumented immigrants to gain legal status if they met certain requirements and attended college or joined the military. The bill would not provide them with an eventual path to citizenship.
Richard Land, president of the Southern Baptist Convention Ethics and Religious Liberty Commission, said he believes Republicans are ready to see politicians address the issue. If Romney supports Rubio's upcoming legislation, it would be a step in the right direction, he said.
"Frankly, I think the country is ahead of its elected leaders on this issue, Democrat and Republican," Land said. "Wherever I go, I find people are anxious to have a fair and just settlement to this issue."
There is evidence that voters as a whole support reform, particularly when it comes to undocumented young people. About half of Latino voters support Rubio's framework for dealing with undocumented immigrants, far outpaced by a decade-old plan that passed in the House in 2010. That bill, the full Dream Act, would allow some eligible young people to earn a green card, and potentially citizenship, under certain guidelines. A poll released last week by Latino Decisions found that 87 percent of Latino voters support the Democratic framework for the Dream Act. A majority of non-Latino voters, 62 percent, also support the Democratic framework over the plan laid out by Rubio.
Uvalda, Ga., Mayor Paul Bridges said he would prefer to see Romney support the full Dream Act and oppose Rubio's plan. Bridges is a conservative Republican, but found himself in the middle of the immigration debate when he joined a class-action lawsuit against Georgia's immigration law last year. Bridges said he hasn't seen a new tone from Romney on immigration yet, but he still hopes to.
"I'm waiting for it," he said. "I would love to see him shift, and I'm not by myself. ... He's going to have to come back toward the center on immigration."
Below, the GOP gets involved in Latino politics:
Top Latino Moments During 2012 Republican Primaries
If not the most memorable moment of the run-up to the Florida GOP primary, the most comical one had to be Mitt Romney's oxymoronic addition to the English language: self-deportation. At a Florida debate and in response to a question regarding if whether to enforce his position on illegal immigration, he would support mass deportations, Romney answered "Well, the answer is self-deportation, which is people decide they can do better by going home because they can't find work here because they don't have legal documentation to allow them to work here." Romney's use of the term 'self-deportation' and his genuine belief in it as a viable means to deal with the 13 million undocumented immigrants who would not be allowed to remain in the U.S., led to substantial social media outcry, an attack by his primary opponent, Newt Gingrich (to be expected), and a measure of agreement from fellow candidate Rick Santorum. Amazing.

Newt Gingrich didn't waste any time in 2012. In early January, he visited Little Havana's Café Versailles restaurant, a traditional stop for politicians looking to rally support among Miami's Cuban-American population. Gingrich drank Cuban coffee and conversed with the restaurant staff, who by now must be used to politicians stopping by to score points among Latino voters. Strangely enough, they applauded once he was finished with his coffee. GIngrich didn't miss a beat and told his audience how President of the U.S. his goal will be "to create a Cuban Spring that is even more exciting than the Arab Spring." He also talked about this stance on immigration, which he qualifies as more "humane" than the positions of his GOP primary opponents. Nothing like spicy politicking to go with your café con leche.

An crucial moment in the Florida race was the endorsement of Mitt Romney by Florida's self-proclaimed "three amigos," Republican Reps. Ileana Ros-Lehtinen, Mario Diaz-Balart and Lincoln Diaz-Balart. The Miami Herald calls this the "ultimate Cuban-American endorsement trifecta." But this too led to controversy as these three Cuban-American politicians who now support Romney's candidacy -- and its conservative approach to immigration reform and threatened DREAM act veto -- have track records as advocates for comprehensive immigration reform and passing the DREAM Act. "Those three in particular have had a history of supporting measures like the DREAM Act ... but everyone wants stability in the Republican party and they likely think Romney is the most likely to provide that," said Kristian Ramos, a policy director at the NDN & New Policy Institute, a Washington D.C.-based think tank to The Huffington Post. In the 2008 primary the trio endorsed Sen. John McCain -- over Romney -- due in part to his own advocacy for immigration reform.

A new generation of Latino leaders is emerging in Florida politics. Cuban-American senator, Marco Rubio, is undoubtedly the most well-known figure in this new emerging political group. "Obviously, probably Marco Rubio is on the top of the list in terms of young Hispanics leading the effort in the state," conservative activist Jeb Bush Jr., the son of Florida's former governor and nephew of former President George W. Bush, told The Huffington Post. Rubio's name comes up in every list of possible vice presidential candidates. Thus far, however, he has remained neutral in the primary race. Other Latinos who are gaining influence in Florida's Republican and conservative circles include Rep. David Rivera, who's backing cNewt Gingrich, Florida House Majority Leader Carlos Lopez-Cantera and state Rep. Erik Fresen.

Last Thursday's GOP debate confirmed that the Latino vote is a dominant factor in the Florida primary. From the earliest moments of the debate, issues such as immigration reform, the DREAM Act, relations with Cuba, Puerto Rico's status, Latinos who could serve in a Republican Cabinet, and more were catnip to the candidates who were each seeking to wow the audience. Gingrich stood strong in his attack that Romney is the most "anti-immigrant" candidate in the GOP race. Romney defended himself by calling the comments "inflammatory and inappropriate." Romney then went on to criticize a Gingrich TV ad as an example of "over the top rhetoric." The debate turned to focus on Cuba a few times, with Romney saying, "It is time for us to strike for freedom in Cuba, and I will do so as president." Gingrich, who had appeared earlier at Florida International University, reiterated his support for a 'Cuban Spring' if he is elected president.

In an effort to win the Latino vote, Newt Gingrich came out with a radio ad in Spanish perfectly attuned to the local audience in his reiterated stance against the Castro brothers' regime in Cuba. Comically, the ad also tried to associate Mitt Romney to the local hatred of Cuba's regime, by criticizing Romney's 2008 use of a phrase often associated with Fidel Castro, "patria o muerte, venceremos," which translates to "fatherland or death, we shall overcome." But, perhaps aware that further down the road, other Latino voters will be more interested in immigration reform than Cuban relations, Gingrich went for broke and labeled Mitt Romney as 'anti-immigrant' in the ad.

While campaigning in Hialeah, Florida, Romney gave the crowd what they wanted to hear, speaking forcefully of the need to defeat the current dictators in Cuba and Venezuela. So far, so good. But then he asked his young son, Craig, to speak to the mostly Cuban-American crowd in Spanish. Stepping up to the mic, Craig said, "Mi papá no habla español."

At January's Hispanic Leadership Network conference in Miami, both Gingrich and Romney delivered speeches with the express aim of attracting the conservative Latino voter, specifically Florida's Cuban-Americans. Romney spoke passionately about freedom, which is a key issue for Cubans in the U.S. given that so many fled the authoritarian Castro regime in Cuba. Gingrich also spoke about freedom, and tried to outdo Romney with his vocal support for a 'Cuban spring' and regime change in the island some 90 miles away.

Distancing himself from the harsh, anti-immigrant rhetoric that's characterized this year's Republican primaries, Ron Paul voiced a clear and more compassionate view regarding the subject during a conference in Nevada, where the Texas congressman said he favors a policy that doesn't rely on "barbed-wire fences and guns on our border." Paul criticized politicians for blaming immigrants for the current economic situation in the country. "When things go badly, individuals look for scapegoats," Paul said according to the Huffington Post. "Hispanics, the immigrants who have come in, are being used as scapegoats." He went on to compare the current anti-immigrant rhetoric to Nazi Germany's targeting of Jews in the 1930s. Paul said he was against laws that would require people to carry around identity papers to prove their legal status in the country.

In an interview with Univision, Sen. John McCain said that Republican candidates should adopt a "very humane approach" to immigration in order to secure Latino votes. McCain, who endorsed Mitt Romney earlier this year has since distanced himself from the candidate's stance on immigration and even publicly criticized Romney's "self-deportation" plan. McCain, like Romney, opposes the DREAM Act.

Romney named former Governor Pete Wilson-- a well known immigration hard-liner-- as Honorary Chairman of his California campaign. "I'm honored to have Governor Pete Wilson's support, because he's one of California's most accomplished leaders," Romney said on his website as reported by Fox News Latino. "As governor of California from 1991 to 1999, he led California from the depths of recession to prosperous economic recovery." But former Gov. Wilson is not only remembered for his economic policies, but also for his hostile stance against undocumented immigrants in the mid 90s. Wilson supported Proposition 187 in 1994, which essentially blamed undocumented immigrants for the poor performance of the state's economy. The law called for cutting off benefits to undocumented immigrants: prohibiting their access to health care, public education, and other social services in California. Prop 187 was ultimately blocked by federal court.