Para recibir al verano, Eva Mendes presume su mini cinturita en la portada de la edición británica de la revista Marie Claire. La sensual actriz aparece en la tapa de julio luciendo un traje de baño muy sofisticado de Prada: en dos tonos, con aplicaciones brillantes que ayudan a crear una silueta más estilizada y con corte de pierna muy bajo, recordándonos a los bañadores que usaban las divas de la edad de oro de Hollywood.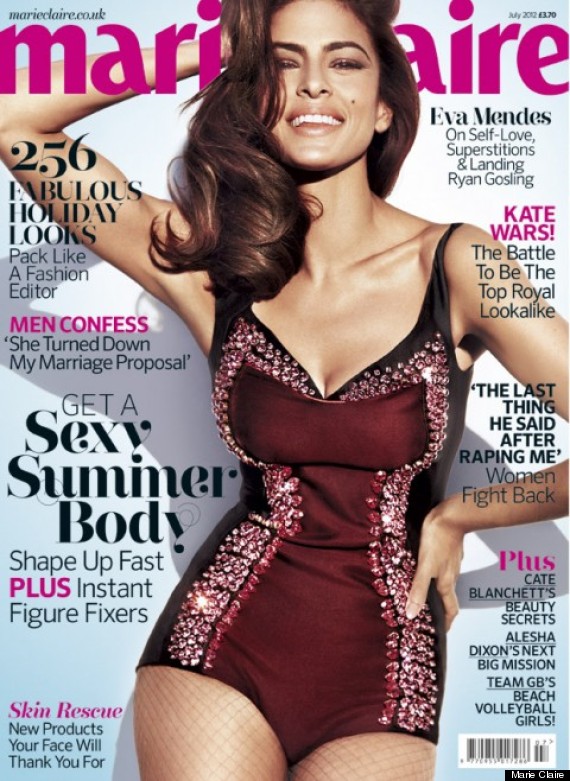 Aunque esta imagen de Eva es espectacular y a sus 38 años la actriz tiene un cuerpo que muchas envidiarían, las cosas no siempre fueron así. En entrevista para Marie Claire, Mendes confesó que como muchas adolescentes ella también afrontó algunas batallas con su aspecto físico:
"No importa lo que tengas o cómo luzcas. Eso es algo con lo que todos deben trabajar. Me doy cuenta que he contribuido a crear una imagen feliz, saludable y poderosa, pero eso no es todo sobre mí.

Siento que es importante hacerles saber a las mujeres que yo tengo problemas similares. Lo que les digo a las chicas es que aquello que no les gusta ahora de ellas mismas, seguramente lo terminarán amando cuando sean adultas, porque eso es lo que me pasó a mí.

Cuando me hacen cumplidos por cosas que no me decían cuando tenía 13 años, como mi sobremordida y mi lunar, es cuando te das cuenta que tus imperfecciones son las cosas por las que la gente te quiere".
Y en esto estamos totalmente de acuerdo. El rostro de Eva Mendes es único y es bellísimo. Sus facciones y rasgos particulares han hecho que los fotógrafos la amen y nos regalen imágenes tan bellas como las que integran la sesión de fotos de Marie Claire. Para muestra basta un botón: este retrato en blanco y negro en el que Eva posa bajo una sutil sombra nos muestra lo seductora y fotogénica que es, ¿no lo crees?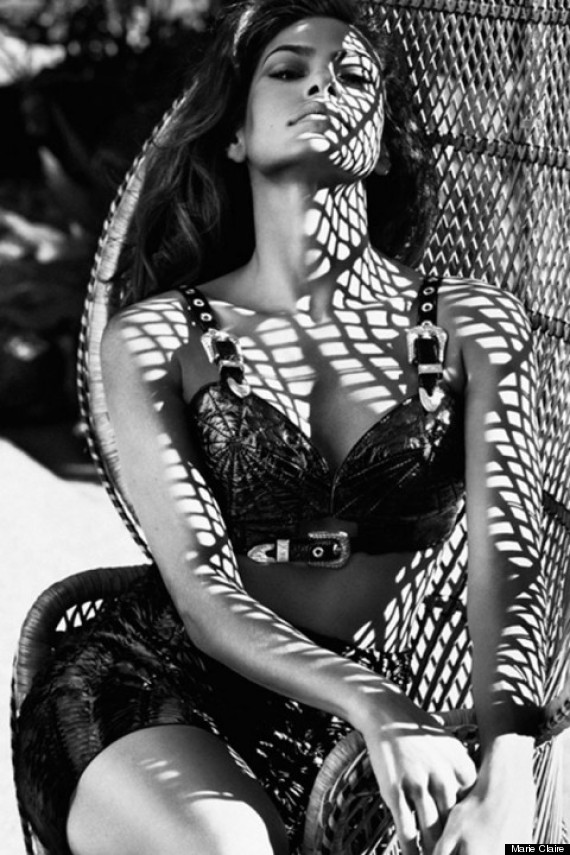 MIRA MÁS FOTOS Y VIDEOS SOBRE EVA MENDES:
SUBSCRIBE AND FOLLOW
Get top stories and blog posts emailed to me each day. Newsletters may offer personalized content or advertisements.
Learn more