If any other Wynwood mural had been graffiti bombed with giant letters spelling 'C DOG,' the local arts community would be enraged.
But when it happened to the happy flower mural outside Romero Britto's new Wynwood studio, many Miamians think it well deserved.
For years, Britto's aesthetic has been shorthand for Miami's public arts image. His bright geometric sculptures have been commissioned on nearly every single street corner displacing the rest of Miami's fruitful and diverse cache of local artists.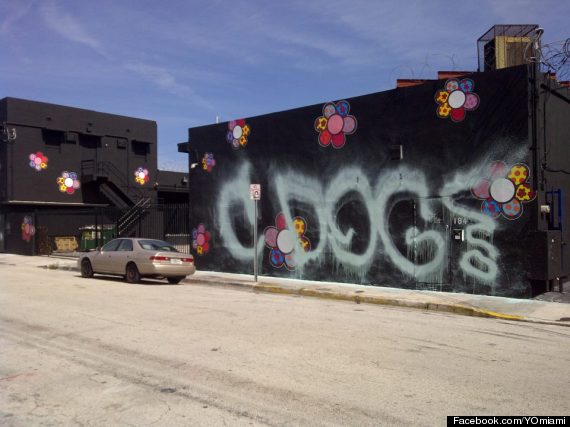 Britto's corny, formulaic sh*t is everywhere in Miami. I mean there are so many talented artists out there who deserve a chance at livening up the city's dead space. Props to CDOG for this shot across the bow.
Thats what he gets for covering the murals that were done during Basel
Although Britto told WSVN that nothing like this has ever happened to him before, the artist is blocking out a whole series of planned and real vandalism of his public sculptures.
SUBSCRIBE TO & FOLLOW THE MORNING EMAIL
The Morning Email helps you start your workday with everything you need to know: breaking news, entertainment and a dash of fun. Learn more