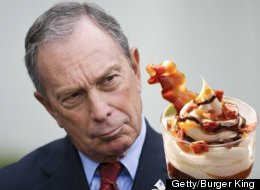 By now, you've probably heard about Mayor Michael Bloomberg's controversial decision to ban the sale of large sodas in New York City restaurants, theaters, stadiums and street carts. Reactions to this announcement were widespread and ranged from favorable to -- well -- indignant. This proposed ban will outlaw the sale of sweetened drinks over 16 ounces that contain more than 50 calories.
This got us thinking (yep, we think about food all day, folks): are there other foods even more health-averse that Bloomberg might try to target next? Are there not additional abominations to our cholesterol levels? To our calorie counts?
At Tuesday's meeting of the New York City Board of Health, who must approve these decisions, board members also indicated an interest in enforcing limits on other large, high-calorie foods like movie theater popcorn, coffee drinks and milkshakes. "The popcorn isn't a whole lot better than the soda," board member Bruce Vladeck proclaimed, and we can see his point.
We certainly don't want to give them any more ideas, but these 11 foods -- most at 30-40 times the calorie count of the typical banned soda -- could very well now be on Bloomberg's radar:
Foods Bloomberg May Want To Ban Next
We're sorry to tell you this, Mr. Mayor, but the cheeseburger called "Deadliest Fast Food Meal" by the Daily Beast, the Baconator Double, packs 1,330 calories in one serving.

Mr. Bloomberg, we apologize for the shock that burger must have caused you. Allow us to soften the blow with a salad. IHOP's 1600 calorie Chicken and Spinach Salad. For the record, that calorie count is higher than a burger on their menu with an added bacon patty.

We know how you feel, sir. Up is down, down is up, salad is terrible for you... perhaps potato skins have become good for you? Maybe not. T.G.I.Friday's Loaded Potato Skins have 2030 calories and 131g of fat, which, it should be noted, is significantly more than the Jack Daniel's Sampler Platter -- which is a plate of meat, basted with Jack Daniel's and sugar.

In case you somehow missed it, Mr. Bloomberg, we'd like to turn your attention to the KFC Double Down. They use fried chicken instead of buns for this sandwich, sir.

This monstrosity was created to commorate the UK launch of Man vs. Food. Sir, you're probably thinking to yourself, "Who wants to eat a 28 pound sandwich, anyway?" We're not sure, Bloomie, but you'll probably want to ban it.

Mr. Mayor, we see your gears turning: just like the proposed ban on large sodas, you're envisioning limiting Burger King customers to only two patties per burger. This Japanese commercial for the product may have swayed us your way: you probably shouldn't order anything you have to un-hinge your jaw to eat.

Where will the line be drawn, Mr. Mayor? Will you follow your nose to the doors of those citizens who make themselves a Bacon Explosion and confiscate the contraband? Bacon explosion picture by Flickr user Elin B.

Michael (can we call you Michael?), by now, we all know how much you like salt. But Chili's Shiner Bock Ribs may be too much even for you: they're packing a whopping 2310 calories, 124g of fat and 6340mg of sodium in one portion. Please put down the salt-shaker, sir.

Because we know how focused on health you are, Mr. Mayor, you are likely very focused on starting your day off with a substantial breakfast. Please hang onto your Mayoral hat, because Denny's Grand Slamwich is packing 1520 calories and 101 grams of fat. Although there are currently no Denny's locations in New York City, we thought you might want to disapprove anyway. Today NYC, tomorrow the world, am I right? (You remember their Mac N' Cheese Big Daddy Patty Melt, don't you?)

Still hungry for dessert? Well sir, Burger King will be giving their Bacon Sundae a wider release this summer, which means more soft-serve, fudge, caramel and bacon will be available to the public.

Here's one you might want to pick up your ban-writing pen for, Mr. Mayor: just one of Cold Stone Creamery's "Gotta Have It"-sized Chocolate Malts contains 1520 calories and 85g of fat. A healthier option might be to just eat a stick of butter on its own.