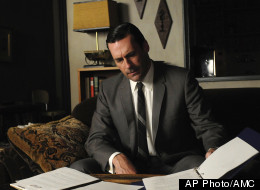 It's no easy feat parenting as a divorced dad, but week after week on the small screen, these fictional fathers show us how it's done.
In honor of Father's Day, we've chosen our favorite single dads on TV. Click through the slides below to see our picks, then weigh in with your favorites in the comments.
For nine seasons, "Two and a Half Men's" twice-divorced single dad Alan Harper has pushed his underachieving son Jake -- not to mention his late man-child brother Charlie -- with just the right amount of sternness and indulgence. (The father/son farting moment in this video is probably a better example of the latter.)

Sure, he's commissioned Sally into making him cocktails when she was just a wee thing and yes, the seriously long hours he's clocked in at the office don't exactly scream "Father of the Year." But in recent episodes of "Mad Men," Don Draper -- who has always made an effort to provide his three kids with a better childhood than the one he had -- has come into his own as a father. Case in point? The adman's deft hand in diffusing an increasingly tense situation with ex-wife Betty. When Betty vindictively tells Sally that Don was secretly married back in the day, Don heeds current wife Megan's advice and sensitively handles Sally's questions about his first marriage.

Art imitates life on FX's award-winning comedy "Louie," where real-life divorced dad Louie CK portrays, well, a divorced dad. As father to Lilly and Jane, Louie endures PTA meetings, chaperones school fields trips (and saves the day with a fleet of limos when the kids' bus ride goes awry) and freaks out about spending time without the girls when their mother gets them for a week. In capturing both the love and the hardships, "Louie" just might be one of the most honest portrayals of single parenting that we've seen on TV.

Castle is not a conventional dad by any stretch of the imagination -- and given the precociousness of daughter Alexis, some might question who's doing the parenting in their relationship. But in his own way, the novelist-turned-detective is the ideal father, balancing an overprotective streak with an honest desire to treat his wise-beyond-her-years teen as the equal that she is. In this clip, Castle suggests that Alexis throw a girls night in -- complete with John Hughes flicks and a Cosmo quiz or two -- to help her get over a recent breakup.

On "Suburgatory," Jeremy Sisto plays George Altman, a single dad who uproots his daughter, Tessa, from New York City to the suburbs in the hopes of providing her with some semblance of a "normal adolescent existence." As the show's title would suggest, suburban life isn't all it's cracked up to be, but George, who's raised Tessa alone since her mother "pulled a Kramer vs. Kramer" in her infancy, helps his daughter make the best of it. In this clip, George tries to reassures his girlfriend, Eden (Alicia Silverstone), that Tessa is truly OK with her mom not being in the picture.