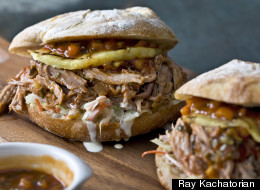 When it comes to cooking for Father's Day, we have an inkling that dad's favorite foods will involve some nice juicy meat. That's why it's perfect that Father's Day falls in the middle of grilling season. Pulled pork sandwiches, brisket, grilled steak -- we've put together a slideshow of our best sandwiches that feature, you guessed it, meat. Check out the recipes and pick one to make for your favorite dad.
This brisket cooks up much quicker when you use a pressure cooker. Marinate the meat for up to 1 day to infuse it with flavor. Serve with homemade barbecue sauce and sour cream sauce on crusty rolls. Get the Barbecue Brisket Sandwich with Herb Sour Cream recipe

Make these flavorful grilled sausage sandwiches with merguez or fresh chorizo sausage. Serve with caramelized onions and cilantro on baguettes. Get the Grilled Merguez Sandwiches with Caramelized Red Onions recipe

Make this pork shoulder easily in the oven -- you'll want to cook it low and slow so plan ahead and shred the meat once it's cooled. Assemble the sandwiches with homemade coleslaw, grilled pineapple slices and serve with extra barbecue sauce. Get the Pulled Pork Sandwich with Homemade Coleslaw and Pineapple recipe

These Mexican-style sandwiches are packed with shredded chicken, red onion and avocado. The secret sauce is made from refried beans mixed with sour cream. Get the Mexican Chicken and Bean Sandwich recipe

This recipe works well for bison or beef steaks. The rib-eyes are marinated in Guinness and molasses before being grilled. Serve with grilled mushrooms and onions on top of rye bread. Get the Guinness-Marinated Bison Steak Sandwiches recipe

Satisfy your craving for a steak sandwich with this quick and easy recipe, which features pan-fried minute steaks. Assemble the sandwich with lots of yellow mustard on a grilled baguette. Get the Minute Steak Sandwich with Fried Onions and Sweet Mustard recipe

Leaner than the beef version, these turkey sloppy joes are just as flavorful. Spice up the recipe to your liking with Tabasco sauce. Get the Turkey Sloppy Joes recipe

Flank steak is a great choice for steak sandwiches. This bistro-style sandwich also includes grilled bell peppers on whole wheat, spread with a roasted garlic aioli. Get the Bistro Flank Steak Sandwich recipe

This easy BBQ sandwich is just shredded chicken mixed with barbecue sauce. Serve it on rolls with ranch dressing, shredded carrot and lettuce. Get the BBQ Chicken Sandwich recipe

This Vietnamese version of the sloppy Joe includes fish sauce, curry paste, brown sugar, lemongrass and jalapeno peppers. It's a sweet and spicy, amped-up version. Get the Sloppy Bao Sandwich recipe

One piece of ribeye feeds up to four in Tyler's scrumptious steak recipe.