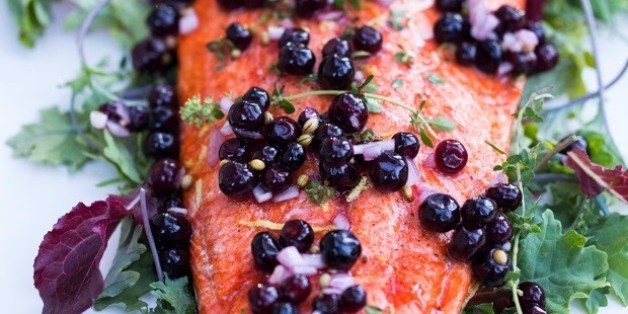 Feasting at Home
People get intimidated when they think about cooking fish. It's delicate, very easy to overcook (or undercook), and it runs the risk of making your whole kitchen smell for days. This is to say nothing of the fact that you might not get the fish you think you're buying because of rampant mislabeling.
Fear not, fish fans. Some seafood is hard to screw up, and one of our favorite kinds of fish falls into that category: salmon. Salmon is one of the most forgiving fish out there. In fact, it's almost idiot-proof.
Its oily flesh and skin keep it moist, and its meaty texture will satisfy even the most carnivorous dinner guest. Salmon gets extra bonus points for being filled with omega-3 fatty acids, which soothe inflammation and are good for cardiovascular health. Do you hear what we're saying, everyone? Eating this delicious thing is actually good for you!
One other note: don't be afraid of the skin. Crisp salmon skin is one of the singular delights of this world. It is like a potato chip from the sea. Eat it. It's good for you. Just make sure there aren't any scales on it.
Still not sure? Allow us to convince you with our 32 easy ways to cook salmon:
1

Sake And Ginger Soba Noodle Salmon Stir Fry

Half Baked Harvest

2

Garlic Butter Salmon With Caramelized Shallot Relish

How Sweet It Is

3

Warm Salmon Nicoise Salad

The Woks Of Life

4

Cuban Salmon Tacos With Citrus Mango Slaw

Half Baked Harvest

5

Toasted Sesame Ginger Salmon

How Sweet It Is

6

Tea Smoked Salmon With Five Spice

Feasting at Home

7

Chile Lime Salmon Fajita Salad With Cilantro Lime Vinaigrette

Half Baked Harvest

8

Broiled Salmon And Roasted Garlic Cream Noodles

How Sweet It Is

9

Citrus-Avocado Salmon Salad

Cafe Johnsonia

10

Maple Bourbon Glazed Salmon With Sweet Cranberry Chutney

Half Baked Harvest

11

Pan-Crisped Salmon With Light Dijon Cream And Garlic Butter Breadcrumbs

How Sweet It Is

12

Huckleberry Salmon Recipe

Feasting at Home

13

Sweet Thai Chili Salmon Quesadillas

Half Baked Harvest

14

Ginger Garlic Salmon With Cabbage Salad

Annie's Eats

15

Caribbean Jerk Salmon Tostadas

Half Baked Harvest

16

Grilled Salmon Filet With Cucumber Dill Sauce

Foodie Crush

17

Salmon And Wasabi Nigiri

Adventures in Cooking

18

Greek Salmon Souvlaki Gyros With Tzatziki

Half Baked Harvest

19

Hot Salmon Spinach Dip

Cafe Johnsonia

Half Baked Harvest

21

Seared Salmon With Mushrooms And Asparagus Over Coconut Noodles

Bev Cooks

Bell'Alimento

23

Hoisin Caramelized Salmon And Sesame Soba Noodle Bowls

Half Baked Harvest

How Sweet It Is

25

Smoked Salmon Egg Scramble

Annie's Eats

26

Blackened Salmon With Cheesy Polenta

Half Baked Harvest

27

Open-Faced Salmon BLTs

Bev Cooks

28

Easy Grilled Maple Dijon Salmon With Bacon

How Sweet It Is

29

Curried Salmon Burgers

Half Baked Harvest

30

Pan-Seared Salmon With A Pistachio Mint Cream Sauce

Bev Cooks

31

Dilled Salmon And White Bean Pot Pies

The Pig & Quill

32

Asian Grilled Salmon Pineapple And Rice Lettuce Wraps

Half Baked Harvest
Want to read more from HuffPost Taste? Follow us on Twitter, Facebook, Pinterest and Tumblr.
YOU MAY LIKE
CONVERSATIONS
FOLLOW HUFFPOST