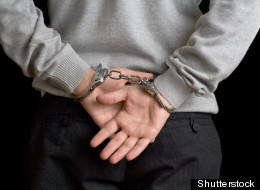 Here's the ultimate wedding nightmare: 100 drunken, belligerent wedding guests brawling at your reception.
Sadly, this was the reality for one Glendale, Calif. couple when their wedding celebration ended in chaos. On Saturday, police were called when over 100 guests started a violent brawl at the couple's reception, reports The Los Angeles Times.
One guest, 36-year-old Karpis Termendzyan, allegedly spit on an officer, tried to elbow two other officers and kicked in the rear window of a patrol car, according to police reports. Termendzyan was arrested on suspicion of vandalism and battery.
Another guest, 22-year-old Spartak Karabedian, was arrested for public drunkenness by police. Karabedian allegedly started the fight inside the reception, according to the Times.
Sound crazy? Unfortunately, these guests aren't the only ones who have gotten out of hand at a wedding. Click through the slideshow below to read five stories of drunken wedding guest antics, then share your own horror stories in the comments.
Keep in touch! Check out HuffPost Weddings on Facebook, Twitter and Pinterest.
In April 2012, Brooke Burke, a 36-year-old Ohio wedding guest, started a brawl with the bride after she asked Burke to stop slow-dancing with her groom. Burke refused to stop and attempted to hit the bride. Police were soon called and Burke was charged with assault and disorderly conduct.

In June 2012, guests at former Newcastle United soccer player Danny Guthrie's wedding got out of hand when they began throwing Lobster Thermidor at each other during the reception. The celebration, which was held at the stately Allerton Castle, turned violent when the bride was punched in the face by a guest.

British newlyweds had to call the local police when the brother of the bride, 20-year-old Jason Ellis Brealey, became disorderly and dropped trou at their April 2012 wedding. Police arrived at the reception to find an intoxicated Brealey on a table -- without his pants -- being restrained by another guest. The local paper reports that Brealey was "verbally abusive, shouting and swearing" and that he "wouldn't calm down," despite the fact that young children were present at the reception. Police eventually arrested Brealey, who ended up lunging at one of the officers on the way to the police station.

In January 2008, drunken wedding guest David Twine borrowed a friend's car without her knowledge after a wedding reception. His reasoning? He needed cigarettes. But when police flashed their lights at him, he didn't stop driving, and instead incited a full-on police chase. Twine, who was later arrested after running from the police on foot because he had crashed the car, was jailed for 16 weeks and had his license suspended for three years.

In July 2005, a drunken wedding guest from South Africa went on a rampage, trashing thousands of dollars worth of computers and electronics at a college. According to police, he left the wedding reception and began smashing glass doors and ripping out computers and keyboards.