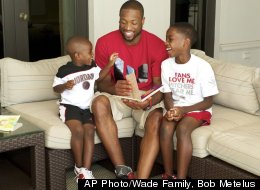 With Father's Day fast approaching, we thought we'd take a moment to applaud some of Hollywood's best single dads.
Click through the slideshow below to see our picks, from the singer who is raising twin boys to the NBA star who's so good at parenting, he's got a "Father of the Year" award to prove it.
Our Favorite Single Celebrity Fathers
Rocker Lenny Kravitz has clearly made an impression on daughter Zoe: the 23-year-old dabbles in acting, modeling and -- just like dad! -- rocking out. For his part, Kravitz is a supportive parent, plugging her work whenever he gets the chance. (Zoe's music is "the bomb," according to her proud papa.) In September 2007, Kravitz opened up to the Washington Post about life with Zoe, saying, "Watching my daughter grow up is the highlight of everything."

Single dad Ricky Martin is raising his twin boys all on his own. "I'm doing this on my own because I don't want to miss a moment," Martin told People in December 2008. "I'm the one who changes the diapers, the one that feeds them, the one that bathes them, the one that puts them to sleep." As for his fatherhood philosophy? "I want to give them information and raise them with honesty and love, and give them self-esteem and a lot of acceptance." What a dedicated dad!

After a drawn-out custody battle with ex-wife, Tameka Foster, Usher was awarded primary custody of the ex-couple's two sons, Usher Raymond V and Naviyd, in August 2012. In a 2010 interview with W magazine, Usher said he thinks of parenting as a gift that's made him more conscious of everything around him. "When you put the passion between a man and a woman up against having children, it doesn't hold a candle," he added. "I've never known passion like what my children have helped me feel."

Colin Farrell is a father of two: James, his son with former girlfriend Kim Bordenave and Henry, his son with ex Alicja Bachleda. James, Farrell's elder son, suffers from a rare form of cerebral palsy called Angelman Syndrome. The actor has repeatedly made an effort to raise public awareness to the little-known genetic disorder, even opening up about the syndrome, and the experience of raising James, in an interview with David Letterman. In 2007, Farrell told the Independent that he's "dedicated to helping his son reach his own individual potential and to be as happy as he can be," adding, "I have never thought of my son as being someone with a disability. It goes back to special needs and what is a disability and what isn't."

Dwyane Wade and ex-wife Siohvaughn Wade had a notoriously messy divorce, with Siohvaughn accusing the NBA star of adultery and abandoning their two boys, Zion and Zaire. Still, the basketball player, who eventually won full custody of the kids, has certainly picked up his fair share of honors related to parenting. In 2007, he received a "Father of the Year" award from the National Father's Day Committee and, in 2011, President Obama appointed him to a parenting program geared toward encouraging fathers to become more involved in their children's lives. In June 2011, Wade wrote a piece for Newsweek in which he described fatherhood as being the most rewarding part of his life. "All children need their fathers, but boys especially need fathers to teach them how to be men...I had a duty to fight to be with my kids, and I did."

Oscar winner, musician, comic, and composer Jamie Foxx can add another title to his already impressive CV: great single dad. Foxx shares joint custody of his daughter, Corinne Bishop, and has described himself as being a tough parent: "I teach her to be respectful... Kids today don't have any discipline." Despite his busy schedule, Foxx always puts his daughter first. "I want to be a man who shows up for her... I want to have such a big influence on her so that she knows she can call on me for anything -- which she does." Well, we're certainly impressed.