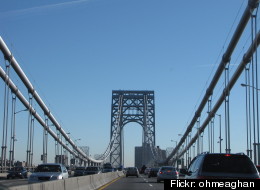 Drivers en route to New York City -- and those coming in on foot -- have long met at the George Washington Bridge before crossing from New Jersey into Manhattan to ride together and qualify for the $6 discount carpoolers get on the toll which, for those paying cash, is $12 per car.
But despite the arguable positives of doing so -- less cars in the city, less exhaust and less traffic, to name a few -- Port Authority police are increasingly targeting these people and issuing tickets, according to the Wall Street Journal.

The Journal is reporting that although ride-sharing is legal, tickets are being handed out to drivers who pick up pedestrians for violations like illegal lane changes or stopping at a bus stop.
A representative from the Port Authority told the paper that such moves are motivated by concern for public safety, but carpoolers countered by alleging that the police have been quizzing them on how they know their riding partners, and they suspect the authorities are just looking to squeeze more money out of commuters.
"In order to pad their pensions and lifestyle, they're taking bread out of our children's mouths," carpooler Leonor Javier told the Journal.
The selective ticketing has reportedly been going on since at least April, according to CBS New York.
"That's peak hours they give you a hassle. Off hours, they're not here. So, nobody gives you a problem," one driver told WCBS 880′s Sean Adams. "They say 'You're not supposed to be here. This is not a spot.' They don't say 'You cannot pick up people.'"
While these carpoolers are legally making moves to reduce the fees that might otherwise pay to get into the city, in recent months, increases in toll prices have prompted some drivers to devise other crafty -- and not so legal -- methods of circumventing them.
As the Associated Press reported in December, the Port Authority's caseload of toll cheating started to grow following increases in tolls:
Some of the cases have made headlines, like the Virginia trucker who used a cable in his truck cab to flip up his front license plate while going through a gateless E-ZPass lane in October.

The maneuver was reminiscent of movie spy hero James Bond, whose Aston Martin sports car featured revolving license plates in the 1964 film "Goldfinger." Some websites sell retractable license plate holders for "off-road use" for as little as $75.
The Most Expensive Tolls In The U.S.
This 7.8-mile road costs $3.50 to ride on -- costing riders 45 cents per mile.

This 19-mile road in Colorado can cost up to $12 per person during peak months.

The stretch of I-95 that runs through New Jersey costs $13.95 to ride on during peak hours.

It costs drivers heading into Manhattan $12.00 to ride on the George Washington Bridge. Drivers travelling westbound, however, do not have to pay a toll.

This scenic route near Lake Placid, New York costs $3.11 per mile, according to Fox News.

Cars making the journey across Ohio on this toll road will have to pay $11.25 if paying with an E-ZPass, according to Cleveland.com.

Drivers traveling from New York to Washington DC on I-95 must ride on this 11-mile stretch of highway through the state of Delaware, which costs $4.

California's expressway can cost up to $9.75 for passengers travelling eastbound during peak hours.