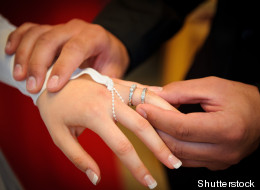 Imagine going through all the most important parts of your wedding day -- such as walking down the aisle and exchanging rings -- but never saying "I do."
That was the case for British couple Kelly Sweetman and Nathan Rees, who went through all the motions of tying the knot at their beach wedding in Cyprus, except for one small detail: the officiant forgot to ask the bride to say her vows, reports the Daily Mail.
According to the British newspaper, the pair had to get married all over again since the officiant skipped the bride's vows and the ceremony wasn't legally binding.
"I thought it was very strange I hadn't said my vows but I didn't say anything. I did notice all my guests staring at each other looking very confused," Sweetman told the Daily Mail.
Despite the confusion, the pair went on to sign the official paperwork. But an hour later, the altar was re-decorated and the officiant returned to re-do the ceremony. Finally, Sweetman and Rees were married.
This slightly botched ceremony shows that even with lots of planning and careful consideration, things can still go wrong on a couple's Big Day. Click through the slideshow below to see some other choice Big Day snafus, from the dog who peed on a bride's gown, to the best man who lost his pants at the altar
Keep in touch! Check out HuffPost Weddings on Facebook, Twitter and Pinterest.
Wedding Wardrobe Malfunctions
We're pretty sure all eyes have shifted from the bride...

He may look genuinely embarrassed, but everyone else looks genuinely entertained.

Congratulations, you two! Here's my present to you...

This bride doesn't look so happy to be wearing white right now.

Wedding gowns and fire definitely don't mix.

A faulty zipper can happen to the best of us. Luckily, this bride recovers -- even in the middle of her first dance as a newlywed.

In a Marilyn Monroe-esque moment, this bride's gown blows up -- and stays up.

In a strange turn of events, this blushing bride loses her wedding dress while walking down the aisle. After tripping over her gown, the bride pulls it off and runs out of the room, butt-naked.