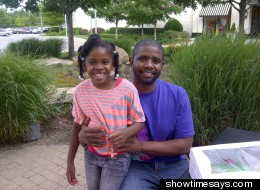 It's common for sons and daughters to express their love and gratitude to their dads on Father's Day. Yet here at HuffPost Religion, we wanted to put the spotlight on dads themselves.
Starting on Twitter, we asked, "How does your faith influence your life as a dad?" Instantly, we received replies from dads across the U.S. who told us they relied on spirituality for providence, direction and overall child rearing guidance.
Taking the conversation off social media and onto e-mail, we interacted with pastors, reverends and future rabbis. The slideshow below includes powerful stories from stay-at-home dads, single fathers and even one brand new dad. All participants were asked:
What kind of faith-based practices do you do as a family?
What hopes do you have for your children in terms of their religion?
What role has faith has played in navigating life as a parent?
How has your faith has evolved since becoming a father?
What's your father's day faith story? Share YOUR answers to the above questions in the comments or reach out to religion@huffingtonpost.com. Be sure to include a photo. Thanks to all who participated already!
Father's Day for Religion
I am a single father who is currently raising an 8-year-old girl. As a parent, I feel one of my biggest responsibilities is installing a sense of faith into my daughter. As someone who grew up in a family that was deeply rooted in the church I understood at an early age how important it is to have a sense of strong faith in my life. I believe that a strong faith based foundation is essential for raising children. Children understand things that they see more than things that are just preached to them. So when it comes to faith I have to make sure that I am a walking, talking example of what a man of God should be. I try to make sure that my daughter attends church with me regularly, but also has a concise understanding of everything that goes on in our place of worship. After services are over we discuss what she learned in her "kids rock" children's church activities. Prayer is also something that is important to me. Each night before going to bed she and I get on our knees (actually I get on my knees and she gets on my back) and we say our prayers . She recites her "now I lay me down to sleep..." and afterwards I give thanks and ask God to protect us and keep us safe. To me, it is important for her to see me engaged in interactions with the Father so she can eventually build her own relationship with God as she grows older. I understand that there is a battle for our seed right now. The enemy is just waiting for the chance to take control of her spirit. As a Parent, as a Man, and most importantly as a Christian I can not afford to let that happen. God trusted Me with one of his precious gifts and I have to make sure that she is covered with his full armor when she goes out to fight the battles of this world.

A few months ago I was sitting in a blanket fort on the floor of the living room with my two and a half-year old son. My spouse was taking a nap, and I was fairly sleepy myself. So when G asked me to beef up the entrance with pillows--which would have meant extricating myself from my near fetal position--I demurred. "How about I be the door?" And then because my free-association brain couldn't help itself, I continued, "he he, Jesus said, 'I am the door.'" G's eyebrow's lifted and a little smile crossed his face as he slowly repeated, "Jesus said 'I am the door?!'" As I took in how truly weird this sounded, my own smile widened all the more. I'll admit I'm something of a threshold connoisseur. In addition to a dad, I'm an Episcopal priest, a transgender man (or transman), and an academic who specializes in conceptions sexual difference and embodiment in Christian thought. From baptism to eucharist to the stories of transfiguration and resurrection, I love how my tradition explores the power of border territories and of transformation. Now one of the unexpected delights of being a dad is discovering how my son meets me in this odd terrain. I visit the church he and my partner attend (as a university chaplain I do evening services during the academic year) and observe him doing a cheerful fraction with his communion wafer. At dinner he lingers, holding hands after grace (announcing, "we still holding hands"). He laughingly shouts "for Jesus!" when I ask him to "stand up, stand up..." so I can put on his pants. He insists the three of us sit on the floor of his room at night, or our bedtime prayers just won't count. And then there was the moment in the car on the way to daycare when the fort conversation re-emerged. Out of nowhere, with a gleeful grin he proclaimed, "Jesus said I am the door!" Followed immediately by the toddler-friendly name of our favorite restaurant: "Pu Pu Hot Pot."

Traditionally Judaism sees God's statement to Adam and Eve in Genesis 1:28, "Be fruitful and multiply," as the first mitzvah in the Torah. There are even those sages who suggest that to "be fruitful and multiply" is the most important commandment found in the Hebrew Bible. In 2007, when I began my journey toward the rabbinate, we began rabbinical school with foundational lectures by rabbis and teachers in the community. One of the first scholars we met was one of the greats of our generation, Rabbi Elliot Dorff. Rabbi Dorff is known for his strong views on marriage and procreation before or during graduate school, especially since the Jewish population is somewhat of an endangered species on our planet. Therefore, Rabbi Dorff gives incoming students "the talk" about being fruitful and multiplying sooner rather than later. His talk firmly resounded with me that day of orientation for my wife and I had begun to start growing our family. By the High Holy Days that fall, my wife was pregnant and we were expecting our first child, a son. Three years later, we were expecting again, twins that time, born on the first day of the semester. The path of becoming a rabbi is a difficult one and with three young children, all the more so. For me knowing that fatherhood might just be the most important mitzvah of the Jewish tradition has enabled me to keep the stress of home, school, and work in balance. Next May, after six years of rabbinical school, I expect to be ordained as a rabbi. As I enter this final challenging year of my education, I know that I will seek strength from God to be present for my family, for my teachers, and for my future community.

I am the father of three, two boys and a girl, ages 9, 6, and almost 2, respectively. I am aware that as a father I have a particularly important role in faith formation with my children. Even though I am a pastor I do not take it for granted that my kids will learn the faith by proximity or osmosis. Thankfully my wife and I are partners in this and we work together on this front. When my oldest was little, he would not go to sleep easily. Compound that with the ability to escape the crib at an early age, the move to a toddler bed was incredibly frustrating. To keep him in bed I would sing. Since I was in the practice of praying compline on a fairly regular basis, the songs were often from the prayer office. "All Praise to Thee My God This Night" would be repeated again and again. It was a natural consequence then that our bedtime prayer routine now is almost completely sung and follows a simplified pattern of compline. Being a father is fraught with cultural expectations about manliness and what it means to be a good dad, especially with issues of authority and obedience. But one night as my boys and I were saying the Lord's Prayer I realized that as prayed the Our Father, we were saying it as brothers in Christ. It has helped bring some clarity to my role as father in relation to my boys who are also part of God's family. I am often forgetful of that primary relationship in Christ but am thankful for the times when it is clarified. My kids also give me much material for reflection, some of which I use in my sermons although I try to limit that. They don't need their lives paraded out in front of others just so I can score some cheap points with sermon listeners. But I have used situations and stories about them on my blog. With those stories, I often write about the tension between being both pastor and dad. I thought those stories might happen less and less when I left congregational ministry to do campus ministry, but just today I finished a piece about my oldest and nurturing compassion. (You can read it here: http://intheparish.blogspot.com/2012/06/pastor-dad-and-compassion.html ) These stories I tell because I am mainly wrestling with my response, trying to determine how to be the best pastor and father at the same time.

When I was 15 I heard a young girl named Tirzah sing beautifully. I knew then that I would have a daughter someday and that would be her name. More than 10 years later the meaning of that name would rescue me, incarnationally. I was raised in the church, but my eclectic journey of faith, including a divinity degree, did not prepare me for an arresting diagnosis I received in September 2011. I had a "super rare" genetic disorder which would someday begin to progress, and not stop. My intellectual faith failed me while I searched for God in this very dark valley. Soon after my wife got a much-needed job which forced me to become a stay-at-home dad to our then 6-month old daughter, Tirzah. For the next 9 months I did night feedings, diaper changes, housework, medicine doses, snot patrol, and infinite renditions of the ABCs. It was not stressful. It was only slightly tiring. It was, however, sacramental. See, the Hebrew name Tirzah means 'she is my delight'. In those 9 months, during which I struggled to see the joy of God in such an uncertain future, my daughter was my delight. In her, I was fully myself and in her God brought me through one of the worst years of my life. Because of the joy Tirzah brought to our family, my wife and I did not just survive that tumultuous period, we thrived. And nobody ever guessed from interacting with her that our family was struggling so greatly. Amazingly, our second daughter has had an equally profound impact on our family through her name! This year I joined The Pennington School in Pennington, NJ. As the Chaplain, I try to serve the spiritual needs of our students, faculty, staff, and parents. Only two months after we moved in Mircea was born. Mircea (anglicized: Mir-say-ah) is of Slavic origin and it means 'peace'. In the chaos of a new job, a new home, and a new community, Mircea's smiles have shined God's peace and certainty upon our family. She is wonderfully calm, and God is constantly reminding me that no matter what change comes our way, good and bad, God's banner of peace is always over us. My wife Erica and I have open conversations about God. She has her own beliefs about God's work in the world, and I know that when our daughters are old enough to participate they will benefit greatly from both of our stories. Two of those stories will be about how each of their names has so profoundly, and incarnationally, revealed God's presence to me. Tirzah was my delight during the scariest months of my life, and she continues to bring me overwhelming joy even now, well into her 'terrible two's. And Mircea reminds me that God's peace, which surpasses all understanding, is given freely to those who call.

All of us walk through life with different titles attached to our names. Most people know me in my capacity as a minister in the United Church of Christ. But I am also a husband to my wife Liz Smith Currie and a father to our twin nearly eight year old daughters, Katherine and Frances. As Father's Day approaches, it serves as a time of reflection on faith and fatherhood and how those dual roles of pastor and dad intertwine. People are often surprised to learn that my daughters are not baptized. Shortly after their birth a special service of thanksgiving was held to welcome them into the world. In consultation with my wife, who does not share my faith background, we decided not to have our daughters baptized but rather to raise them in the churches I have, do and will serve in the future and to encourage them to study other religious traditions so that at some point in the future they might make an informed decision as to whether or not they want to officially join the Christian church universal or to perhaps follow another path to the divine that speaks to their souls. As parents, we felt it best not to force a faith on them. My own father had many good qualities but also suffered from mental illness and addictions that eventually took his life. He repeatedly told his children that we were property and as such should conform to his ways of thinking. This is not what God intended for humanity. In a time in history where children were little valued, Jesus welcomed children to his side and said the Kingdom was for them. It was a radical proclamation about how children should be treated and respected. It is my great hope that Frances and Katherine grow up seeing the church as a beacon of hope and justice in a sometimes broken world. I hope justice, kindness and humility guide their everyday endeavors and that they feel that God was well pleased with their creation. As we walk through their lives together, I hope they understand they have a father committed to the Gospel teachings and to the idea that parents should pass on values and questions of faith but not dictate orthodox understandings of faith. I have confidence my daughters - who already show much compassion and love for the world around them - will ultimately make choices that best express the unique people they are. Faith should be part of a process of self-discovery and not something imposed on by parents. Perhaps this tradition on imposition is one of the reasons so many young people ultimately leave the church. As a father and a pastor, I hope my daughters come to know God in their own way through a relationship that is developed and not forced. That would be the greatest Father's Day gift.

Of all my experiences in life, nothing has changed my faith like having a child. The entire process of childbirth was extraordinary, especially my wife who achieved it without the use of pain medications. When my daughter came into the world, I felt as if God was present in the room and I was privileged to experience this holy moment of wonder. As the haze of those first weeks cleared, I started seeing Scripture in a new way ("As a father has compassion on his children, so the Lord...") and prayer took on a new tone of fervency ("Lord, please help us know how to model Your love for her"). Whereas before I struggled with the concept of unconditional love, seeing this tiny child cradled in my arms left me awash in feelings of awe and devotion. Even family-related sermon anecdotes, which I previously thought to be mostly irrelevant, brought me to the verge of tears as I felt a flood of raw emotions from being a new father. In the same way my faith changed, my view of fatherhood also shifted. I now understand that being a parent is a calling. As a father, I have the distinct honor and responsibility of modeling the concept of God to my daughter. The way in which I love, encourage, discipline, and interact with her can profoundly shape how she comes to know God the Father. I know this from my own struggles coming to know God in high school, and my prayers are filled with pleas for her experience to be better. It feels like my daughter has been with our family forever, despite her only being five months old. I can't imagine life without her, nor can I picture the limited view of faith and God I had prior to her arrival. Heading into the unknown of the years ahead, I'm comforted by Hebrews 11:1 - faith is being sure of what we hope for and certain of what we do not see. I'm certain God will be with us through this journey, and I hope with all my heart I'll be found worthy of the title "father."

From the Babylonian Talmud R. Zera further ruled, One should not promise a child to give him something and then not give it to him, because he will thereby teach him lying, as it is said, They have taught their tongues to speak lies. Tractate Sukkah 46b http://www.scribd.com/doc/55396107/45/Talmud-Mas-Sukkah-46a

My 6 year old son, Carter, has the unique experience of being a "Double Preacher's Kid." I work at one church as an Associate Pastor and my wife works at another church as a Children's Pastor. Honestly, it's a mixed bag for Carter. He gets to experience the best of what each church has to offer, but he also ends up sitting through a lot of church. I don't worry so much that he'll have the painful experience of rigid expectations and orthodoxies imposed on him that some PK's have, but I do wonder if he'll experience the pain of getting exhausted with church. Yet, there has been much blessing in both church's investment in him - we hardly ever do much at home to teach him Bible stories, etc., but he talks about them all the time. He actually learns things at church that are meaningful to him. For some reason, that surprised me one day when I realized that. Maybe I'm not torturing my son with too much church after all.