"Ronald Reagan would have, based on his record of finding accommodation, finding some degree of common ground, as would my dad -- they would have a hard time if you define the Republican party -- and I don't -- as having an orthodoxy that doesn't allow for disagreement, doesn't allow for finding some common ground," Bush said, adding that he views the hyper-partisan moment as "temporary."

"Back to my dad's time and Ronald Reagan's time -- they got a lot of stuff done with a lot of bipartisan suport," he said. Reagan "would be criticized for doing the things that he did."
To understand what Bush is saying, you need to anticipate how the party might diagnose the causes of a loss in 2012, and then you can see how he is setting himself as the cure. Bush has been publicly urging Republicans to moderate their tone toward Latinos and to embrace immigration reform. Here is the one issue where Republicans, should they lose, will almost surely conclude that they need to moderate their party stance. The Latino vote is both growing in size and seems to be tilting ever more strongly toward the Democrats, a combination that will rapidly make the electoral map virtually unwinnable. Indeed, the body language of the Romney campaign suggests it already regrets the hard-line stances on immigration it adopted during the primary.
The Weekly Standard's William Kristol suggested the intraparty critics are simply giving voice to what many in the party feel right now -- that Romney needs to work harder to build his own case.

"At some point, people do look up and say, 'OK, I'm convinced that President Obama doesn't quite get it … Time to look at Mitt Romney. I'm worried they may not have quite enough in place when it's time to look at Mitt Romney where there is a coherent set of policies."
Interestingly, the local papers in Ohio covered Obama's speech yesterday, and Romney's rebuttal to it, as a clash of economic visions. This is how it was framed on front page after front page, according to a roundup of front pages forwarded to me by a Democrat frustrated with Washington coverage of the speech.
Polls show Obama quite strong in the Silver State, whereas Berkley is stuck in a tie. Her strategy will be to latch on to the president at every opportunity, hoping some of the energy (and massive support from young and African American voters) behind his re-election bid rubs off on her own campaign.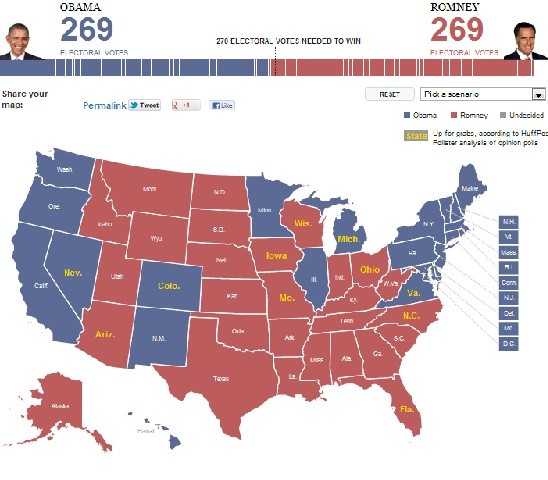 SUBSCRIBE TO & FOLLOW TRUMP'S FIRST 100 DAYS
How will Donald Trump's first 100 days impact YOU? Subscribe, choose the community that you most identify with or want to learn more about and we'll send you the news that matters most once a week throughout Trump's first 100 days in office. Learn more