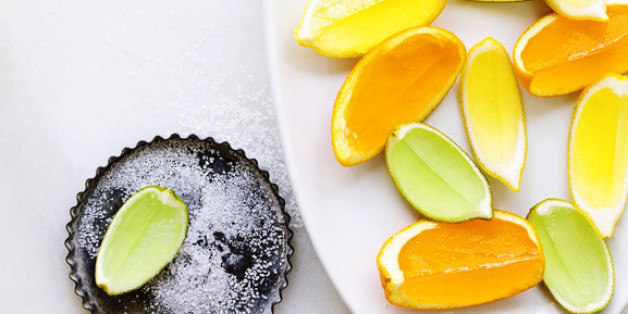 Bakers Royale
We might not be proud of it, but many of us have been beyond intoxicated at least once or twice thanks to Jell-O shots. Most nights that included these neon-colored shots did not end well -- and the morning after faired even worse -- which is probably why there's a steady decrease of these shots in our lives as we get older.
We're here to make sure that doesn't happen. Jell-O shots don't have to mean cheap vodka, red Jell-O and plastic disposable cups. Nope, these shots can be made out of well balanced cocktails, molded into beautiful shapes and set in striking colors. We've found many impressive examples. Take a look at these gorgeous recipes and give Jell-O shots another try.
The Beautiful Mess

2

Cadillac Margarita Jello Shot

Bakers Royale

Jelly Shot Test Kitchen

4

Champagne Rhubarb Jelly Shots

Anna Hezel/Food52

Bakers Royal

Bakers Royale

7

Cucumber-Lime Margarita

Jelly Shot Test Kitchen

8

Candy Corn Jell-O Shots

That's So Michelle

A Beautiful Mess

Jelly Shot Test Kitchen

Jelly Shot Test Kitchen

12

Rainbow Cherry Jigglers

Jelly Shot Test Kitchen

13

Blue Curacao And Citron Vodka Jell-O Shots

Savoring Every Bite
Want to read more from HuffPost Taste? Follow us on Twitter, Facebook, Pinterest and Tumblr.
YOU MAY LIKE
CONVERSATIONS
FOLLOW HUFFPOST