Welcome to the inaugural installment of "WTF, CSA?" Each week this CSA season, we'll help you make use of your overflowing CSA baskets. You ask, we answer. That's how this works. Or rather, you shouted, "WTF?" into your CSA box and now we're going to tell what on earth to do with all that kohlrabi.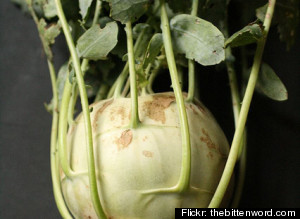 It's easy to see how kohlrabi could throw you off your game the first time you see it. It looks like someone teleported a vegetable from Mars right into your kitchen. But in truth, kohlrabi is incredibly versatile. Kohlrabi, cabbage, Brussels sprouts and kale are all cousins, so you can expect that any flavor that goes nicely with one, will be lovely with the other.
After asking a formerly vegetarian friend what she likes to do with kohlrabi best, she said, "Honestly, just peel it, slice it, sprinkle it with salt and eat it raw." We love her style and hope you follow suit. You can basically treat kohlrabi, both the green and purple varieties, like a sweet, overgrown radish. Do be sure to remove all of the peel (which is really tough), unless you plan to cook it until it's soft.
Kohlrabi is a crispy, crunchy alien vegetable that you can prepare in more ways than we were able to catalogue. Here are some of our favorites:
Get the Kohlrabi Salad recipe from Food52

Get the Kohlrabi, Radish and Carrot 'Ceviche' recipe from VegHotPot

Get the Fresh Mozzarella and Roasted Kohlrabi Crostini with Crispy Lemons and Shallots recipe from Food52

Get the Fridge Pickled Kohlrabi and Carrots recipe from The Root Cellar's Garden Full disclosure, we will probably find a recipe for you to pickle every single thing in your CSA box. That said, kohlrabi's crunchiness stands up to the pickling process particularly well, especially when they are cold from the fridge.

Get the Kohlrabi Fritters recipe from My Conscious Eating

Get the Creamy Kohlrabi Carrot Soup recipe from Eat Love And Be Happy

Get the 'Carpaccio' of Kohlrabi with Radishes and Blue Cheese recipe from Scrumptious

Get the Crispy Kohlrabi Medallions from Sabrina Sue

Get the Sholeh Maash (Persian Green Mung Bean and Kohlrabi Hearty Soup) recipe from Turmeric & Saffron

Get the Butter-Braised Kohlrabi recipe from Saveur

Get the Raw Kohlrabi and Grapefruit Salad recipe from Kiran Tarun

Get the Roasted Kohlrabi, Turnip and Heirloom Carrot Salad with Garden Cress Blend recipe from Noshtopia

Get the Spiced Goat Stuffed Kohlrabi recipe from Life As A Dreger Not ready for goat? This dish would be delicious with lamb, beef or mushrooms as well!

Get the Kohlrabi Tops and Bulbs with Mushrooms and Lentils recipe from Urban Vegan

Get the Kohlrabi and Carrot Salad with Harissa recipe from Food52

JaymeeSireCSN:Try eating kohlrabi raw in this gorgeous salad!

Or get fancy and carve some kohlrabi roses. Just make sure you eat them afterward -- we'd hate for these delicious little aliens to go to waste.