Summer Pie Recipe Contest: Vote For Your Favorite Dish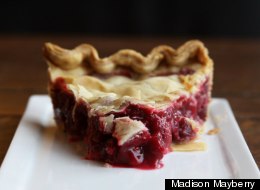 While we're big fans of summer, there are some things we could do without (bugs!). But we definitely couldn't do without all the summer pies that are happily baked in warm home kitchens this time of year. And in honor of a great summer ahead of us, we put out a search for the best summer pie. And amazing summer pies we received. From the submissions we gathered a creative collection of pie recipes -- apricot hazelnut, summery grape, even grilled cherry pie. While we'd love to try all of them, one recipe needs to be named the BEST summer pie. So we leave it up to you. Vote for your favorite pie recipes and decide which will make it to Round 2.
Click through the slideshow below and cast your vote!
This is my family's absolute favorite way to eat raspberries during the summer months. Although cranberries may seem like an unusual addition, they add pleasant tartness and complexity to the pie. We loved this recipe so much, my husband and I served it at our wedding in place of cake last summer! Cran-Raspberry Pie Ingredients: 1 recipe your favorite pie dough (for a double crust pie) 1-1/4 cups sugar 1/3 cup all-purpose flour 1/2 cup dried cranberries 5 cups fresh raspberries 2 tsp finely shredded lemon peel Milk (optional) Additional sugar (optional) Directions: On a lightly floured surface, flatten one half of the pie dough. Roll from center to edges into a 12-inch circle. To transfer pastry, wrap it around the rolling pin; unroll into a 9-inch pie plate. Ease pastry into pie plate, being careful not to stretch pastry. In a mixing bowl combine the 3⁄4-1 cup sugar and the flour. Stir in the dried cranberries, berries and lemon peel. Gently toss mixture until well coated. Transfer berry mixture to the pastry-lined pie plate. On lightly floured surface roll remaining dough into a 12-inch circle. For a 2-crust pie, trim bottom pastry to edge of pie plate. Cut slits in top crust for steam to escape; place on filling and fold edge under bottom pastry. Flute edge as desired. If desired, brush pastry top with a little milk and sprinkle with additional sugar To prevent overbrowning, cover edge of pie with foil. Bake for 25 minutes. Remove foil. Bake in a 375°F oven for 25 to 30 minutes more or until top is golden. Cool on wire rack. Makes 8 servings.

It's the textures and the luxurious lemon cream that make this the finest lemon meringue you will ever eat: an almond butter crust, a sweet puff of toasted meringue, and an intense, silky lemon layer give you a close-your-eyes moment only the best forkful can command. Melt-in-your-mouth Lemon Meringue Tart For the lemon cream: 1 1/3 cups sugar Finely grated zest of 3 organic lemons 4 large eggs ¾ cup freshly squeezed lemon juice (4-5 lemons) 2 sticks plus 5 tablespoons (10 ½ oz.) unsalted butter, room temperature, cut into 1-inch pieces For the press-in crust: 1 2/3 cups unbleached, all-purpose flour 1/4 cup sugar 1/4 cup slivered almonds 10 tablespoons (1 1/4 sticks) chilled unsalted butter, cut into 1/2-inch cubes 1 large egg, lightly beaten For the meringue: 4 egg whites, room temperature 1/8 teaspoon cream of tartar 1 cup sugar Powdered sugar for garnish For the lemon cream (can be made in advance): Bring a few inches of water to a simmer in a saucepan. Place the sugar and zest in a large metal bowl that fits over the pan of simmering water as a double boiler (without the water touching the bottom of the bowl). Off heat, work the sugar and zest together between your fingers until the sugar is moist, grainy and very aromatic. Whisk in the eggs, then the lemon juice. Place the bowl over the saucepan on medium high heat. Cook, whisking constantly, until the curd reaches 180°F. The mixture will start to thicken and the whisk will leave tracks as it heats up. At 180°F, remove from the heat and strain the curd into the container of a blender (or food processor); discard the zest. Let the cream rest and cool slightly, stirring occasionally, for about 10 minutes. Turn the blender to high and incorporate five pieces of butter at a time. Turn off the blender and scrape down the sides of the container as needed while you're incorporating the butter. Beat for an additional three minutes after all of the butter is in. Pour into a container, press a piece of plastic wrap against the surface to create an airtight seal, and chill for eight hours or overnight. The curd keeps for four days, chilled. When you are ready to construct the tart, just whisk the cream to loosen it and spoon it into the tart shell. For the press-in crust (can be made in advance): Blend the flour, sugar and almonds in a food processor until the nuts are finely ground. Using on/off turns, cut in the butter until a coarse meal forms. Add the egg and blend just until dough forms. Gather dough into ball; flatten into a square 1-inch thick, wrap in plastic, and chill 1 hour. Line the bottom of a 10-inch round removable bottom tart pan with parchment paper. Cut the dough into 1-inch slices. Lay the slices in the bottom of the pan and push them together, closing all fissures tightly. Press the bottom of a glass against the dough to flatten and smooth. Then line the edges of the tart with slices of dough placed horizontally around the fluted edges. Press this dough into the bottom of the crust and into the fluted rim. Refrigerate the crust for one hour. Preheat oven to 375°F. Bake the crust until golden brown, about 17 minutes. Remove the crust from the oven. You will notice that the crust is somewhat puffed up; this should be tamped down with the bottom of a glass or similar flat, heavy tool. Cool the crust and then remove the fluted ring by setting the tart pan over a jar and letting the ring fall to the counter. Use a flat metal spatula to lift the tart off of the metal tart pan bottom. Place on a serving plate to fill with curd and top with meringue. For the meringue (make the day the tart is to be served): Be certain that the egg whites contain no trace of yolk and that they are room temperature. In a mixer fitted with the whisk attachment (or with a hand mixer, or with a hand-held whisk in a bowl), beat the egg whites with the cream of tartar just until soft peaks form. Careful not to take the beating too far at this stage. Pour ¼ cup of the sugar in as the whites are beating. Continue to add the sugar ¼ cup at a time, slowly, until it is all incorporated and the whites are shiny and stiff. Use a ½-inch piping tip to pipe the meringue on the tart, or spoon it over the tart making swirls and indents with the back of the spoon. Be sure the meringue reaches all the way to the edge of the tart crust. Brown the meringue either by skimming the edges of the meringue with a kitchen torch, or placing the tart in a 350 degree oven just until the top of the meringue is lightly browned. Sift powdered sugar around the edge over the tart, and serve chilled. Serves 8.

This pie is always a favorite her at our house i always make two or more and share them with friends. White Pie Ingredients: 2 cup milk 2 egg whites 3/4 cup sugar 1/2 cup sugar 1/2 cup flour 1 tsp vanilla 1/4 tsp salt 2 tsp margarine Directions: Mix flour and sugar3/4 c.sugar,salt, stir unto milk and cook until thick. Add margarine. Set aside to cool compleaty.can put in frridge to cool. Whip egg whites with 1/2 cup sugar until stiff peaks form. Add this to the cooked(cooled) mixture.add vanilla and stir together. Put in baked pie crust,top with cool whip, sprinkle with a few pecans chill and enjoy.

This apricot hazelnut pie is almost like a cobbler in pie form, having both crunchy and smooth textures from the fruit and nuts and a smaller percentage of fruit to crust. It's tart and sweet in the same bite being an easy sumer pie to love. Apricot Hazelnut Pie Ingredients 6 apricots 3.5 oz soft butter 3.5 oz toasted and ground hazelnuts 2.8 oz powdered sugar 2 eggs 1 pie shell Instructions Wash and dry the apricots, cut them in half, remove the stones. Sprinkle the cut sides with a little sugar and set aside. Preheat the oven to 350 degrees and toast the hazelnuts for about five minutes or until fragrant. Place the butter and icing sugar into a mixing bowl and beat until light and fluffy. Add the ground hazelnuts and mix well. Add one egg at the time and beat until all combined. Pour the mix into the pre baked pie shell. Place the apricots on the dough, cut side up. No need to push them in, as the dough will rise when baking. Place in preheated oven 350 degrees and bake for about 40 minutes.

Mixed Berry Pie Ingredients for the pie: 1 recipe for Shortbread pie crust 1-1/2 pints fresh blueberries 3 pints blackberries 1-1/2 pints strawberries 3 tbs cornstarch 2 tsp lemon juice 1/2 cup sugar 1/2 teaspoon cinnamon Ingredients for crumb topping: 1 cup granulated sugar 3/4 cup flour 1 stick of cold butter cut into pieces. Directions: Place all crumb topping ingredients in a food processor and pulse until combined (about 12 times). Set aside. Preheat oven to 400 degrees. Make pie crust and set aside in the refrigerator. Rinse fruit and cut tops off strawberries. Cut strawberries into quarters or eighths so they are closer to the size of the other berries. Place fruit in a bowl and add sugar, lemon juice, corn starch and cinnamon. Mix together and let sit for 15-20 minutes. While fruit is resting remove pie crust from refrigerator and place on a lightly floured surface. Roll out dough to the size of your pie plate. (Be careful here -- the dough is very sticky). Place dough in pie plate and trim edges. Add fruit mixture. Add crumb topping to top. (I always and only make a pie with a crumb topping -- I've never been enough of a fan of a pie crust to put it on top too. ) Bake at 400 degrees for 50-60 minutes.

The crust is the key to a great hand pie along with a tasty filling. This crust recipe is light, crispy on the outside with a bit of sweetness and the hint of vanilla bean makes it interesting. The filling screams summer and the cardamom adds the extra flavor component that brings the entire hand pie together. It is a two to three bite pie packed with flavor! Apricot, Blueberry and Cardamom Hand Pies by the AuthenticSuburbanGourmet Makes 18 Hand Pies Pie Crust 2 ½ cups all purpose Flour 1 ½ sticks cold salted butter (3/4 cup), cut into ½ inch cubes ¼ cup vegetable shortening, cold 1 tbs sugar ¼ tsp vanilla bean ½ tsp salt 2 tbs crème fraiche 5 to 7 tbs ice water Mix together the flour, butter, shortening, crème fraiche, salt, sugar and vanilla bean in a bowl with your fingertips or a pastry cutter until the mixture resembles pea size lumps. Add 3 tbs of water and mix with a fork or your fingers. To test, squeeze a small handful of the dough until incorporated. Add 1 to 2 more tablespoons of water until incorporated and dough forms a ball. Using the heel of your hand, press the dough flat once or twice to ensure the butter is well distributed. Be careful to not overwork the dough. Divide the dough into two balls and flatten. Wrap with plastic wrap and chill for two hours. Filling 2 cups apricots, diced small ¾ cup blueberries 3 tbs sugar ½ tsp cardamom (use less if desired) 1 tsp Cointreau 1 tsp lemon zest Pinch of salt Add all of the above ingredients to a medium bowl and stir together. Let sit at least one hour to develop the flavors. Assembly Preheat oven to 350 degrees. Remove dough from refrigerator to warm up for about 5 to 10 minutes. Use a large surface to roll the dough out. Lightly flour the surface and have plenty of flour available to prevent sticking. Flour the top of the dough to prevent sticking to the rolling pin and add more as required. Roll the first disk of dough out between 1/8 and ¼ inch thick. Using a 4 inch round cookie cutter, cut as many circles as possible. Gently repeat the process until the dough is utilized. Next you will want to repeat the same process with the second disk of dough. Make an egg wash by using one egg and a tablespoon of water. Add to a small bowl and whisk until a light yellow color. Place 6 to 8 circles of dough onto a baking sheet that is either non-stick or lined with parchment paper. Using a pastry brush, lightly apply the egg wash to the entire surface of each circle of dough. Add about 1 tablespoon or a bit less of the fruit mixture to one half of the dough while leaving a half inch of dough exposed. Gently fold over the dough and lightly press with your fingers to seal the hand pie. Use a long pronged fork to make indents around the edges. Use a sharp knife to add 2 to 3 slits on top of each pie to allow for air to be released. Lightly brush each completed hand pie and sprinkle with turbinado sugar on top of each one. Cook for 25 to 30 minutes or until golden brown and fruit will be bubbling. Remove from baking sheet and let cool on a wire rack.

"Even if it weren't summer, the tropical flavors of the banana cream and coconut milk whipped cream are sure to make you think of vacations in the sun." Banana Cream Pie with Coconut Milk Whipped Cream From the kitchen of David Biller Makes two 9-inch pies, 8 to 12 servings per pie Pie Dough 3 ½ cups all-purpose flour, divided 1 cup unsalted butter, frozen and grated by box grater ½ cup Crisco butter-flavored shortening 1 egg ½ cup water 2 tablespoons sugar 1 tablespoon vinegar 2 teaspoons salt Banana Filling 4-5 bananas, not overripe 2 packets banana instant pudding mix Simple syrup (¼ cup sugar and ¼ cup water) Coconut Milk Whipped Cream 1 can coconut milk, chilled overnight in refrigerator 1 cup heavy whipping cream 4 tablespoons powdered sugar 1 teaspoon vanilla extract For the pie dough: Add 2 ½ cups flour to a large mixing bowl. Add the butter and shortening to the flour and mix roughly. Combine until the butter is mostly mixed into the flour, between cornmeal- and pea-sized pieces. In a small bowl, beat together the egg, water, sugar, vinegar and salt. Make a well in the center of the flour and pour the egg mixture into the well. Mix until the dough resembles soft cookie dough. Gradually add the remaining 1 cup flour until the dough is easily kneaded by hand without sticking. Cover dough with plastic wrap and chill in the refrigerator, for 20 to 30 minutes. Preheat oven to 400 degrees Fahrenheit and place an upturned jelly roll baking pan on the center rack. This preheated baking pan will help to set the bottom of the dough while baking. Divide chilled dough in half and knead separately. On a lightly floured surface, roll dough half to approximately 1/8 inch thickness (each half will make a 10.5"-11" circle). Move the dough rounds to your pie plates and press into the plate. Using a fork, dock the pie shells along the bottom and sides. Use parchment paper and pie weights (or uncooked beans) to line the pie. Reduce the oven temperature to 370 degrees, bake for 15-18 minutes. Remove the parchment paper and weights, reduce the temperature to 350 degrees and bake for an additional 12-16 minutes. Remove to a wire rack and let cool. For the filling: In a small saucepan, combine equal parts water and sugar. On medium high heat, bring the mixture to boil. Allow to boil briefly so that the sugar is thoroughly dissolved. Remove mixture from heat and allow to cool. Slice one banana and toss with the sugar syrup. This will be used on the very top of the pie, and the syrup helps to prevent browning. Set aside soaking bananas. Prepare the banana pudding as indicated on packet. You may substitute homemade pudding if your time allows. In the bottom of baked pie shells, slice and layer unsoaked bananas. After completing one layer, add a layer of banana pudding. Repeat another layer of banana slices and finish with the last of the banana pudding mixture. Decorate top with coconut milk whipped cream, and add sugar-soaked banana slices. Shake off excess sugar syrup before adding such slices. It works best to create an outer ring with the whipped cream, and layer the sugar slices in the center. For the whipped cream: After chilling the unopened can of coconut milk, the heavier coconut cream will float on top of the coconut water. Use a spoon to skim only the coconut cream into a chilled mixing bowl. Add the heavy cream, sugar and vanilla to the mixing bowl. Beat on medium until semi-soft peaks will form in the cream. You may place directly on the chilled, filled pie, or you may keep in the refrigerator for 3-4 days. Serve pie chilled, with extra whipped cream as desired.

These Pecan Chewies were made by my mom every time my uncle visited. They're the perfect little 2-bite pie...and topped with ice cream, they're even better. Pecan Chewies Crust: 3 oz. cream cheese, room temperature 1 stick (1/2 cup) salted butter, room temperature 1 cup sifted flour filling: 2/3 cup chopped pecans 1 egg 3/4 cup light brown sugar 1 tbs salted butter, room temperature 1 tsp vanilla dash kosher salt Preheat oven to 325. Beat together the cream cheese and butter until combined. Stir in the sifted flour until it forms a dough. (This will take several minutes of stirring, but it will come together.) Wrap in plastic wrap and place in the refrigerator. Toast the pecans: Place the pecans on a cookie sheet and bake for 5 minutes. Remove from the sheet and set aside. Beat together the egg, brown sugar, butter, vanilla and salt until smooth. You may see a few tiny bits of butter; that's ok. Remove the dough from the refrigerator and roll into 24 balls. Place the balls in an ungreased mini muffin tin, and press the dough into the bottom and sides of the cups. Divide half of the pecans among the 24 pastry-lined muffin cups. Use a teaspoon to add in the egg/brown sugar mixture. (If you get messy like I did, just wipe the pan with a damp paper towel before baking.) Top with the remaining pecans. Bake for 20-25 minutes, or until done. Cool on a wire rack in the pan for 5 minutes. Remove the pecan chewies from the pan, using a knife to go around the edges if needed, and cool completely on the wire rack.

How did I come up with this? I decided to use the grapes because while testing a recipe for broiled pork & grape skewers, I discovered how amazing grapes become once they are heated. They turn so much sweeter and literally burst once you bite into them. Mini Grape Pie Ingredients: 1/3 cup butter at room temperature 1/4 cup sugar 1/2 egg (I took an entire egg, whisked it with a fork and then used 1/2 of the mixture) 1/2 teaspoon vanilla 1/2 teaspoon lemon zest 1/2 teaspoon baking powder pinch salt 1-1.5 cups flour a bunch of red seedless grape Directions: Preheat the oven to 375. Cream the sugar and butter for a minute. Add egg, lemon zest and vanilla. Mix together. Combine dry ingredients and incorporate into the wet ingredients. Once the dough is holding together, make it into a ball, cover with plastic wrap and refrigerate for 30 minutes. Spray your baking container with oil spray (or use butter). Using 1/2 of the dough make the bottom part of the pie: I simply molded the dough to fit the shape of my dish using my fingers. Put enough grapes on top of the dough to cover it. Cover the grapes with the second half of the dough. Make a few slits. Bake for 20-30 minutes till golden brown. Note that this recipe makes 1 mini pie (about 7 x 4 inches). You can double or triple the recipe to make a larger one.

This Strawberry Yogurt pie is a light, delicious, satisfying summer treat!! Strawberry Yogurt Pie Pie: 16 oz. fresh strawberries 16 oz. heavy whipping cream 2 8 oz. containers strawberry yogurt (I used Chobani) 6 - 9 Tbs sugar (divided) Crust: 1 cup pretzels crushed 2 Tbs sugar 6 Tbs softened unsalted butter Mix pretzels sugar and butter together. Press mixture on bottom and up sides of a 9-inch pie pan sprayed with Pam. Cook at 350 degrees for 10-15 minutes. Cool completely. Rinse and slice strawberries. Save three or four of the whole berries for garnish. Sprinkle 2-3 tbs. of sugar over sliced strawberries. Refrigerate strawberries while preparing pie. Whip heavy cream with mixer. Add 3-5 tbs. of sugar to cream. Stir yogurt to mix the fruit at the bottom of the container. Fold the yogurt into the whipped cream. Fold the sliced strawberries into the yogurt mixture. Pour the entire mixture into the cooled pretzel crust. Garnish the top of the pie with reserved whole strawberries. Freeze the pie for 2-4 hours... Bon appetit!

This pie has a LOT of filling; kind of a Hungry Man style I guess. The bottom crust was perfect and the pie was amazing; by the way, this pie was cooked on the grill indirect heat, lid down (on a Big Green Egg Grill). Cherry Blueberry Pie (On The Grill) Ingredients: 1 pkg. refrigerated pie crusts ½ cup sugar 2 Tbs cornstarch ¼ Tsp ground cinnamon 2 cans (21 oz.) tart cherry pie filling 1 ½ cups fresh organic blueberries 1 egg white 1 tsp water 1 tsp sugar Directions: Preheat the Big Green Egg (BGE) to 425 degrees; with plate setter legs up (indirect). Press one pie crust into your Emile Henry Pie Plate. In a large bowl mix your sugar, cornstarch, cinnamon. Stir in the cherry pie filling and blueberries then spoon into the crust. Cover the pie with the second crust and flute the edges. Cut a hole in the center and decorate as you deem appropriate. Place in BGE (I recommend using a cover for the edges to reduce burning, especially for beginning pie bakers like myself) and bake for 35 minutes (lid down) and check. Depending on your temperature control on the BGE it will be finished in 40-45 minutes on the outside. If it runs a little hot, e.g. 450, just check earlier.

Why is this pie so delicious?- The combination of Two kinds of cream (custard, cream cheese meringue cream), sweet custard and sweet sour cream cheese meringue cream. Just creamy goodness. Strawberry Cream Cheese Meringue Pie Pie crust ingredients: 4 oz Graham Crackers 6 tbs butter, melted Custard cream ingredients: 2 egg yolks 2 tbs corn starch 6 tbs sugar 1 cup Milk 1 tbs butter Cream cheese meringue ingredients: 2 egg whites 3 oz cream cheese 1 tbs sugar 4 tbs plain yogurt 1 tsp lemon juice 8-10 strawberries, halved Directions: Crush graham crackers in a food processor. In a bowl, combine melted butter and crackers. Mix well. Transfer to a lightly greased 9-inch pie pan and with hand, press mixture firmly on the bottom of the pan. Let stand. Make custard cream. In a bowl, combine six tbs of sugar and two tbs of corn starch. Mix well. Add ¼ cup of milk and whisk well. Then add two egg yolks and the rest of one cup of milk little by little. Whisk well. Heat in a microwave for one and half minutes. (Uncover) Whisk well. Then put it back into a microwave and heat for one minute. (If it is still not thick enough, heat in a microwave for another 30 -60 seconds). When the custard is thick enough, add butter and mix well until smooth. Make cream cheese meringue. In a bowl, beat cream cheese and add one tablespoon of sugar, three tablespoon of plain yogurt and one teaspoon of lemon juice. Mix well. In another bowl, whip egg whites until stiff peaks are just about to form. Then add to the cream cheese bowl little by little. Mix until well blended. Pour the custard cream on the crust then cream cheese mélange. Bake at 425 degrees F for 6-7 minutes or until mélange browns. Put strawberries on top. Chill in the refrigerator for 1-2 hours.

Here is my recipe for a fun, summer treat. It is often requested at summer parties. Frozen Hot Cocoa Pie Ingredients: 1 3 oz. package cream cheese, softened 3 individual packages Hot Cocoa Mix (marshmallows are great) 1/3 cup milk 1 8 oz container frozen whipped topping, softened 1/2 tsp mint extract, optional 1 9-inch premade chocolate cookie crumb crust 1 cup chocolate chips or small nonparallel candies Whipped cream Chocolate sauce In large bowl, beat the cream cheese, hot chocolate mix, milk and mint extract (if desired) until smooth. Fold in whipped topping. Pour into pie shell. Freeze 8 hours or overnight. Garnish with chips, cream and chocolate sauce.

Winter, Spring, Summer or Fall, this pie has it all!! Caramel Apple Pie Ingredients for pie crust: 1 ½ cups flour ½ teaspoon salt ½ cup plus 1 Tbs vegetable shortening, cold 2-3 Tbs ice water Directions for pie crust: In large bowl, combine the flour and salt. Using a pastry blender or two knives, cut in the shortening until mixture is coarse and crumbly. Sprinkle on the water, 1 tbs at a time, while tossing the mixture with a fork. Gently gather up the dough with your hands and pat firmly into a ball. This is best used immediately. Press dough into a 6" circle and roll out between two sheets of wax paper. Take off top waxed paper and replace. Flip pie dough (still between wax paper) and remove top sheet. Slide hand under bottom sheet of waxed paper and center pie pan upside down over the dough. Keep one hand under the bottom sheet of wax paper, and while holding pie pan, flip the dough into it. Trim the edge leaving a ½" overhang. Fold under and crimp. Filling ingredients: 1 cup sugar ¼ cup flour 1 tsp cinnamon 6 apples, Honeycrisp, Rome or Jonathan, peeled and sliced thinly ½ cup Marzetti caramel apple dip 2 tbs milk Crumb ingredients: 1 cup flour ½ cup brown sugar ½ cup butter, cold Directions: Mix sugar, flour and cinnamon. Add sliced apples to this and toss. Transfer to pie plate pastry. Combine 2 tbs of the caramel with 2 tbs milk in microwave on medium heat, stir. Drizzle over the apples. (In the fall, I decorate the border with pie crust leaves.) Combine flour and brown sugar. Cut in butter into coarse crumbs. Add crumb mixture on top of apples. Cover edge of pastry with foil for half the cooking time. Bake pie for one hour at 350 degrees. Cool 10 minutes. Drizzle with the remaining warm caramel (heat slightly in microwave before drizzling)