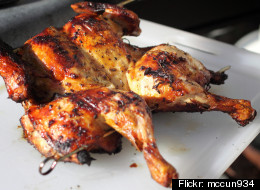 There's no question that Americans--and Chicagoans especially--love throwing meat on a grill this season. And for many of the dads of this city, it's almost an art form.
In a recent cheeseburger-related survey, Kraft Singles found that 73 percent of us will be firing up a grill this season, and we're willing to bet that fathers will be doing a lot of the flipping.
It's no surprise that all that propane-fueled passion has spread to this foodie city's restaurants, with some of Chicago's top eateries reinventing the simple pork chop and steak rub. So as a gift to the dads of this city this Father's Day, we scored the inside details on the some killer grill-centric recipes from some of Chicago's most popular chefs.
Forget to pick up a present in time? Share this slideshow and call it a day:
Father's Day Grilling Recipes
Markethouse Restaurant 611 N. Fairbanks Ct. Chicago Markethouse Stuffed Angus Burger Burger Mixture: Yield: 4 Servings Ingredients: 2 lbs Ground Angus Beef 1 each RedBellPepper, small dice 1 each GreenBellPepper, small dice 1 each Jalapeño Pepper, small dice 1 each Red Onion, small dice 8 ounces Aged White Wisconsin Cheddar, grated 1 Tbsp Parsley, chopped 1 Tbsp Chives, minced 1 Tbsp Cracked Pepper 1 Tbsp Chili Powder 2 Tbsp Extra Virgin Olive Oil Directions: 1. Heat a sauté pan over medium with a thin film of extra virgin olive oil. 2. Add the onions and pepper and sauté until translucent. 3. Add the cracked black pepper and chili powder and cook until aromatic, about 1 minute. Remove this mixture to a mixing bowl and let cool. 4. Once the onion and pepper mixture is cool, add the ground beef & herbs and mix well and season to taste. 5. Portion into 8 oz burger patties, mold a hole in the center of the patty and stuff 1 oz of cheese in the middle. 6. Carefully wrap meat around the cheese to cover and make a patty. Let rest for 30 minutes.

Recipe by Andrew Zimmerman at Sepia 123 N. Jefferson Chicago Gochujang BBQ Sauce for Chicken Ingredients: ½ cup gochujang chilli paste (fermented Korean chilli paste) 6 tbsp mirin or rice wine 2 tbsp dark soy sauce 8 garlic cloves, mashed to a paste 1 tbsp sesame oil 2 tbsp grated ginger root 3 tsp ground black pepper Juice of half a lemon 1 ½ tbsp brown sugar Combine everything and simmer for 2-3 minutes to get the flavors going. Chill and then use as a marinade and to brush on just before taking the chicken off the grill. To use as a marinade coat the chicken and allow to sit at least 4 hours.

From Chef Patricio at Mercadito 108 W. Kinzie St. Chicago Mole-Q Sauce Ingredients: 5 Lbs Short Ribs, cut into 3-4-inch pieces 32 ounce Can of Peeled whole tomatoes 1 Bottles Red Wine 1/4 lbs Brown Sugar 1 pc. Medium Size Cinnamon Sticks 4 pc Chipotles Mecos dry chiles 2 ½ pc Ancho dry chiles 2 ½ Mulato dry chiles 2 ½ Pasilla dry chiles 6 T mustard powder 1 Large Spanish Onion 7 pc Garlic Cloves 3/4 Cups Worcestershire Sauce 1 Cups Apple Cider Vinegar 1/2 pc Piloncillo 5 pc cloves 4 pc allspice 1 tsp Coriander Seeds 1/2 sprig of thyme 1/2 sprig of rosemary 2 T of extra virgin olive oil Salt and pepper to taste Directions: Lightly season the ribs with salt and pepper. Heat a bit of extra virgin olive oil in a heavy large pot over medium-heat. Add the ribs and brown evenly on all sides, about 5 minutes. Transfer the ribs to paper towels to drain briefly. Add the onion and garlic and sauté until translucent, about 5 minutes. Deglaze the pan with red wine and add all other ingredients. Bring to boil, reduce heat to low and cook for 2 hrs. Blend everything for sauce and pass thru chinoise. Meanwhile, preheat an oven to 325 degrees F. Add ribs back to the blended sauce and cook for an additional 2 ½ hours until meat is tender, turning ribs occasionally.

SUSHISAMBA rio 504 N. Wells St. Chicago Hatcho Miso Marinade Ingredients: 16 oz. hatcho miso 10 cloves garlic, finely grated 8.1 fl. oz. mirin 12.1 fl. oz. sake 8.1 fl. oz. rice vinegar 6.76 fl. oz. sesame seed oil 1 cup scallions, minced 1 oz. black pepper, freshly ground This "Emperor's Miso" Marinade is great on skirt steak, which should be marinated for anywhere from 12-24 minutes before grilling.

From chef de cuisine Cory Morris at Mercat a la Planxa 638 S. Michigan Ave. Chicago Nora Chile Rub Yields 2 cups Ingredients: 1 cup Nora chiles 1/2 cup fresh tomato puree 1/4 cup honey 1/4 cup roasted garlic 1/2 cup water 1 T dijon mustard 1/2 cup extra-virgin olive oil 2 T salt

From Steve Ells, Founder & co-CEO, Chipotle Mexican Grill 83 Chicago Locations Ancho Chile Marinade for Meat Ingredients: 1 pkg (2 oz.) dried ancho chiles or dried pepper of choice 1 tsp. black pepper 2 tsp. cumin powder 2 TBS. fresh oregano, chopped 6 cloves garlic 1/2 red onion, quartered 1/4 cup vegetable oil 4 cuts of meat of choice Directions: Soak dry chiles in water overnight or until soft. Remove seeds. Add all ingredients except meat in food processor. Puree until smooth. Spread mixture over meat and refrigerate at least one hour, up to 24 hours. Heat grill to about 400 degrees, or if cooking inside heat small amount of oil in skillet or grill pan over high heat. Salt meat to taste. Grill meat about 4 minutes per side, depending upon thickness, until done. Serve with rice, black beans, or choice of side dish. Garnish with fresh cilantro.

Chef Christian Fantoni at Filini Bar & Restaurant 221 N. Columbus Chicago Perfetto Pollo Marinade Ingredients: 1/2 lemon 1/2 orange 1/2 lime 1.5 ounces of fresh parsley 1.5 ounces of fresh sage 1 quart of extra virgin olive oil Directions: Wash herbs and citrus fruits. Thinly slice fruits and add all ingredients to large mixing bowl. Marinade chicken overnight before roasting or grilling. Chef Fantoni uses this marinade for the "Pollo" dish on Filini's dinner menu: a whole roasted free-range Amish chicken complemented with a side of seasonal spring vegetables.
Flickr photo by mccun934.