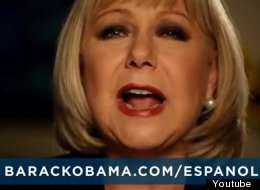 On Monday morning, President Barack Obama received an endorsement from one of the most influential Hispanic TV personalities of all time, Cristina Saralegui.
Originally from Cuba, Saralegui came to the U.S. with her family when she was 12 years-old. Often referred to as the "Latina Oprah," she became a household name with her Miami-based Spanish-language talk show, "El Show de Cristina," where she hosted guests including Selena, Shakira, Ricky Martin, Gloria Trevi and other big names in the entertainment business.
Her empire includes her talk show, which has won 11 Emmys and an estimated 100 million viewers worldwide, a Miami television studio, Casa Cristina, a furniture line, an upcoming clothing line and her own magazine Cristina La Revista according to TIME magazine.
Saralegui was named one TIME Magazine's "25 most influential Hispanics in America" in 2005.
This is Saralegui's first presidential endorsement.
"I came to this country when I was 12 years old, because my parents wanted to give me new opportunities to succeed. With their support and a lot of hard work I was able to pursue my dreams," said Saralegui in the video released by Obama for America.
"President Obama wants everyone to have the chances I had," she continued.
The video has been distributed both in English and Spanish.
She is "one of the most trusted names in the Hispanic community and we're honored to have Cristina be a spokesperson for the campaign, speaking directly to Hispanic voters about the President's accomplishments," said campaign spokesman Jim Messina, according to The Miami Herald.
Other Latino Celebrities Who Support President Obama:
Latino Celebrities Endorse Obama
Just days after the president declared his support for same-sex marriage, pop-star Ricky Martin hosted a fundraiser for Obama in New York. The Puerto Rican singer praised the president's endorsement on same sex marriage and gave his nod of approval to the 2012 president's campaign. Back in April the Puerto Rican singer told Univision's Spanish-language program Primer Impacto, "I am proud to support our president," according to ABC News.

In early May, the Honduran-born and former host of of BET's "106 & Park" appeared in a video from "Latinos for Obama" endorsing President Obama's 2012 campaign. "Latinos are the fastest growing voting bloc in the country. That means that our voice is more important and more powerful than ever before. That's why I'm getting involved in President Obama's campaign and you should too so that Latinos can be heard in 2012 and beyond," she said in her supporting ad.

Spanish actor Antonio Bandera and wife Melanie Griffith have been strong supporters of Obama since his candidacy back in 2008. The couple hosted the 2011 Latino fundraiser for President Obama in their private home in Los Angeles. Banderas said the event was "like a fairly tale."

Actress Eva Longoria, who is one of the 35 national co-chairs appointed by the Obama reelection campaign, has been an avid supporter of President Obama. In a video released back in April by the Obama campaign the Mexican-American actress explained why the President's record on healthcare, education and immigration should earn him the Latino vote in the next election. Despite the fact the president's administration set the record in 2011 for most deportations in one year, Longoria still highlighted the President's record on immigration.

Marc Anthony is the latest Latino celebrity to publicly support President Obama. The Puerto Rican musician announced he will deliver a "special musical performance" at an Obama fundraiser on June 26 at the Fillmore Miami Beach, where he will help the President raise money for his campaign, according to an email invitation

Back in 2010, Gloria Estefan turned heads when she held a fundraiser for President Obama in her Miami home. Two years later and despite the fact that she's said an immigration reform is still in order, the Cuban-born, American singer remains to be a loyal Obama supporter. "I think that he's going to be reelected," Estefan told the Daily Intel at the 2011 premier of Broadway's Follies. "I think that he's doing a good job."

Colombian-born actor John Leguizamo compared Barack Obama to John F. Kennedy, Franklin Delano Roosevelt and Abraham Lincoln on Twitter where he wrote that the president makes him proud to "b #American." In response to criticisms about Obama's presidency, Leguizamo has said "he's doing everything he can, man. The fact that he's running this country gives me so much hope and optimism, more than I ever felt in my life," according to HuffPost blogger Greg Archer.

Secretary of the Interior Ken Salazar has been a supporter of Obama's presidency, defending his record on the environment including the president's energy plans. Obama has received criticism from green allies over a 2008 campaign promise to "end the tyranny of oil," according to ABC News but Sec. Salazar has remained a strong defender of the president.

Adam Rodriguez best known for his role as agent Eric Delko on CBS' drama, "CSI: Miami," is a long time supporter of President Obama. Rodriguez was part of Obama's 2008 "Yes We Can" video. Since then he's also appeared on public campaign events side fellow Obama supporter Eva Longoria.