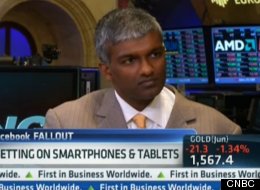 Well, there's at least one investor who saw this whole Facebook mess coming.
Dan Niles, the manager of an AlphaOne Capital Partners fund worth more than $100 million, shorted Facebook's stock soon after it opened and now he's reaping the benefits, according to an interview with Maria Bartiromo published in USA Today.
What made Niles decide to bet against the stock? He knew that with businesses scared of advertising on mobile, the underwriters boosting the size of the deal and GM pulling its ads the day before the IPO, it was clear that the stock was overhyped.
"If you have two houses in the same neighborhood, one house is twice as big, but they want to sell it to you for four times as much, that doesn't make much sense," Niles told Bartiromo.
It looks like Niles had the right idea. Facebook's stock price has dropped about 19 percent since it debuted at $38 last month, proving to many Wall Street critics that the stock was overhyped. In the month since the IPO, ordinary investors have lost at least $630 million, according to Bloomberg, while the deal's underwriters may have made as much as $100 million, CNNMoney and the Wall Street Journal reported.
Niles joins a list of well-known iconoclast investors. Michael Burry made a big bet against the subprime mortgage market in 2004 when it looked like there was no stopping the sector. After the bubble burst in 2008 he made a profit so huge that he became the subject of a book by Michael Lewis.
Billionaire investor George Soros also won big on a counterintuitive trade, netting $1 billion in 1992 after making an extremely bearish bet on the British pound.
For his part, Niles says anyone looking to make money might want to stay away from the stock market, as both the U.S. and China experiencing slow growth and Europe stays mired in a debt crisis.
"Why would you want to buy stocks hoping they go up?" he said in the interview. "For me, all I know is that business is getting worse. I'd rather sit on the sidelines, have some capital on hand."
Looking to wait a counterintuitive investment? Here are some of the riskiest companies:
10 Riskiest Companies(CLONED)
Industry: Broadcasting According to GMI's analysis, shareholders have recently expressed disapproval of Discovery's leadership, partly due to "compensation practices [that] do not hold executives to stringent performance standards." However, the company's digital media division has seen significant growth over the past year, Reuters reports.

Industry: Homebuilding M.D.C. Holdings, which builds and sells homes under the name Richmond American Homes, has struggled due to the housing crisis and is in a particularly risky situation due to governance issues, according to GMI's analysis. Even so, the Financial News Network Online recently reported that the company had the highest dividend yield in the homebuilding industry.

Industry: Oil / Gas Exploration / Production Comstock Resources, which is involved in the acquisition, exploration and production of oil and natural gas in the U.S., may be in a risky position due to accounting concerns, doubts over leadership and low environmental and safety disclosure, according to GMI's report. In the beginning of October, the company's stock hit a 52-week low, The Street reports.

Industry: Casinos / Gaming Scientific Games, a company providing gaming solutions to casinos, lotteries and gaming outlets globally, hit a 52-week low in October, The Street reports. The company may be struggling due to revenue shortfalls and party transactions that favor company insiders, according to GMI.

Industry: Communications / Equipment Defense contractor Comtech may be struggling due to an increasingly aged boardroom, according to GMI. In September, Beacon Equity Research reported that revenues fell 45.3 percent year on year to $140.3 million.

Industry: Oil / Gas Exploration / Production According to GMI, SandRidge may suffer from minimal emphasis on environmental risk as well as a poor compensation policy but The Motley Fool analyst Dan Dzombak says the company may be the next "home run energy stock" due to expected investment returns that could provide the company with big cash flows.

Industry: Media Diversified Rupert Murdoch's News Corp has recently been the center of significant negative publicity due to scandals concerning phone hacking and GMI says that the company's poor leadership may be to blame, making it a risky investment. Indeed, ThinkProgress reports that shareholders recently called for the stepping down of CEO Rupert Murdoch.

Industry: Consumer / Financial Services EZCORP, a provider of short-term consumer loans and pawn loans, may be at risk due to extremely high interest rates that consumers may soon be unable to afford, even though the company has prospered during the recession, according to GMI. FORTUNE magazine, however, recently named EZCORP the 66th fastest growing company, both in the U.S. and abroad.

Industry: Footwear According to GMI, K-Swiss's risk -- like other footwear manufacturers -- primarily comes from exposure to labor rights violations, but also is influenced by concerns over small, long-tenured leadership. However, an aggressive ad campaign featuring Kenny Power's of the HBO series "Eastbound and Down" played by actor Danny McBride has Forbes' Keith Levy saying the company can still turn it around.

Industry: Personal Services Apollo Group is the parent company of University of Phoenix, a leader in the field of for-profit education. According to GMI, government investigations have revealed questionable practices by the company related to recruiting that led to large numbers of student loan defaults. The Huffington Post reported in September that University of Phoenix was among the for-profit colleges that collected $1.6 billion from veterans' federal benefits.