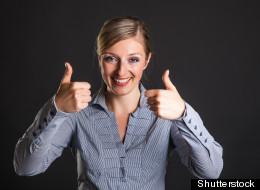 Many college students will spend their summers interning for little or no money in hopes that their work gets them one step closer to a real job after graduation.
Whether you landed your dream internship or are working at a company that wasn't your first choice, it's an audition for your future. It's three months where you can put everything you learned on campus to work in the real world.
A recent survey of 225 employers found that 91 percent of the group thought college graduates should've had one or more internships in the past before being hired. However, most of the employers also said in the survey that they usually don't hire interns, and only half admitted to hiring any full-time in the past few years.
So with stiff competition, how do you make the most of your internship? We've come up with a few pointers about how to shine in the office and make some positive, lasting impressions:
Here's a secret about interns; we love having them around because they remind us about how excited we were when we started here. Having enthusiasm about any task you're assigned without complaints will go a long way. Managers love to be able to say an intern has a "great attitude." You might be transcribing an interview for an editor or doing some boring research, but you'll be first in mind for a really cool assignment when it pops up.

Employers want you to be eager to get involved and learn, but you should also realize that they still have a job to do besides managing the interns.

Even if you love the place at which you're interning and want the company to eventually offer you a job, you're a fool not to network outside of your day job. So keep up with your contacts, especially people who went to the same college as you and work in the same field. Get involved in any local chapters of professional groups or hit up some happy hours. In cities like Washington, D.C., places like Famous DC often organize hangouts.

While it is important to take advantage of being in a big new city for a summer, you should get to know plenty of people around your own office. Talk to people who you may not directly work with. While you may have an internship in a particular department (say, sales), also get to know people in other parts of the business, like marketing, tech or operations. It'll give you a better idea of how the business and the company work and deliver a broad experience. You should also get to know the other interns because any of them could offer you a job someday.

Whether you're new in San Francisco, Chicago, New York, Washington, D.C. or elsewhere -- you're probably going to get lost. So learn how to get around with your smartphone. Google Maps and MapQuest might become your best friends, whether you're walking or driving. Ask people in your office about the best subway apps. NYC Mate and iTrans NYC are a couple apps we'd recommend for learning the New York Subway. In D.C., we found it was better to bookmark the WMATA's Trip Planner on their website on our Safari app, since we had to switch between buses and the subway. So ask around!

You landed your dream internship at the company you dream of working at, and upon walking into the office, you are totally freaked out. Don't be! They chose you because they like you and totally think you're qualified, so have some confidence. Your bosses were likely interns at some point and are happy to help you learn.

On your first day, figure out what the rules on breaks and lunch are. Then make sure you take a lunch. You're working hard as an intern, but you need to make sure you take a breather too. Just make sure never to take a lunch that's too long, no matter how tempting it is to check out the lunch spot across town.

A lot of workplaces are becoming more casual, but you shouldn't look like you're going to the beach. So don't cut corners and show up in shorts when the person next to you is wearing a blazer. We've heard of employees playing "spot the intern" based on inappropriate skin showing in the cafeteria, and that was at a magazine, which had loose rules to start.

Despite advances in technology and the fact that you can pay for coffee and deposit checks with your phone, there are still hold-outs that refuse to take credit cards. You never know when you're going to get invited to lunch and have the perfect opportunity to get to know the boss better, and he/she may pick a spot that only takes cash. You could also end up hailing a cab that doesn't take credit cards. So keep some cash in your wallet!

You should learn who the important people are in your company or office in the case that you don't already have them memorized. Don't end up on an elevator with the CEO and end up talking about your drunken weekend. One horror story we were told: "When I was an intern on Capitol Hill, I didn't know who Rahm Emanuel was and made him hold on the phone. He was not happy." Don't be that person.

Let's say you just got an assignment from your manager, and you have no idea how to do it. Do not smile, nod and tell them it's a piece of cake. Instead, ask them questions and make sure you've got a good grasp on things. You can either be the intern who pays attention to detail and tries hard to get everything right, or you can be the one who nearly brings the company down because you wanted to seem like you were hot stuff.

When you leave, keep in contact with people at your internship. They can be some of your best references and will probably hear of openings before they're posted publicly. During your last week, try to grab lunch with your managers and supervisors and hand-write a personal thank you to one of them. An email to people who helped you out is acceptable. After you leave, drop them an email from time to time just to tell them what you've been up to. You don't want to avoid talking to them until you need something.
What are your internship stories? Weigh in below in the comments section with a helpful tip.