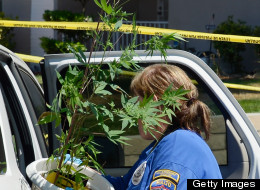 Less than two months ago, Rodney King was giving interviews for the 20th anniversary of the 1992 LA riots. And yet, on early Sunday morning, King, age 47, was found dead at the bottom of his pool at his modest tract house in Rialto, 55 miles east of Los Angeles, Patch reports.
Police are investigating the death as a drowning, and a toxicology test will be conducted to determine if King was under the influence of drugs or alcohol at the time of his death.
King's fiancée told friends that Rodney had been drinking all day Saturday and smoking marijuana in the hours leading up to his death, TMZ reports. The fiancé, Cynthia Kelley, said that she awoke to King screaming in the backyard at about 5 a.m. She found him naked, banging on glass and, when she went to get her phone, she heard a big splash.
Police confiscated marijuana plants from his house Monday as evidence, the Los Angeles Times reports.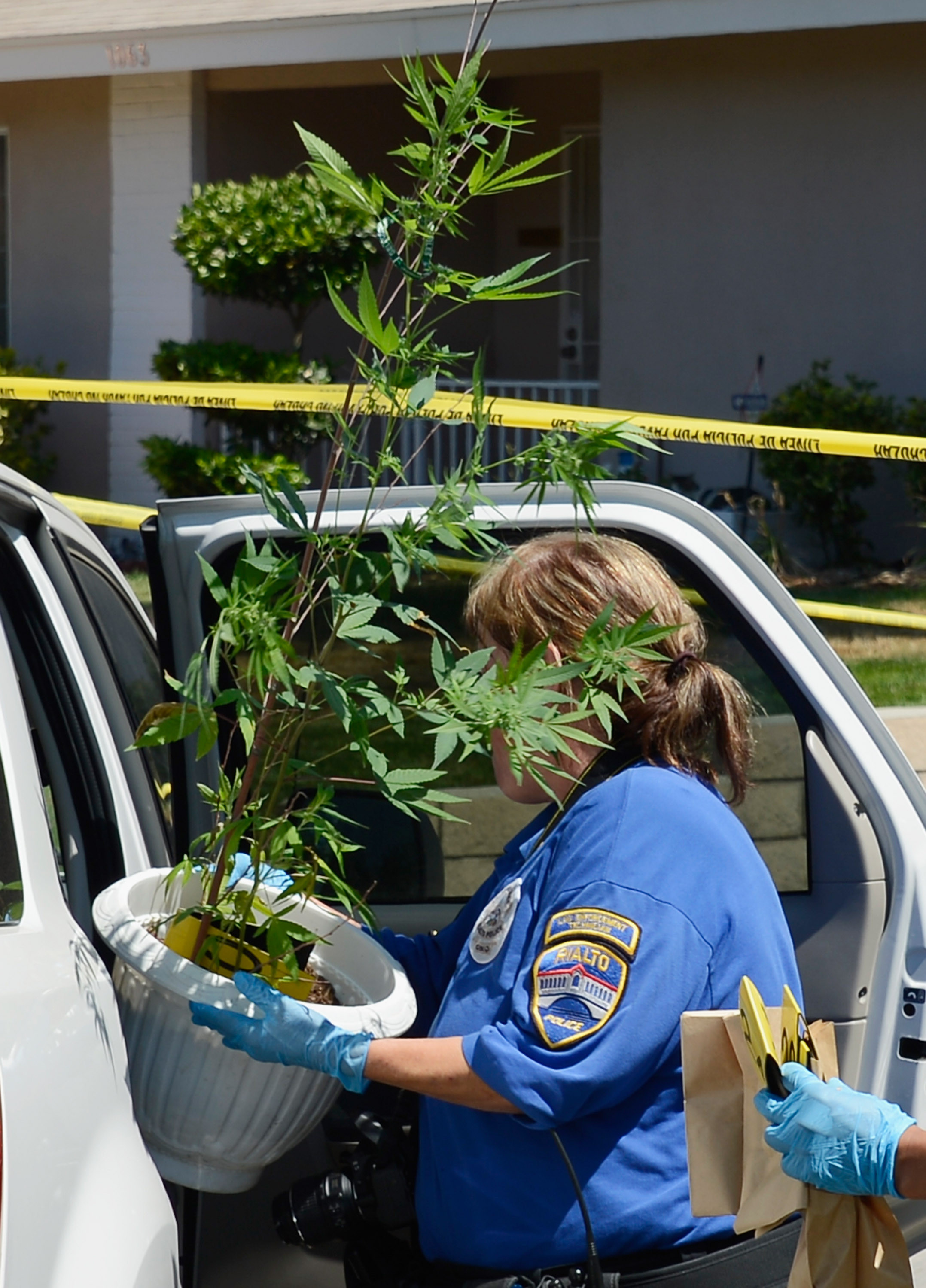 An investigator loads what appears to be a potted marijuana plant from Rodney King's home into the car. Photo by Getty Images.
The trauma of being beaten nearly to death and then having that beating cause South Los Angeles to riot for days took a long-term toll on Mr. King. He struggled with drugs and alcohol, was arrested several times and appeared last year on VH1's "Celebrity Rehab."
In his recently-published memoir, "The Riot Within: My Journey from Rebellion to Redemption," he wrote that the still drank and used drugs occasionally but that, with Cynthia Kelley, who had been a juror in a civil suit he brought against the City of LA, he was on his way to recovery, the New York Times reports.
The initial acquittal of officers involved in the beating of King led to LA riots which ended with 53 deaths, 3,600 fires, 10,000 destroyed businesses and an estimated $1-billion-plus worth of damage.
Journalists and public citizens risked their lives to document the violence and destruction in the streets and twenty years later, the videos are still as powerful as ever. Watch the Rodney King riot videos below but please be warned: the content is graphic and might not be suitable for sensitive viewers.
Rodney King And The L.A. Riots: 20 Years Later
This video shows sheer mayhem in the streets -- and not one policeman or police car is to be found. Bottles and bricks are thrown at cars, windows are smashed with crowbars, and individuals, including a man who appears to be Asian, are mugged from within their cars.

News coverage of the infamous video of three police officers, who were with 12 other officers, beating Rodney King. LAPD Chief Daryl Gates says that the officers struck King with batons 53 to 56 times. While many said this was an example of an ongoing problem of police brutality, Chief Gates called the LAPD a model department.

On April 29, 1992, the jury acquitted all four officers of assault and acquitted three of the four of using excessive force. Some said the fact that the jury was made up on ten whites, one Latino and one Asian gave an unfair advantage to the white defendants. "Everyone says, 'The video tape! The video tape!' These officers have a job to do. And in doing that job, they have to be given a certain amount of... reasonable force," one juror told ABC. "They didn't know what they had to take. A man that's over 230 pounds, and you put him on the ground, and four officers go in to put hand cuffs on him. And he throws those officers off?" Anther juror said about the violent reaction to the verdict, "I can't help but feel somewhat responsible." And yet, he said, if he had to do it again, he would vote the same way.

A severely injured truck driver, Larry, describes being pulled out of his truck and being beaten up. The video also includes interviews with angry reactors near USC, a business owner, rioters and looters, including kids. Looters can be seen inside stores taking what they please, while police officers stand by and watch.

Scenes of rioting in the streets are depicted, including individuals being pulled out of their cars and beaten in the streets; the police attempting to control rioters; large retail stores set on fire by fire bombs; and looters ignored as the police focus on protecting firefighters trying to put out fires.

The National Guard arrives to attempt to squelch rioting, and a curfew is put on the city. "It's really hard for us. We're just outnumbered," a police man said. Another officer described the department's strategy in the area as patrolling but not responding to calls. An Asian female business owner whose store was looted told a reporter, "I'm mad at who? No one. I don't know who's for."

"You're on your own here," one cop told this videographer. Another man said, "What's goin' on is.. They're doing it in the wrong area. The thing that they're doing it's the right thing, but they need to go to Beverly Hills. We can't be tearin' up our own stuff." After a gun goes off next to a woman and a young child, a man comments, "We have to live here, OK?"

This is a clip of the first time Rodney King spoke to the media after the riots began. The short speech can be seen in its entirety at 0:53 of this video. In it, he appeals for peace in the streets. Here's the transcript of the speech: I just want to say, you know, can we, can we all get along? Can we, can we get along? Can we stop making it horrible for the older people and the kids? And... I mean we've got enough smog in Los Angeles let alone to deal with setting these fires and things. It's just not right. It's not right. And it's not going to change anything. We'll get our justice. They've won the battle, but they haven't won the war. We'll get our day in court and that's all we want. And, just, uh, I love -- I'm neutral, I love every -- I love people of color. I'm not like they're making me out to be. We've got to quit. We've got to quit. Afterall, I mean, I could understand the first, the first upset for the first two hours after the verdict, but to go on, to keep going on like this and to see the security guard shot on the ground. It's just not right. It's just not right. Because those people will never go home to their families again. And uh, I mean please, we can, we can get along here. We all can get along. We just gotta, we gotta. I mean, we're all stuck here for a while. Let's, you know, let's try to work it out. Let's try to beat it, you know. Let's try and work it out.

A man who risked his life to save another who was being beaten in his own car is interviewed.

A woman expresses her lost faith in the justice system, saying that if the police "beat up on" her brothers or only son, she's not going to take them to court. She's going to "put a hit out on them." An older, wheelchair-bound man says that it's a shame that this is how it has to be done but that a message needs to be sent to the world.