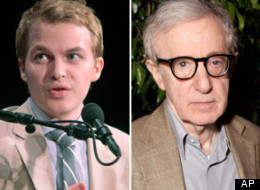 What happens when your father marries your adoptive sister?
If you're Woody Allen's estranged son, Ronan Farrow, you use Twitter to remind everyone just how messed up your family is. The 24-year-old freelance journalist and human-rights activist opened some old family wounds on Father's Day, tweeting:
Happy father's day -- or as they call it in my family, happy brother-in-law's day.

— Ronan Farrow (@RonanFarrow) June 17, 2012
Ronan's mother couldn't help but chime in, and replied to her son's tweet with a simple, yet effective statement:
Boom RT @RonanFarrow: Happy father's day -- or as they call it in my family, happy brother-in-law's day.

— mia farrow (@MiaFarrow) June 17, 2012
Allen infamously left his longtime partner and Ronan's mother, actress Mia Farrow, in 1992, for adoptive daughter Soon-Yi Previn. And even though Allen left Mia in 1992, the relationship with Soon-Yi began in 1991, when she was 21 and he was 56.
Woody and Mia began dating in 1980 and together they adopted two children. Mia gave birth to their only biological child, Ronan, in 1987. Mia and her ex-husband, musician André Previn, had adopted Soon-Yi at 8 years old from Korea in 1978. Though Allen never legally adopted Soon-Yi, he came into her life when she was 10 and was considered a father figure.
Allen and Soon-Yi adopted a baby girl, whom they named Bechet in 1996, and adopted another baby girl, named Manzie Tio, in 1997. That same year, the two tied the knot in Venice, Italy, making Soon-Yi Allen's third wife.
PHOTOS: Celebrities With Daddy Issues
Celebrities With Daddy Issues
Macaulay Culkin has been estranged from his stage dad Kit Culkin since 1997, when the "Home Alone" child actor legally emancipated himself. Brother Kieran, also an actor, followed suit.

"He's still a mystery man to me and he may always be one," Michael Jackson wrote about his famously turbulent relationship with his father. "If you messed up you got hit, sometimes with a switch, sometimes with a belt. Dad would make me so mad at him that I'd try to get back at him and get beaten all the more."

Martin Sheen has been worried for years about his son Charlie's health, and talked about it openly in February 2011. In an interview with Sky News, the elder Sheen said, "If he had cancer, how would we treat him? The disease of addiction is a form of cancer?"

Billy Ray Cyrus has made choice remarks about his newly engaged daughter, comparing her to Anna Nicole Smith and attacking Disney (alleging that "Hannah Montana" destroyed his family).

Papa Joe, a former minister, has been accused of being overly involved in his daughter's life as her manager and saying off-color things like, "Jessica never tries to be sexy. She just is sexy. If you put her in a T-shirt or you put her in a bustier, she's sexy in both. She's got double D's! You can't cover those suckers up!"

In 2009, Ryan O'Neal failed to recognize Tatum O'Neal at Farrah Fawcett's funeral and admitted to hitting on his own daughter. While Tatum tried to make amends with her dad last year, she's acknowledged that they're no longer speaking and she's OK with that. "That's what turned out to be the best thing for me," she told ABCNews.com.

Liv Tyler always thought musician Todd Rundgren was her real father until she attended a 1988 Aerosmith concert. There, she saw a spitting image of herself: Mia, the famous rocker's daughter with his first wife, and Liv's half-sister. "I don't think my dad was in any position to be a father. Steven, that is," she told AP in 2001. "What an amazing thing Todd did for me...luckily, it just made me feel more loved. It meant that I had two dads instead of one."

Angelina Jolie and father Jon Voight were estranged for years, until Jolie phoned the "Deliverance" star following the death of her mother in 2007. When Voight learned of Jolie and longtime partner Brad Pitt's plans to marry, the actor told Us Weekly, "It was very nice I thought. If they are happy -- if they're going to have a wedding -- it's wonderful."

Mark Evans walked out on Adele and her mother when the future Grammy winner was just 2 years old. "It's too painful. There's so much regret on my part -- regret that I wasn't a better father to her. I let her down badly, and I wish I could turn the clock back and do things differently," Evans told the U.K.'s Daily Mail.

Kate Hudson calls Kurt Russell, mom Goldie Hawn's longtime partner, "pa" and doesn't speak to her biological father, musician Bill Hudson, much. "[Bill Hudson] doesn't know me from a hole in the wall. But I don't care. I have a dad [Russell]. The bottom line is, you call your kids on their f**king birthday. I'm glad I had a dad who was there on my birthday," the actress told Vanity Fair in 2000.

British model Daisy Lowe reportedly had no idea Bush singer Gavin Rossdale was her father until 2004, after a paternity test revealed that the rocker (and then-Godfather) was her biological parent. Though Rossdale initially refused to take the paternity test, it was later revealed that he and Daisy's mother, Pearl, had had a one-night stand.

The child actress, born into the legendary Barrymore family, emancipated herself from her mom at age 17; dad John had all but abandoned her by then. "He was such a flighty bird -- unattainable and off doing his own thing," Barrymore told W in 2009. "I'm sure it's affected my relationships with men. I'm sure I'm sadder about it than I admit, but I accept that a lot easier than my mother's and my relationship, which is more tumultuous."

In March 2011, Dina Lohan told RadarOnline that Lindsay was no longer speaking to her father, Michael Lohan. Lindsay told the website she wished Michael would stop talking about her. "I am sorry that my father has continually chosen to speak publicly about our relationship, my mother, my siblings, and my professional team. I am working through my recovery day-by-day and find his public media bouts unnecessary and damaging," she said.