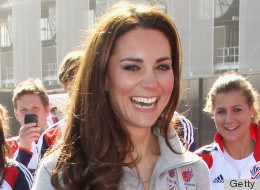 If you needed yet another reason to think that Kate Middleton would totally be your best friend, an "insider source" revealed to Us Weekly that the duchess still makes regular visits to her pre-royal salon. Kate even "insists on visiting the salon rather than having them come to her," the source said.
It's been a little over a year since she officially became a royal, yet Kate remains loyal to the trusty salon she's been attending for nearly a decade to get her covetable blowouts (which start at $75 -- mere pennies in the luxury hair care realm). Does Kate's conflicting awesomeness and normalcy know no bounds?
Even though the British social calendar is pretty jam-packed, Kate manages to find time to do plenty of regular-girl things. She's become known for her High Street shopping habit, sifting though Zara racks and waiting in line to pay at Topshop. She goes to the grocery store, walks her dog and even roughs it in the woods during camping trips.
Kate not only appreciates a bouncy blowout a few times a week, she also dabbles in eco-friendly beauty during her hair color appointments, opting for an organic vegetable-based hair dye during a September visit. Can't you already see yourself arm-in-arm with the duchess, strolling through a flea market or dropping off your dry-cleaning together?
Click over to Us Weekly for more on Kate's hair care.
Check out some of the pregnancy rumors swirling around the relatable duchess!
Kate Middleton Pregnancy Rumors
Star breathlessly claimed a photo from Kate and Will's recent royal tour showed a baby bump (and that twins were on the way!), but alas, many people -- including us -- cried Photoshop.

A week earlier, Star had claimed that Kate was pregnant as evidenced by a belt on a dress she wore, which appeared to have been let out a few inches.

According to the new US Weekly, the Duke and Duchess of Cambridge are ready to have a baby, and are planning to conceive their first little royal between September 2012 and summer 2013. (US Magazine)

According to In Touch, a witness walking around London's chic neighborhood, Chelsea, saw the Duchess of Cambridge with a noticeable baby bumps, a "glow in her cheeks," and a more rounded bottom. (In Touch)

Kate's refusal to eat peanut paste at a United Nations aid depot in Copenhagen sparked a storm of rumors that she may be pregnant. Apparently doctors recommend future-moms not to eat peanuts to avoid allergies. Kate wasn't pregnant (duh!) but the reaction from the press was huge, all because the girl didn't want peanut paste! (Indigo/Getty Images)

US Weekly claims that the Duchess of Cambridge is preparing for a baby while the Duke is oversees. (Earsucker Photo)

The tabloid magazine quoted a supposed source saying, "William almost collapsed with joy-and relief-when Kate called to tell him she was pregnant." Soon after a royal representative debunked the rumor. (Metro.co.uk photo)
Want more? Be sure to check out HuffPost Style on Twitter, Facebook, Tumblr and Pinterest.