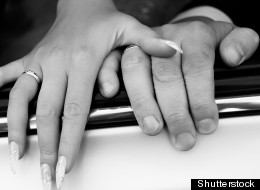 Sometimes, you'll find more than just spare change and pens between car seats.
According to The El Paso Times, one Sacramento couple discovered a 1961 wedding ring stuck between the seats of a car they'd purchased in January.
Shannon Callahan was digging around in the back seat of her 2004 Grand Am last week, searching for her husband Steve's missing cell phone, when she felt the 15-carat gold band.
"It was wedged in there pretty good so I reached in there again and moved the seat forward and back and found the wedding ring," she told the newspaper.
The Callahans want to return the ring, but so far they haven't been able to locate the car's previous owner.
"I would really like to return the ring," Shannon said. "It's not like it's just a lost set of keys. It's a token of somebody's love, it's a milestone in a couple's life."
The Callahans aren't the first to have found a ring in an unlikely place. In January, a woman found her engagement ring in the toilet more than 35 years after it had slipped off her finger. Another couple even found a lost wedding ring in their dog's stomach.
Click through this slideshow below to see other couples whose rings have been lost but eventually returned.
Bizarre Lost Wedding Ring Stories
An Idaho woman was reunited with her ring in April 2012, 18 months after she accidentally flushed it down the toilet. Sewage workers found the diamond ring and returned it to its owner, Mechelle Rieger.

Tim Bucher lost his wedding ring in a pond in Decatur, Ill. while fishing with his son in April 2012. He and his wife used the website, LostMyStuff.net to find the ring. A volunteer came to their town and scoured the pond, eventually finding the ring for Bucher.

A wedding ring was discovered inside of a cow's stomach in February 2012 when it landed on a butcher's chopping block. The cow had sucked the ring of a man's hand three-and-a-half years earlier.

Maura Burke lost her wedding ring down the drain of her Braintree, Mass. home in 2010. She had prayed for the ring's return but it never materialized. Then, two years later, city workers found the ring in Braintree's drainage system and returned it to its rightful owner.

Lena Paahlsson lost her wedding ring in her kitchen in Sweden in 1995. Sixteen years later, she and her husband discovered the ring in their garden -- with a carrot growing inside of it. Paahlsson said she believes her ring fell into the sink and got mixed up with vegetable peelings, which were then turned into compost and ended up in her garden.
Keep in touch! Check out HuffPost Weddings on Facebook, Twitter and Pinterest.