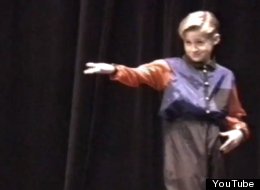 Even before he was the Internet fantasy of women everywhere, or heroically saving the lives of British journalists on the busy streets of New York City, Ryan Gosling apparently already knew he had it going on.
His little smirk at 1:10 in this video is all the proof anyone could need.
According to the clip's info section, Gosling is dancing with his sister Mandi at a Mormon talent show in 1991 -- just two years before he joined the Mickey Mouse Club and began his rise to fame.
While young Gosling is certainly adorable, there's already a glimmer of the fight-stopping, sexy man we all know and love.
On that note, here's a slideshow of his best make out scenes.