What is Anheuser-Busch up to? The beer mega-company, now officially partnered with Belgian outfit InBev, has acquired trademarks to 42 U.S. airport codes.
Jaunted.com has a theory: "There can only be one answer: beers named for airports!"
Chicagoist reports that the trademarks include codes for Chicago's O'Hare International and Midway Airports; New York's LaGuardia and JFK airports; Los Angeles International Airport; and San Francisco International Airport. In total, the fees come to $11,500.
But don't trademarks to airport codes belong to the International Air Transport Association? Chicagoist explains:
...legalese allows for a company like A-B to file separate trademark registrations for codes like airports and area codes for use in commerce. The U.S. Patent and Trademark Office granted Anheuser-Busch permission Monday to complete further requirements to register the area code trademarks.
The action follows a similar effort last year, when Anheuser-Busch bought up trademarks to various area codes. Nothing yet has come of that in the way of products, it would seem.
Beerpulse.com has the full list of airport codes, which you can see below:
AGS
ATL
AUS
BHM
BNA
BOS
BWI
CMH
CVG
DCA
DEN
DFW
DTW
HOU
IAD
IAH
JFK
LAS
LAX
LGA
MCI
MCO
MDW
MEM
MIA
MKE
MSP
MSY
OKC
ORD
ORL
PHX
PHL
RDU
SAN
SAT
SDF
SEA
SFO
SMF
SNA
STL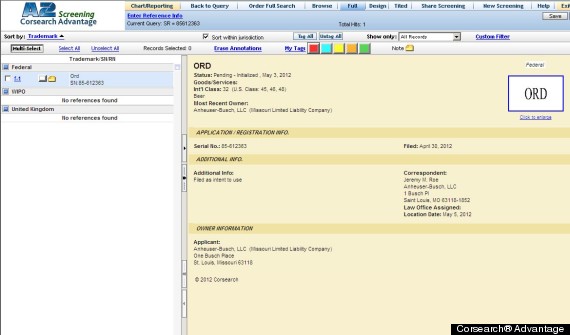 SUBSCRIBE TO & FOLLOW THE MORNING EMAIL
The Morning Email helps you start your workday with everything you need to know: breaking news, entertainment and a dash of fun. Learn more