Stephen Colbert often wraps himself in the American flag and rides a white stallion around town. At least that's what Urban Outfitters would have you believe with their new -- and currently sold out -- "Colbert Report" t-shirt.
The black tee features Colbert in place of Napoleon on a white horse in the statuesque pose from the famous painting of the long-gone French emperor. However, instead of pointing upward as Napoleon did, Colbert is holds his right hand to is forehead in a traditional military salute. And, because we hear he's a fan, the world "America" is scrawled across the top.
PHOTOS: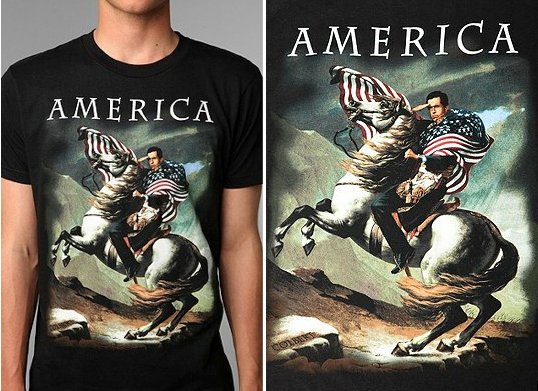 See more Colbert shirts that are still available (!) online:
SUBSCRIBE AND FOLLOW
Get top stories and blog posts emailed to me each day. Newsletters may offer personalized content or advertisements.
Learn more