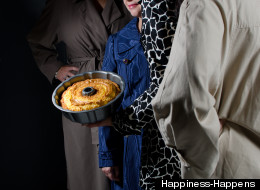 One of the reasons I started my website was so that women could have a place to come together and dream. Women should know that they don't have to hold on to an old dream that has stopped nurturing them -- that there is always time to start a new dream. This week's story is about 9 women who have kept a very sweet secret for more than 30 years. -– Marlo, MarloThomas.com
By Lori Weiss
Somewhere in West Tennessee, not far from Graceland, nine women -- or "The 9 Nanas," as they prefer to be called -- gather in the darkness of night. At 4am they begin their daily routine -- a ritual that no one, not even their husbands, knew about for 30 years. They have one mission and one mission only: to create happiness. And it all begins with baked goods.
"One of us starts sifting the flour and another washing the eggs," explained Nana Mary Ellen, the appointed spokesperson for their secret society. "And someone else makes sure the pans are all ready. We switch off, depending on what we feel like doing that day.
"But you make sure to say Nana Pearl is in charge, because she's the oldest!" she added with a wink and a smile.
Over the next three hours, The 9 Nanas (who all consider themselves sisters, despite what some of their birth certificates say) will whip up hundreds of pound cakes, as part of a grand scheme to help those in need. And then, before anyone gets as much as a glimpse of them, they'll disappear back into their daily lives. The only hint that may remain is the heavenly scent of vanilla, lemon and lime, lingering in the air.
Even the UPS driver, who picks up hundreds of packages at a time, has no clue what these women, who range in age from 54 to 72, are doing. He's just happy to get a hug and a bag filled with special treats. What he doesn't know is that he's part of their master plan. A plan that began 35 years ago -- when the "sisters" got together for their weekly card game -- something their husbands referred to as "Broads and Bridge."
"Pearl says it was all her idea," Mary Ellen teased, "but as I remember it, we were sitting around reminiscing about MaMaw and PaPaw and all the different ways they would lend a hand in the community." MaMaw and PaPaw are the grandparents who raised four of the women, Mary Ellen included, when their mother passed away; and they took in Pearl as their own, when her parents needed some help.
"MaMaw Ruth would read in the paper that someone had died," Mary Ellen remembered, "and she'd send off one of her special pound cakes. She didn't have to know the family. She just wanted to put a little smile on their faces. And we started thinking about what we could do to make a difference like that. What if we had a million dollars? How would we spend it?
So the ladies began brainstorming.
Story continues below slideshow.
It Ain't Over: The 9 Nanas
In the South when someone dies, a repast meal, is served after the memorial. Years ago, MaMaw Ruth would scan the obituaries and send a cake to the families of the deceased. Today, the 9 Nanas continue this tradition.

Once the 9 Nanas revealed their identities to their families, after over 30 years of secrecy, their grown children encouraged their mothers to sell MaMaw Ruth's cakes in order to raise money for their operation. As a result of their booming online business, the Nanas' Farm Stand Petites (pictured here) were created. These petite treats were initially made to satisfy those looking to watch their weight, but they've since become popular gifts.

Shortly after 4:00 each morning, the ladies gather in a commercial kitchen owned by one of the Nanas' grown children. There the ladies divide up the daily baking tasks and get started on the day's orders. They don't stop until all the day's cakes have been baked, packaged and prepared for their UPS guy.

The ladies are sticklers for keeping things fresh, organic and preservative free. Cakes aren't baked until orders are placed.

Once the ladies launched their online business, simply selling MaMaw Ruth's pound cakes, it wasn't long before they started to receive more than 100 orders per day. But even to this day, they've never sacrificed quality, always baking as if MaMaw Ruth were in the kitchen with them.

The original vanilla bean cake recipe is an heirloom that belonged to Grandmother Mary, who passed it down to MaMaw Ruth. MaMaw Ruth gave it to the girls, who have continued to share the sweet treat, albeit with a few changes.

Depending on the number of orders placed online, on any given day the ladies produce 150 to 500 cakes. After 35 years, the ladies still love getting up at the crack of dawn to make happiness happen.

MaMaw and PaPaw, who raised the ladies, were always lending a helping hand to people in need. Inspired by their grandparents, the Nanas began to send care packages out to families in their community who they knew could use a little help. The ladies supply recipients with staples like gift cards for food, soap, toothpaste and more.

The Nanas' concept of giving surreptitiously started at the ladies' bridge meeting, which their husbands used to refer to as "Broads and Bridge". During the early years of their bridge playing days, the ladies would really dress for the occasion, which was never complete without one of MaMaws famous bundt cakes.

Here, one of the Nanas whips up a MaMaw Ruth bundt cake for a bridge meeting, where the Nanas' project first began. Today, the ladies gather around the bridge table to brainstorm ways to expand their enterprise.

Together the Nanas drive through lower-income neighborhoods in search of signs that a household has fallen on hard times. They look out for indicators that tell them a home's utilities have been shut off or the residents are living without air conditioners so that they might be able to make a little happiness happen.

For years the ladies have been paying the utility bills for households they believe have had their power shut off due to non-payment. After paying a recipient's bills the ladies mail their calling card along with the "PAID" receipt to the unsuspecting residents.

The ladies have even been known to gather groceries for those in need, anonymously, of course. When shopping for recipients, the ladies ensure the cart is filled with fresh fruits, vegetables and proteins.

By eavesdropping on strangers' conversations and constantly keeping their ears peeled for a family in need, whenever the Nanas get word someone in their community could use a little help, they usually step in with a care package, one of MaMaw Ruth's cakes, groceries or a little something to make that someone feel loved.

Over the more than 35 years that the Nanas have been making happiness happen, the ladies have received countless cards and letters of appreciation from those they have anonymously helped.
"One of the sisters suggested that we should all start doing our own laundry and put the money we saved to good use. I admit, I protested at first. There's just something about laundering that I don't like. But I was outnumbered! So among the nine of us, we'd put aside about $400 a month and our husbands never noticed a thing. Their shirts looked just fine."
And then the women started listening. They'd eavesdrop -- all with good intentions, of course -- at the local beauty shop or when they were picking up groceries. And when they heard about a widow or a single mom who needed a little help, they'd step in and anonymously pay a utility bill or buy some new clothes for the children.
"We wanted to help as much as we could," Mary Ellen said, "without taking away from our own families, so we became coupon clippers. And we'd use green stamps. Remember those? We'd use green stamps and we'd make sure to go to Goldsmith's department store on Wednesdays. Every week they'd have a big sale and you could spend $100 and walk away with $700 worth of merchandise."
The Nanas would find out where the person lived and send a package with a note that simply said, "Somebody loves you" -- and they'd be sure to include one of MaMaw Ruth's special pound cakes.
The more people they helped, the bolder they became.
"We gave new meaning to the term drive-by," Mary Ellen said with delight. "We'd drive through low-income neighborhoods and look for homes that had fans in the window. That told us that the people who lived there didn't have air-conditioning. Or we'd see that there were no lights on at night, which meant there was a good chance their utilities had been turned off. Then we'd return before the sun came up, like cat burglars, and drop off a little care package."
For three decades, the ladies' good deeds went undetected -- that is, until five years ago, when Mary Ellen's husband, whom she lovingly calls "Southern Charmer," started noticing extra mileage on the car and large amounts of cash being withdrawn from their savings account.
"He brought out bank statements and they were highlighted!" Mary Ellen said, recalling the horror she felt. "I tried to explain that I had bought some things, but he had this look on his face that I'd never seen before -- and I realized what he must have been thinking. I called the sisters and said, 'You all need to get over here right away.'"
So 30 years into their secret mission, the 9 Nanas and their husbands gathered in Mary Ellen's living room and the sisters came clean. They told the husbands about the laundry and the eavesdropping -- even the drive-bys. And that's where their story gets even better -- because the husbands offered to help.
"They were amazed that we were doing this and even more amazed that they never knew. We can keep a good secret! All but three of them are retired now, so sometimes they come with us on our drive-bys. In our area, all you need is an address to pay someone's utility bill, so we keep the men busy jotting down numbers."
It wasn't long before the couples decided it was also time to tell their grown children. And that's when happiness began to happen in an even bigger way. The children encouraged their mothers to start selling MaMaw Ruth's pound cakes online, so they could raise money to help even more people. And it wasn't long before they were receiving more than 100 orders in a day.
"The first time we saw those orders roll in, we were jumping up and down," Mary Ellen said with a laugh. "We were so excited that we did a ring-around-the-rosie! Then we called all the children and said, 'What do we do next?'"
That's when the 9 Nanas moved their covert baking operation out of their homes and into the commercial kitchen of a restaurant owned by one of their sons, where they can sneak in before sunrise and sneak out before the staff comes in. They even hired a "happiness coordinator" (whose code name is "Sunny," of course). Her identity needs to be a secret, too, so she can help out with the eavesdropping.
"We swore her to secrecy -- her parents think she works in marketing. And, really, if you think about it, she is doing public relations and spends a lot of time looking for people to help at the supermarket!"
These days, The 9 Nanas are able to take on even bigger projects, given their online success. Recently they donated more than $5,000 of pillows and linens and personal care products to a shelter for survivors of domestic violence. And this August, they'll celebrate their second consecutive "Happiness Happens Month" by sending tokens of their appreciation to one person in every state who has made a difference in their own community.
And that million dollars they once wished for? They're almost there. In the last 35 years, the 9 Nanas have contributed nearly $900,000 of happiness to their local community.
But that doesn't mean they're too busy to continue doing the little things that make life a bit happier. Sometimes they just pull out the phone book and send off pound cakes to complete strangers. And if the Nanas spot someone at the grocery store who appears to need a little help, it's not unusual for them to start filling a stranger's cart.
"Not everyone is as lucky as we were to have MaMaw and PaPaw to take care of them, to fix all those things that are wrong.
"So this is our way of giving back," Mary Ellen said. "We want people to know that someone out there cares enough to do something. We want to make sure that happiness happens."
To learn more about The 9 Nanas and Happiness Happens or to purchase one of MaMaw Ruth's special pound cakes, you can visit their website: Happiness-Happens.com.
Add Marlo On Facebook:
Follow Marlo on Twitter:

Weekly Newsletter

Sign up to receive my email newsletter each week - It will keep you up-to-date on upcoming articles, Mondays with Marlo guests, videos, and more!

Sign up here