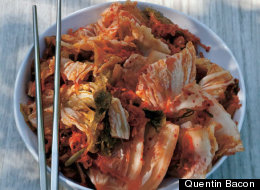 It's getting pretty hard to ignore: bibimbap restaurants popping up everywhere, Korean tacos (they even exist at T.G.I.Friday's now), there is even a kimchi cheesesteak hovering around New York City. Korean food is taking over, and we couldn't be happier.
Most commonly associated with kimchi, Korean BBQ and the eponymous fried chicken, we are really excited to see this cuisine finally get its due. What's kept us from embracing Korean cuisine earlier in America? Maybe it's the liberal use of bright red chiles (not always spicy, but they always look spicy). Maybe it's our general nervousness surrounding the process of fermentation -- from kimchi to fish sauce to shrimp paste, Korean cuisine loves to ferment things. Maybe it's the language -- since Chinese cuisine is so well-integrated into the American diet, we've figured out what to call things in English, but that process is still sometimes getting sorted out with Korean food (Kimchi/kimchee? Kalbi/galbi?). Whatever it is, we think this summer is the perfect time to start experimenting with these delicious flavors, and we've pulled together 15 recipes for you to try right now.
Here you'll find soups, noodles, meat dishes, vegetarian dishes, even a few easy kimchis that are sure to impress your friends ("Oh yes, the kimchi is homemade. I'll give you the recipe, it's so easy!").
15 Korean Recipes To Try Right Now
Get the Classic Napa Baechu Kimchee recipe The cornerstone of Korean cooking -- spicy, garlicky, salty kimchi is an amazing place to start on your journey. If you're not quite ready for home-fermenting just yet, don't fret -- there are lots of great pre-made kimchis popping up in supermarkets across the country. Also, seek out your local Korean grocery. They are sure to be full of ideas and full of advice!

Get the Quick Cucumber Kimchi recipe There are more kinds of kimchi than we can catalogue. Here is a quick, bright version made with cucumbers.

Get the Kimchi Pancake recipe from Bap Story Here's the first great way to put that kimchi (homemade or not) to use. Chewy, satisfying pancakes show in tons of Korean meals as either banchan (morsels to eat along with the meal), or as the main dish itself. Kimchi is only one variation, we also love the seafood version, haemul pajun.

Get the Dduk Gook recipe from the Kitchn Dduk gook is kind of like Korean congee, the thick Chinese rice porridge. Traditionally served on New Year's day, this comforting soup is not only made with rice, but also filled with chewy Korean rice cakes that we are obsessed with.

Get the Spicy Chicken Soup recipe We hit up some of our Korean friends for a few of their favorites, and yukgaejang made the list. "Yukgaejang is my jam," one of them said, so you know it's good. (We have really smart friends.) Traditionally made with beef, this recipe substitutes chicken. Any chill in your bones definitely doesn't stand a chance next to a bowl of this stuff.

Get the Kimchi Jigae recipe from No Recipes We have it on good authority that this soup will cure even your worst hangover. The combination of the tangy kimchi, fiery chiles and soft tofu will give you the strength to get through the day.

Get the Japchae Salad recipe from Beyond Kimchee Personally, we could eat japchae every day. The cold noodles (made from sweet potato), crunchy vegetables and the earthy sesame oil are an incredibly delicious combination. This recipe's modern update includes a lovely Korean chili vinaigrette.

Get the Bibim Naeng Myun recipe from Kimchi Mom Another Korean friend recommended these cold, spicy noodles as something she eats regularly, and we can see why. These cold buckwheat noodles are topped with a healthy dollop of chili paste. We think these would be a great cure for a summer cold.

Get the Ddeok Boggi recipe from Cooking Korean Do not be alarmed. We are not talking about the round, crispy bits of styrofoam we know as rice cakes. We are talking about chewy, satisfying bits of of heaven that soak up every delicious flavor you soak them in. This version quickly stir-fries tube-shaped rice cakes with fish cake, chile, cabbage and green onion.

Get the Bulgogi Ddukbokki recipe from cHow Divine Just in case you aren't as chile-obsessed as we are, here's a milder version of a Korean rice cake dish, this time using disc shaped rice cakes and sautéed with thinly sliced Korean beef.

Get the Bibimbap recipe from Use Real Butter Bibimbap, the Korean rice bowl is becoming more and more popular. It's not hard to see why -- we're talking about a bowl of rice, often with crispy bits on the bottom from being served in a blazing hot stone bowl, topped with a little of everything and a fried egg.

Get the Bulgogi recipe from Savory Sweet Life And now, on to the meat! Bulgogi, probably one of Korea's most famous meat preparations, is thinly sliced beef marinated in soy, sugar, sesame, garlic and chiles. This deliciously sweet-savory beef has so many uses. Toss some on the grill this summer for tacos or even a kimchi cheesesteak!

Get the Kalbi recipe from The Domestic Man It's grilling season, everyone, and these traditionally grilled Korean short ribs will make every carnivore at the party absolutely drool with anticipation.

Get the Korean Fried Chicken Wings recipe from The Ravenous Couple Oh, how we love Korean fried chicken. It differs from traditional Southern fried chicken because its coating is thin, light and crispy and it usually gets sauced with -- what else -- sticky chile sauce.

Finally, the mother of all Korean dinner parties: the Bo Ssäm. This lacquered pork recipe has morphed and modernized over the years and turned into an absolute craze once Korean chef David Chang launched Momofuku Ssäm Bar. Check this video out to wow your friends with your own (cheap!) Bo Ssäm at home.