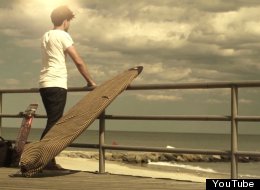 Summer solstice is upon us New York. It is, by a fraction of a second, the longest day of the year when at 7:09 PM Wednesday evening, the sun climbs to its farthest point north of the equator.
It's fitting then that today and tomorrow will be HOT. Like, "Can't Stand The Heat" hot. Bake-cookies-in-your-car hot. Please-seriously-check-on-your-elderly-neighbors hot. The heat index Wednesday and Thursday could climb as high as 105 degrees.
Go to the beach (the pools aren't open yet), drink on rooftop bars, bust open a fire hydrant, drink nutcrackers on the train, or take one of these day trips out of the sticky city to somewhere cooler.
Is it your first New York City summer? Here are a few, random primers on how glorious it can be.
(Know any other great, summer-y New York City videos, photo series? Send them and we'll add!)
Brooklyn is just the best in the summer:

You can go surfing.

East Village 90s summer looks awesome. (via EV Grieve). The YouTube caption reads: The Lower East side, 1991, NYC. I weep when I see this. I used to live here. 13th street between B and C. With Khusenaton, on flute. I see him step right in here, he used to do that when I read. Intense, beautiful fantastic. Dead. He died that winter. I can remember the way he used to say, "here comes James." "Hardcore. too deep." A beautiful human being. He told the truth, and was my friend. It seems long ago, and like yesterday.

And don't forget the fireworks.
And here are pictures of people playing in the open fire hydrants: