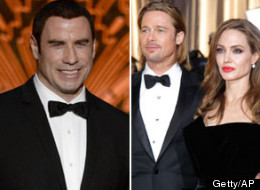 RadarOnline reports that Jonathan Jolie, a man claiming to be Angelina Jolie's cousin, has attempted to get a temporary restraining order against Brad Pitt, John Travolta and the Church of Scientology.
The man alleges the two actors beat him after the Pope sent him to Florida to prevent Pitt from becoming a Scientologist.
According to federal court documents filed by Jonathan Jolie, he alleges that on June 1, he was assaulted by Pitt and Travolta at the Church of Scientology in Clearwater, Fla. Jonathan claims the two actors beat him, hog-tied him and dumped him in the Gulf of Mexico, where he was bitten by a fish.
The man claims to live in the Vatican City and says he was sent directly by Pope Benedict XVI to spy on and prevent Pitt from joining the religion founded by science fiction writer L. Ron Hubbard.
According to the court documents, the man, who notes that he is "albino by birth," said he must stop Pitt from joining the Scientologists in Clearwater -- which he asserts is headed by Travolta -- because if Pitt becomes a Scientologist, "he will brainwash his Scientology beliefs on my cousin Angelina Jolie, which means the Jolie seeds will be infected and our bloodline ruined."
Jolie's alleged cousin makes other wild accusations in the documents, such as suggesting a secret affair occurred between Pitt and Travolta, which he says Pitt begged him not to tell Angelina about.
The outrageous allegations were laughed out of court and the restraining order wasn't granted. RadarOnline reports the case was officially closed earlier this week.
Celebrities are prime targets for the apparent delusions of the world's most imaginative people, and we haven't heard anything quite this crazy since a man filed a lawsuit accusing Lindsay Lohan of being a high-end hooker, and alleged she was responsible for him being "stuck in Colorado with no money or set income and a bank account closed."
Bizarre Allegations Made Against Celebrities
Yes, Britney Spears had a breakdown in 2008. But despite the standoff with police at her Beverly Hills home (and the head-shaving incident), allegations in 2010 made by her former body guard seem unbelievable. Fernando Flores filed a sexual harassment lawsuit against the singer, alleging intentionally inflicted emotional distress. The lawsuit claimed that Spears exposed herself to Flores and summoned him to her bedroom while she was naked. He also claimed that Britney had once borrowed his belt to discipline her children. Social workers who investigated the validity of the claim, found there was "absolutely no truth to the accusations." Despite those findings, in September 2011 Flores filed even more bizarre accusations -- one alleging that Britney denied her sons medical treatment after feeding them crabmeat and ignoring their life-threatening seafood allergies.

Although the results of the paternity test aren't in yet, we're 99.9 % sure that Justin Bieber is not the father of Mariah Yeater's baby. Is it crazy to think that Justin Bieber would hook up with a fan back stage? Not really, when you remember stories of sexcapes from other former teen heartthrobs, but 20-year-old Yeater's account of how she was plucked from the crowd at one of Bieber's concerts and taken backstage reads like fan fiction. Yeater alleged in the lawsuit that once backstage she and Bieber moved to a bathroom so they could be alone and his "personality drastically changed." According to Yeater's lawsuit, Bieber, "Began touching me and repeatedly said he wanted to f**k the sh*t out of you. At the time I asked him to put a condom on for protection, but he insisted that he did not want to ... Justin Bieber then quickly took off my clothes and we had sex. He was on top of me and with my legs around him." The alleged encounter only lasted 30 seconds and at that time it was clear to Yeater that Bieber was embarrassed and did not want to exchange phone numbers.

In February 2011, Valerie Joyce Wilson Turks, accused P. Diddy, the mother of his children, Kim Porter, and Rodney King of being responsible for the September 11, 2001 attacks on the World Trade Center. In the lawsuit Turk claimed: "[Diddy] went through Kim Porter and Rodney King and knocked down the WTC and then they all came and knocked my children down... He date raped me 24 years ago and knocked me down him and Kim Porter and Wallace Wright, then Sean Combs and Kim and Wallace Wright came back 18 years later and raped and sexually abused my children and knocked my children down and crushed me and my children daily." Turks' lawsuit included numerous other claims and requested that the court award her one trillion dollars!

In November 2009, Courtney Love made a bizarre rant on her Facebook page, accusing Britney Spears' father Jamie of molesting his daughter. On Facebook, Courtney wrote the following incoherent message: "britneys dad molested her , imagine the father that molested you owning you for slavery while your forced to sing songs picked for thier sexual content every night, insane right? i have it on First had authority, and fight as hard as she is and does she still didnt pull that card, its a pride thing i can relate to, However they want to play dirty, lets go, Im SO not affraid of the little trolls who hit this when i was f***** up who are called lawyers. lets GO."

Angelina Jolie's former assistant alleges the actress is still fascinated by blood. The former employee makes the crazy claim that Jolie saves her kid's discarded bandages in a jar. The source also tries to make the claim that Jolie works out for hours in her basement seem strange. We can't say we're surprised that after giving birth to three of her own kids, Jolie works out to keep her A-list body red carpet ready.

Reality tv dating contestant Tila Tequila accused Lady Gaga of being part of a world-wide conspiracy known as the Illuminati. In a blog post that she has since removed, Tila wrote about Gaga and other A-listers: "RARELY ANY CELEB WILL SPEAK OF IT BECAUSE THEY ARE EITHER APART OF IT, OR THEY JUST DON'T WANT TO GET IN TROUBLE OR WORSE, GET KILLED LIKE ALL THE REST OF OUR GREATEST LEADERS IN THE PAST WHO SPOKE OUT ABOUT "THE OTHERS" AND DIED FOR IT!"

Actress Jennifer Hudson was also accused of being a member of the Illuminati. She was quick to quash those ridiculous rumors. "I'm so glad someone brought this Illuminati mess up because only a child of God would address it," she said during a Ustream session. "That is the most ignorant thing I have ever heard in my life. And it's offensive because basically what? The people that are here today don't deserve to be where they are? What, we didn't work for it? So I find -- and I hate to go there -- but I find it's those that can't make it that would probably join Illuminati, or whoever that is, to get somewhere," she told her fans.