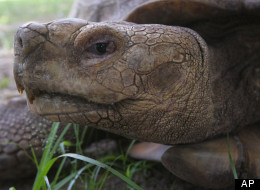 A Lombard, Ill. couple is hoping the public may be able to help them locate their pet, 45-pound tortoise who has been missing since Sunday evening.
Andy and Susan Lechner's 44-year-old African spurred tortoise, named Lance, has wandered away from home before, but has always returned in the past, the Chicago Tribune reports. This time, their pet has not been seen since around 8 p.m. Saturday.
"Our main concern is that he was probably picked up by somebody," Andy Lechner told NBC Chicago.
The Lechners have posted posters throughout their community but have not been alerted to his whereabouts.
The Lechners had gotten Lance through a friend who works at a pet shop seven years ago. The tortoise's previous owner had dropped Lance off when he could no longer take care of the pet, the Daily Herald reports. Tortoises like Lance typically live up to 100 years.
(Click here to view photos of Lance.)
Anyone with information about Lance is urged to contact Lombard police or animal control.