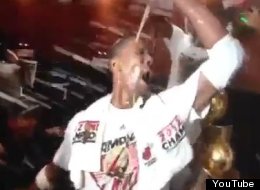 What a difference a year makes.
In 2011, Heat star Chris Bosh broke down and collapsed before making it to the locker room after the Dallas Mavericks won the NBA championship in Miami. In 2012, Chris Bosh got the champagne celebration started by pouring a bottle all over himself after the Heat finished off the Thunder in five games to clinch the championship.
Bosh capped his eventful postseason with 24 points, seven rebounds and two blocks in Game 5.
"We suffered through a lot together, but we love this city and we came here to win a championship," said Bosh, who averaged 14.6 points and 9.4 rebounds in the Finals. "We came here to win a championship and we got it done."
The 28-year-old can now celebrate with his wife Adrienne and new baby boy named Jackson, who was born during the Heat's first round series against the Knicks. Bosh flew back and forth between New York City and Miami to be there for the birth and play in Game 3.
Bosh's postseason took a bad turn in the second round against the Pacers when he suffered a strained abdominal muscle in Game 1. He didn't return until Game 5 of the Eastern Conference Finals against the Celtics. Coming off the bench in Game 7, Bosh nailed three 3-pointers and finished with 19 points to help Miami reach the NBA Finals.