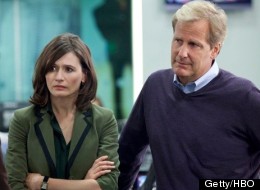 Is "The Newsroom" really as bad as everyone on your Twitter feed says?
Aaron Sorkin's latest may or may not be his best, but TV critics haven't unanimously bashed a series like this since ABC's ill-fated cross-dressing comedy "Work It."
"It's so naive it's cynical," wrote Emily Nussbaum of The New Yorker, while The Atlantic's Richard Lawson argued that Sorkin's "ideas are starting to feel a little crusty. He was never a revolutionary, but he didn't used to feel like such old news."
Even HuffPost TV's own Maureen Ryan called Sorkin's return to television "a dramatically inert, infuriating mess."
Meanwhile, movies aren't fairing much better, with Pixar's "Brave," Woody Allen's "To Rome With Love," the star-studded "Seeking a Friend for the End of the World" and Tim Burton's "Abraham Lincoln: Vampire Hunter" all racking up less-than-stellar reviews.
Is "Brave" Pixar's worst movie? Is "To Rome With Love" Woody Allen's worst movie? Is "Abraham Lincoln: Vampire Hunter" ridiculously serious? Is Keira Knightley the worst Manic Pixie Dream Girl in cinema history? For critics, the questions are endless, and frankly, no one should spend the weekend searching for answers.
But can these harsh critiques all be right? Or is the current East Coast heat wave to blame for these blood-boiling comments? Regardless, we think everyone could benefit from a few minutes in Child's Pose. Let us know what you think of this week's critical roundup below.
Critics often make bold statements, but saying that a film is the "worst movie of its generation" is pretty hyperbolic. Bruce Handy really didn't like "Seeking a Friend for the End of the World," and he really didn't appreciate your vinyl collection, Keira Knightley. ..."Seeking a Friend for the End of the World" is the worst movie of its generation, or at least of this year, and you should also know I saw John Carter, so I'm officially certified to pass that judgment. I loathed Seeking a Friend for the End of the World unreservedly, passionately, and I'm the sort of filmgoer who can usually find worth in even the dreariest time-waster...

As "Brave" hits theaters this weekend, Pixar execs are undoubtedly holding their breath and hoping hat audiences like the adventure flick more than Keith Ulrich of Time Out. Would that there were more beyond the coif, but Merida is merely a dull amalgam of modern Mouse House idiosyncrasies: plucky, rebellious and action-figure ready thanks to her ever-present bow and arrows ... This isn't the NASCAR-fellating cash grab that is the Cars franchise, but it's still Pixar on preachy autopilot.

After the success of last year's "Midnight in Paris," critics had high expectations for "To Rome With Love." Unfortunately, many of them were disappointed, so says The Wall Street Journal's Joe Morgenstern. What's on screen is a collection of clichés intermingled with outlandish farce or surreal fantasy... The farce elements excel only in ineptitude.

The critics have weighed in on Aaron Sorkin's new HBO drama, "The Newsroom," and the consensus is ... well, it's not great. Here's just a sample of the critical thrashing it's receiving: "It's so naive it's cynical." -- Emily Nussbaum, The New Yorker "Either Sorkin is no longer able to write credible women characters, or he no longer wants to." -- James Poniewozik, TIME "But at its worst, the show chokes on its own sanctimony." -- Alessandra Stanley, New York Times

Through her mother's vice presidential campaign, a teenage pregnancy, and now a reality show, Bristol Palin has managed to turn what was initially meant to be 15 minutes of fame into 4 years. After watching her reality show "Life's A Tripp," however, critics and recappers alike -- including Darren Franich from Entertainment Weekly -- unanimously agree that Bristol's 15 minutes are up. ... The season premiere of "Life's a Tripp" saw Bristol Palin trying to go full Kardashian, to pitch herself as a character who is simultaneously approachable and decadent. She failed, quite visibly. Besides Mother and Daughter Palin, almost no one seemed to want to be on screen.

When it comes to re-imagining the 16th President of the United States as a vampire hunter, The Associated Press' Christy Lemire wishes that the filmmaker would have stuck to the history books. Unfortunately, critics just weren't biting for this one. Unfortunately, director Timur Bekmambetov and writer Seth Grahame-Smith, adapting his own best-selling novel, take this concept entirely too seriously. What ideally might have been playful and knowing is instead uptight and dreary, with a visual scheme that's so fake and cartoony, it depletes the film of any sense of danger.

Justin Bieber's highly anticipated album, Believe, isn't bringing sexy back, but it is spreading Bieber-mania beyond the likes of tween Beliebers and Radio Disney listeners. Yet, despite Bieber's best efforts to make an eclectic album that has a little something for everyone, critics seem divided on Believe. Rolling Stone's Jon Dolan is not a Belieber. Bieber doesn't have the soulful vocal snaps of a Justin Timberlake or the shock-and-awe charisma of a Britney Spears. His gently sparkling persona can get overwhelmed by all the sonic gear-switching, technological tomfoolery and sweaty come-ons; it can all feel a bit rushed.