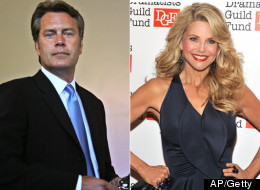 Is it really over?
After a highly publicized custody battle, Christie Brinkley and ex-husband Peter Cook reached an out-of-court settlement over the weekend, the New York Post reported Monday.
The couple, whose custody dispute landed back in the spotlight in March, settled a day before the they were set to go to trial, the paper reported.
Both parties were quick to issue statements about the settlement, with Cook's lawyer stating on behalf of his client, "The settlement we reached proves Ms. Brinkley's claims were baseless and that a hearing would have only proved to be a further embarrassment for her."
Meanwhile, 58-year-old Brinkley took to her Facebook to address the end of the legal ordeal with Cook, which she called "an odyssey of frustration": "I finally won the right to establish boundaries with provisions such as an intermediary to deal with email bullying, verbal and emotional abuse," she wrote.
Though the couple finalized their divorce four years ago, Cook appeared on a number of television shows in early March to counter Brinkley's claims that he owed her child support and had sent her "inflammatory" emails. During a March 7 interview with "Nightline," the 53-year-old architect, who secretly married longterm girlfriend Suzanne Shaw in February, claimed that Brinkley was trying to "publicly castrate" him in order to drum up publicity for herself. Later that month, Brinkley teared up on "Today" show, where she claimed that she just wanted "peace" for her family.
Brinkley and Cook's aren't the only celebs to duke it out in court -- and in public. Click through the slides below to test your knowledge of some of the most notorious celebrity custody battles.
a) Chevy Chase b) Alec Baldwin c) Mel Gibson d) Charlie Sheen

Alec Baldwin's cut-throat custody battle with ex Kim Basinger over their daughter Ireland made headlines again in 2007, when a voicemail message in which the actor berated his daughter as a "rude little pig" was made public. The message reportedly led to the suspension of Baldwin's visitation rights. The actor, who said he was a victim of parental alienation, has regained custody rights and reportedly gotten a hold of his temper. "After the incident with the voicemail, he learned to restrain himself," Basinger's brother, Skip, told People in February 2010.

a) Melissa Etheridge b) Sheryl Crow c) Courtney Love d) Patti Smith

In April 2012, TMZ reported that Melissa Etheridge filed legal documents claiming that former domestic partner Tammy Lynn Michaels had accidentally burned one of the children with cigarette.The singer reportedly requested more time with the couple's five-year-old twins and claimed that Michaels was against joint custody. In May 2012, TMZ reported that the pair had agreed to joint custody.

a) Kobe Bryant b) Dennis Rodman c) Dwyane Wade d) Michael Jordan

In March 2011, a Chicago court awarded Dwyane Wade sole "care, custody and control" of his two sons, following a bitter custody battle with ex-wife Siohvaughn Wade. At the time of the ruling, the Miami Heat player told the Associated Press that "a huge weight is off my back." The NBA star added, "My life changed in a huge way. Mentally, I've been preparing for it for over a year now. To me, it's bigger than that. For me, it shows a lot of people that you need to fight to be in your kids' lives sometimes. You fight until you can't fight any more. That's all I was trying to be, a father in his kids' lives."

a) Al Pacino b) Robert De Niro c)Harvey Keitel d) James Gandolfini

Though never married, Harvey Keitel and Lorraine Bracco each sought full custody of daughter, Stella, after they split. During the custody battle, Keitel accused Bracco of cheating on him with actor Edward James Olmos -- who'd she go on to marry and divorce -- while she allegedly claimed that Keitel was abusive. In 1999, six years after the battle began, Bracco was awarded full custody, while Keitel was granted visitation rights.

a) Vanessa Williams b) Rebecca Romijn c) Teri Hatcher d) Halle Berry

Halle Berry and Gabriel Aubry split in April 2010 after nearly five years together, and have been embroiled in a custody battle over their daughter, Nahla, ever since. In January 2012, the couple's nanny made allegations that Aubry pushed her while she was holding Nahla, a claim which the Canadian model denied. After investigating the claim, the Los Angeles Department of Children & Family deemed Aubry a "loving and attentive father" in March 2012. In June, TMZ reported that a family law judge ordered Berry to pay Aubry $20,000 a month in child support. The actress, who is engaged to French actor Oliver Martinez, is currently fighting for permission to move to France with Nahla, out of concerns for their safety. (Berry's stalker, Richard Franco, is now out of jail, while Robert Hoskins, a man who reportedly threatened to slit Berry's throat, briefly managed to escape from a mental institution in February.)

a) Martin Scorsese b) Francis Ford Coppola c) Woody Allen d) Terrence Malick

In June 1993, Woody Allen was denied custody of the three children (one biological, two adopted) he shared with Mia Farrow. According to the LA Times, the acting judge called the director's petition for custody "frivolous," adding that Allen had "demonstrated no parenting skills that would qualify him as an adequate custodian" for the children. The judge also reportedly denounced the director for his romantic relationship with Farrow's adopted daughter, Soon-Yi Previn, whom Farrow adopted with her ex-husband André Previn. Allen and Soon-Yi married in 1997.

a) Debra Messing b) Anne Heche c) Kristin Davis d) Calista Flockhart

In May 2007, Anne Heche's ex, Coley Laffoon, claimed in court documents that the actress illustrated "bizarre and delusional behavior" and was psychologically unfit to care for their toddler son, Homer. Meanwhile, Heche accused Laffon of leaving the toddler with nannies and baby sitters while he "plays ping-pong, backgammon and poker and views pornography online." A judge awarded Heche and Laffoon joint custody of Homer in June 2007.

a) Britney Spears b) Brandy c) Christina Aguilera d) Pink

In October 2007, a judge ordered Britney Spears to relinquish physical custody of her two sons, Sean Preston and Jayden James, citing the pop star's drug and alcohol use. The judge granted Spears' ex, Kevin Federline, custody of the kids. Though she fought to regain custody, Spears agreed to give him sole legal and physical custody in July 2008 and settled for continued visitation rights of the boys. Since then, the couple have reportedly moved closer to shared custody.

a) Heidi Klum b) Giada De Laurentiis c) Padma Lakshmi d) Tyra Banks

Though Padma Lakshmi dated Michael Dell from November 2006 until September 2009, she hesitated to publicly acknowledge him as the father of her baby. Dell, a venture capitalist, filed for full custody of the girl, Krishna, in January 2011, claiming that Lakshmi had tried to "minimize, if not eliminate [his] role in Krishna's life." In March 2012, the couple resolved their custody battle with a resolution that granted Dell expanded visitation rights and legal recognition of his paternity of Krishna, who now carries both Lakshmi's and Dell's last names.