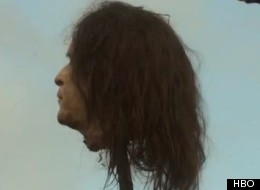 HBO is determined to put the "Game Of Thrones" George W. Bush severed head controversy behind it. The network announced Monday that they had altered the scene in which a mold of the former president's head appeared on a pike.
"Game Of Thrones" creators David Benioff and D.B. Weiss revealed in the Season 1 DVD commentary that, "George Bush's head appears in a couple of beheading scenes. It's not a choice. It's not a political statement. It's just we had to use whatever heads we had around."
HBO quickly apologized for the creators' statements saying, "We were deeply dismayed to see this and find it unacceptable, disrespectful and in very bad taste ... We are sorry this happened and will have it removed from any future DVD production."
After removing the episode from HBO GO, iTunes, and stopping all shipments of the first season DVD, HBO took further action Monday. The network shifted the severed head so that it bears no resemblance to the former president, and mostly focuses on a mangy head of hair.
To see the new image, click over to The Washington Post.
For a look at what Bush's head looked like before it was altered, check out the video below.