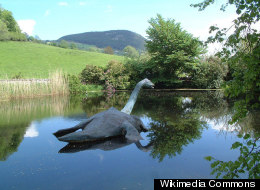 Some students at private schools in Louisiana are being taught that Scotland's fabled Loch Ness monster is real, a claim that is then held as evidence disproving Charles Darwin's theory of evolution, the Scotsman reports.
Thousands of students across the state are eligible to receive publicly funded vouchers to allow them to attend private Christian schools where textbooks published by Accelerated Christian Education (ACE) claim the monster was actually a dinosaur that existed at the same time as man, an assertion which conflicts with the theory of evolution.
The Times Educational Supplement, a British publication for teachers, published an article in 2009 that included an excerpt from Accelerated Christian Education's Biology 1099 textbook, which was published in 1995:
Are dinosaurs alive today? Scientists are becoming more convinced of their existence.
Have you heard of the `Loch Ness Monster' in Scotland? `Nessie,' for short has been recorded on sonar from a small submarine, described by eyewitnesses, and photographed by others. Nessie appears to be a plesiosaur.

Could a fish have developed into a dinosaur? As astonishing as it may seem, many evolutionists theorize that fish evolved into amphibians and amphibians into reptiles. This gradual change from fish to reptiles has no scientific basis. No transitional fossils have been or ever will be discovered because God created each type of fish, amphibian, and reptile as separate, unique animals. Any similarities that exist among them are due to the fact that one Master Craftsmen fashioned them all."
Loch Ness monster tour guide Tony Drummond, 47, told the Scottish Sun the curriculum is "ridiculous propaganda."
And Bruce Wilson, a researcher specializing in the American political religious right, told the Scotsman that one of the texts also claims "dinosaurs were fire-breathing dragons."
"It has little to do with science as we currently understand. It's more like medieval scholasticism," Wilson told the paper.
According to Scotland's the Herald, one of the textbooks also provides a somewhat controversial look at the Ku Klux Klan.
"The [Ku Klux] Klan in some areas of the country tried to be a means of reform, fighting the decline in morality and using the symbol of the cross ... In some communities it achieved a certain respectability as it worked with politicians," the textbook reads, according to the Herald.
Also on HuffPost:
Other controversial school-related documents from around the country:
Controversial school-related documents from around the country
In January 2012, parents of students at Beaver Ridge Elementary School in Norcross, Ga. expressed outrage over the school district's response to reports of using examples of slavery in math word problems. The word problems in questions include references to slavery and "beatings."

In March 2012, students at another Georgia school were given a math problem that referenced slavery, upsetting students and parents. Nearly 140 fourth grade students at James A. Jackson Elementary School contained an extra-credit question that read, "A plantation owner had 100 slaves. If three-fifths of them are counted for representation, how many slaves will be counted?"

In February 2012, Roosevelt High School in Des Moines, Iowa received criticism for a class assignment on the Cold War. Based on a worksheet handed out in a social studies class, many questioned whether the lesson promoted communism over capitalism, calling it "communist indoctrination."

A Washington, D.C. teacher was fired from Center City Public School's Trinidad campus in March 2012 for sending home violent, morbid and traumatizing math problems to third graders. Questions included story lines about baking humans in ovens and a child waking up screaming after thousands of fire ants made a nest in a human brain.

A teacher was suspended and handed disciplinary action in March 2012 for a question she wrote on a vocabulary quiz that some argued was racist. When district officials reviewed the test in context, however, the charges against her were rescinded.

Sawgrass Elementary School in Sunrise, Fla. made the news in April 2012 when a second grade student was included in a class photo despite not having turned in a parental consent form. Instead of retaking the photo, the photographer resolved to paste a brown-colored smiley face over the boy's face.

A letter sent home with students at Western Union Elementary School in North Carolina didn't sit well with parents in March 2012. The note asked students to wear "African American attire" or animal print for a Black History Month event, calling into question educators' choice of words and cultural sensitivity.

In April 2012, flyers with an image of Atlanta Public Schools Superintendent Erroll Davis in a Ku Klux Klan robe sparked controversy in the community. The bill was in response to a contentious school redistricting plan that would have closed several schools in a number of Atlanta's black neighborhoods.