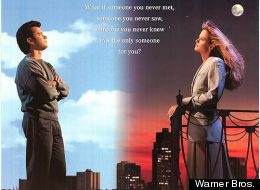 Nora Ephron was one of the most successful female filmmakers of all time. All told, her directorial efforts -- eight films, starting with "This Is My Life" in 1992 and continuing through "Julie & Julia" in 2009 -- earned over $510 million in domestic ticket sales. Ephron, who died on June 26 at the age of 71 after a battle with leukemia, was also the screenwriter behind the romcom hit "When Harry Met Sally."
Suffice it to say, she left an indelible mark on Hollywood -- both as an influence and a businesswoman.
Below, remember Ephron's largely successful career. Add your own remembrances of her and what she meant to the industry as a whole in the comments section below.
Ephron's directorial debut focused on the relationship between a stand-up comic (Julie Kavner) and her two daughters. Ephron co-wrote the script with her sister, Deila. The film was based on the memoir by Meg Wolitzer. "This is My Life" earned just $2.9 million at the box office, despite being sold as "from the writer of 'When Harry Met Sally.'"

Ephron made a huge splash with her second film, "Sleepless in Seattle." The blockbuster romcom earned $126 million in the U.S. and $227 million around the globe.

Ephron brought together an all-star cast -- Steve Martin, Madeline Kahn, Rob Reiner, Rita Wilson, Juliette Lewis, Parker Posey, Jon Stewart, Adam Sandler -- for this Christmas-set dramedy. Unfortunately, "Mixed Nuts" only grossed $6.8 million in the U.S.

Ephron's up and down career hit an upswing with "Michael." The comedy, about an angel (John Travolta) on Earth, grossed $95 million. It was the 16th highest grossing movie released in 1996.

From one hit to another. Ephron's "You've Got Mail" -- a favorite romcom for many people, including Mindy Kaling -- reunited Meg Ryan and Tom Hanks from "Sleepless in Seattle" and almost reached that film's financial heights. The film grossed $115 million, making it the second biggest film of Ephron's career.

While "You've Got Mail" proved to be a lucrative reunion for Ephron, "Lucky Numbers" -- which brought her back together with "Michael" star John Travolta -- was not. It earned only $10 million at the box office. Coincidentally or not, it was the first film Ephron directed without writing.

Despite being somewhat reviled, "Bewitched" -- an update of the popular television series -- earned $63 million at the box office.

Ephron's final film was another in a string of summer hits for star Meryl Streep. While it didn't gross as much as "The Devil Wears Prada" or "Mamma Mia," "Julie & Julia" did earn $94 million in the U.S. and over $129 million worldwide.