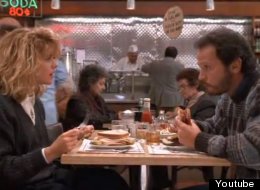 Nora Ephron, known for classic films like "Sleepless In Seattle" and "When Harry Met Sally", spent most of her prolific career writing and shooting love letters to New York City, and created new meaning out of the city's most iconic settings. Ephron died Tuesday due to complications from the blood disorder myelodysplasia.
Ephron was born in NYC and moved to California when she was five. She moved back to New York in 1962, and in an essay for New York Magazine chronicled her initial experience.
"I'd known since I was 5, when my parents forced me to move to California, that I was going to live in New York eventually and that everything in between was just a horrible intermission. I'd spent those sixteen years imagining what New York was going to be like. I thought it was going to be the most exciting, magical, fraught-with-possibility place that you could ever live in; a place where if you really wanted something, you might be able to get it; a place where I'd be surrounded by people I was dying to be with. And I turned out to be right."
Below are some of Ephron's more memorable New York spots, from the Empire State Building at the end of "Sleepless" to her very first apartment on Sullivan Street. Ephron spent her last years with her husband Nicholas Pileggi in their Upper East Side apartment.
You've Got Mail was truly a location scout's dream. Ephron, who co-wrote and directed the film, set the story on the Upper West Side of Manhattan and included shots of such notable spots such as Gray's Papaya, Zabar's, Barney Greengrass, Cafe Lalo and tons more. Go here to see screenshots of all the NYC locations.

The final scene of "Sleepless In Seattle" gave the top of the Empire State a new romantic flair.

Ephron describes her apartment in the New York Times: The apartment has a view of the Chrysler Building. As a result, we have a lot of Chrysler Building stuff. I have a cookie jar I bought on the Internet and a wonderful Saul Steinberg of the Chrysler Building that I did not buy on the Internet. Recurring bad dream: I have the same recurring dream that everyone in New York City has: that I have bed bugs. (TIMOTHY A. CLARY/AFP/Getty Images)

You no doubt already know this classic scene from Ephron's friends-with-benefits love story "When Harry Met Sally." The scene was set at the legendary Katz' Delicatessen on the Lower East Side. Katz opened in 1888 and still hawks its enormous pastrami sandwiches to this day.

"I'd found an apartment with a college friend at 110 Sullivan Street, a horrible brand-new white-brick building between Spring and Prince. The rent was $160 a month, with the first two months free. The real estate broker assured us that the South Village was a coming neighborhood, on the the verge of being red-hot. This turned out not to be true for at least twenty years, by whicih time the area was called SoHo, and I was long gone." -- From "I Remember Nothing"

This cute little store on 143 E. 62nd St sells, you guessed it, buttons. This adorable shop was used for the film 'Juile and Julia'. Some great pics here.

"Whenever you give up an apartment in New York and move to another city, New York turns into the worst version of itself. Someone I know once wisely said that the expression "It's a nice place to visit, but I wouldn't want to live there" is completely wrong where New York is concerned; the opposite is true. New York is a very livable city. But when you move away and become a vistor, the city seems to turn against you. It's much more expensive (because you need to eat all your meals out and pay for a place to sleep) and much more unfriendly. Things change in New York; things change all the time. You don't mind this when you live here; when you live here, it's part of the caffeinated romance to this city that never sleeps. But when you move away, your experience change as a betrayal. You walk up Third Avenue planning to buy a brownie at a bakery you've always been loyal to, and the bakery's gone. Your dry cleaner move to Florida; your dentist retires; the lady who made the pies on West Fourth Street vanishes; the maitre d' at P.J. Clarke's quits, and you realize you're going to have to start from scratch tipping your way into the heart of the cold, chic young woman now at the down. You've turned your back from only a moment, and suddenly everything's different. You were an insider, a native, a subway traveler, a purveyor of inside tips into the good stuff, and now you're just another frequent flyer, stuck in a taxi on Grand Central Parkway as you wing in and out of La Guardia. Meanwhile, you rad that Manhattan rents are going up, they're climbing higher, they're reached the stratosphere. It seems that the moment you left town, they put a wall around the place, and you will never manage to vault over it and get back into the city again."