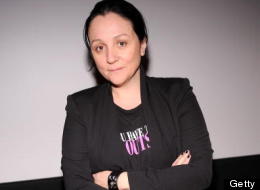 When Kelly Cutrone first came to visit me on Mondays with Marlo, New York Fashion Week was right around the corner and she sent me an amazing list of her fashion dos and don'ts to live by. Now that summer is here, she's offered up a whole new list of great tips and tricks to amp up your personal style. From slimming swimwear to haircare and how to find the perfect shades, Kelly's advice is sure to keep you looking your best this summer! --MT, MarloThomas.com
Click here to purchase Kelly's books, Normal Gets You Nowhere and If You Have To Cry Go Outside.
Kelly Cutrone's Summer Fashion Advice
Do wear all of the wonderful 1920's and 1930's clothes that are out now. This trending style is a nod to Gatsby and Fitzgerald. Think sleek and silky in bias cut gowns, bejeweled multi chain necklaces and headbands, wide leg trousers and drop waist dresses.

Do take the straw hat to the next level! Something like this feather fedora is a summer staple that you can rock all over the world, from Cuba to Chicago, it's a go, babe!

Do not wear neon. Not this season, not next, not ever. Accessories are the only exception to this rule.

I think cucumbers on your eyes at the beach are the best eyewear, that way you don't have to look at the people that aren't dressed appropriately.

Do order amazing beach towels from the Beverly Hills Hotel. They scream California in the most tasteful manner.

Let Mother Nature have her way with you. Let those curls coil, babe, and rock the boho-chic island look! Flickr User: IrfaanPhotography

Do not spend money on a lot of different shades. Instead, find one pair that can do everything! I think it's really important that you invest in a good pair of sunglasses that you can wear everyday. So make sure you find something to translate seasonally (Think about it like this: if you spend $300 on a pair of shades, its really only like spending $25 a month for something you can wear all year).

Don't spend over $15 on flip flops. EVER.

Love handles are not lovely at the beach. Do not muffin top over the front, sides or back of your bikini--sometimes bikinis can be meanies. Note: if it takes you longer than a minute to get into your swimsuit chances are it's too small. But never fear, there are some really amazing body contouring swimwear lines on the market today.

Before heading to the beach, do apply hair sunscreen and braid your hair loosely. After your day in the sun, unbraid the sections and you will have loose waves, that'll look great for a night out! Flickr User: ...love Maegan

Do ride a bicycle whenever you can - it's good for the environment, great cardio and shows that you are a sexy, independent woman.

If you're short and want to look taller, dress monochromatically in a full white look, for example, or a full cream look with two bracelets on each arm. Not only does the color make you look long and lean, but the bracelets will catch the eye and draw attention to the middle of your body.

Do buy a drawer full of bandeaus. These are wonderful alternatives to the bra. They can bring a wonderful pattern to any look and are fantastic as a peek-a-boo with an oversized white cotton button down boyfriend shirt. Do not show old bra straps sticking out of tank tops, etc.

Summer is all about the sunscreen. Don't forget that your hair and scalp need to be protected from the rays. Look for a scalp treatment that also has SPF 15 in it.

Do swim with costume jewelry on! Come up out of the majestic waters wearing something like this gorgeous on your hand.

Do not dye your hair purple, blue, rocker red or green, for that matter. Smurfs and troll dolls are not the look for fashion. If you are not selling records, let me set the record straight, color on your head is a big don't!

Do celebrate your curves with a vintage inspired bikini. Can you say "Hello, Annette Funicello!?"

Do celebrate value and casual elegance by stocking up on espadrilles; a classic that never goes out of style, but is trending at the top this season. These espadrilles are a no brainer at $28.00 a pair - more than one is always fun!!!

Do not carry a backpack anywhere if you are over the age of 12! Instead, grab an amazing bag for the farmer's market and roadside stands. I love the Feed Bags. Every time you purchase a Feed Bag you help the United Nations World Food Program (WFP) generate funds to feed poor children around the world. Whatever you do, do not use plastic bags - they are ugly and bad for Mother Earth.

When your belly is becoming the enemy, the bulge is not your friend and neither were those margarita, bellies can disappear with the right suit. Try waist cinching, which is super on trend right now, or camisole-style tops that graze your behind.

Wear all black avoid the sun; you'll look avant-garde and live longer!!

For women with a fuller figure you should do anything you can do to define your waist. Fabric should gather just below your bust and expand from there, which creates proportion and gives you a slimmer look.

I think vintage sunglasses really rule. And right now is a great time of year to check out estate sales and garage sales and find vintage shades. Once you buy the frames you can take them to your local optician and have them put in tinted lenses for you.

For women with more on top who don't want to share their bust with the whole world, try a one-piece with a V-shaped neckline.
Add Marlo On Facebook:
Follow Marlo on Twitter:

Weekly Newsletter

Sign up to receive my email newsletter each week - It will keep you up-to-date on upcoming articles, Mondays with Marlo guests, videos, and more!

Sign up here