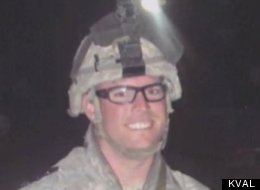 Sergeant Sean Fennerty's family received quite a shock when they discovered someone was using the fallen soldier's photo in a plea for money.
An image of Fennerty -- who was incorrectly identified on Craigslist as a soldier named Chris -- was posted on the Pensacola, Florida Craigslist page with a link to a donation website and a call for readers to share the ad on social media channels, KVAL reports. The Craigslist ad claimed the soldier was hospitalized after losing both legs and needed assistance with medical bills.
"As soon as I saw it, it got my attention, kind of raised the temperature a little bit," said Fennerty's father Brian, a doctor at Oregon Health and Science University in Portland.
"You know, I was mad," Dr. Fennerty said. "My wife and I and our family's goal was to have him remembered for what he did, and you know, this kind of sullies it."
The Oregon resident was killed in Iraq in 2007 and buried in Portland. Though this is the first instance Oregon's military department says it's heard of a scam using photos of fallen soldiers, it is not the first internet time a member of the military has been impersonated online.
HuffPost's Loren Berlin reported on Denise Tarramorse, a teacher who sent $1,700 to a man she believed to be an American soldier, in November:
Tarramorse is one of the thousands of women who fall victim each year to fraudsters posing as U.S. servicemembers. "A couple of years ago we were getting hundreds of calls a year about this scam," says Christopher Grey, chief of public affairs for the Army Criminal Investigation Command. "Now we get thousands. If we're getting calls from thousands of women, we know there are many more out there who aren't reporting it."

According to Grey, Tarramorse's experience is a textbook example of the scam. "This typically happens on an Internet dating website. The perpetrator takes the identity of U.S. soldiers and Marines, mainly, meets multiple women online and after a couple of weeks starts asking them for money. He professes love at hyper speed and continues to rob them."

Stealing a servicemember's identity can be surprisingly easy, laments Grey. The fraudster pulls the servicemember's photos from Facebook or press releases or local news stories, and builds an identity from there. Sometimes he uses a real servicemember's name and rank. Other times, he creates a new name.
Watch the video from KVAL below:
To read The Huffington Post's 10-part Pulitzer Prize-winning 'Beyond the Battlefield' series, click here.
Tyler Southern lost both of his legs and his right arm because of an improvised explosive device in Afghanistan. This video shows how he fell in love, made his father proud and is putting his body and life back together. Read the full article, the first in a 10-part series on the Huffington Post on severely injured soldiers, here.

Navy corpsman James Stoddard is a combat medic. The first significant case he faced was Tyler Southern, who had three limbs blown off by an improvised explosive device in Afghanistan. He was able to save Southern from bleeding to death by the rapid application of tourniquets, a technique that the military has emphasized. Stoddard is profiled in the second article in the ten-part series "Beyond The Battlefield."

"The thing that got me was the amount of times I told the military to please, please help me come up with a way to help him with his addiction and wean him off of the pills. I thought he needed inpatient drug addiction therapy. He needed help and I didn't feel like anyone would listen to me.'' Karie Kinsey Karie's husband, Jimmy Cleveland Kinsey was seriously injured in April 2006 when he drove over a land mine in Ramadi, Iraq. As he recovered, Kinsey struggled with chronic pain, depression, drug addiction, and the anguish of losing buddies in battle. Eventually he lost, dying sick and alone, face down on the floor of a Houston hotel room. Karie Kinsey tried to help, but she feels she didn't get enough support from the Military. Here are some photos of the Kinseys. Read the article about the Kinseys and the struggle many wounded soldiers have with depression and addiction.

Last January, on a dusty parade ground in Mosul, Iraq, Army Sgt. Robert Fierro was shot in the head. An Iraqi soldier, part of a battalion being trained by American troops, had broken ranks and opened fire. As Fierro and others scrambled, a bullet struck him just beneath his helmet, crushing the right side of his skull. The tall, muscular 33-year-old collapsed to the ground, limp and almost lifeless. Read the rest of the story about how his wife and young sons dealt with this tragic turn here.

Read the full article here.

Read the full story here.

Read the full story here.

Read the full story here.

Read the full story here.