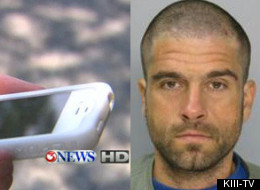 Your iPhone was just stolen and you want to get it back? There's an app for that.
When Jeri Fletcher of Corpus Christi, Texas, saw a thief take off after snatching her iPhone out of her car, she yelled to her boyfriend, Josh Newton, who quickly gave chase on his bike. Though he later came back empty-handed, he had a better idea to pursue the culprit - track him via the app, Track my iPhone, reports KRISTV.com.
When the police showed up, they borrowed Josh's phone, and caught the burglar, 34-year-old Vincent George Williams.
"They said he was violent, he was ready to fight and they said I was very lucky I did not come face to face with him downstairs," Fletcher told KRISTV.com.
"Technology paid off," Newton told KIII-TV. "It helped to arrest a criminal and we retrieved our property."
Even without the app, there are other ways to track a missing or stolen iPhone, such as the Find my iPhone feature. Of course, you have to set that up before your phone gets stolen.
Check out the slideshow (below) to see some helpful tips on what to do if you've lost your phone -- and before you lose it.
What To Do If You've Lost Your Phone
PCMag recommends using another phone to text your lost phone with a message offering a reward for the device, and you can always try calling it as well. If you don't have a phone handy, you can use a service like Skype, Google Voice or fonefindr.com to ping your phone. It can't hurt -- someone may have found your phone or maybe you'll find hear it ringing between the couch cushions.

After you've called or texted your phone, retraced your steps, and shed a few tears in frustration over losing your precious device, you'll want to call your cellphone carrier immediately and tell them your phone has been lost or stolen. Ask them to suspend service (i.e. disable messaging and calls) on the device, because thieves could rack up thousands of dollars in international calls or app purchases. AT&T will even let you do this from your account on the Web.

With all the messages, years of email, contacts, social networking accounts and other personal data stored on today's smartphones, we can't recommend password protecting your phone enough. Yes, it's a momentary frustration that requires you tap a few numbers every time you check your phone, but the extra security and peace of mind is worth the effort. While a thief could still wipe a password-protected device and there's always the possibility you just lost the phone for good, the alternative (going password-free) leaves not only your cellphone account but your bank, social networking, and e-mail accounts completely open. If your phone was stolen and you haven't locked it down, immediately change the passwords to your online accounts and alert any banks or services that you enabled on the phone.

Many remote security apps are now available for modern smartphones, and they offer everything from near real-time location tracking (often showing your phone's location on a map via a Web interface) and the ability to remote wipe your phone in case of theft to remote photo and data backup. There are many free options, and they take just a few minutes to install and set up. Your corporate BlackBerry can probably be wiped and tracked by your company's IT admins, and consumers can grab the free BlackBerry Protect from BlackBerry App World for remote tracking and wiping. iPhone users should download the free 'Find My iPhone' app Android users can grab the free Prey app. Similarly, other third party solutions like Mobile Defense, Lookout can help secure your device.

Take a note of your phone's ESN, IMEI or MEID number (often found behind the battery or on the back of the iPhone near the FCC ID). This number will come in handy when reporting a lost or stolen phone to the police or to your cellphone provider.

It sounds obvious, but regularly back up your device to your computer to ensure that you don't lose essentials documents, purchases, apps and photos that are stored only on your phone. Even if you're forced to wipe your cellphone or if it's lost for good, you can often restore a factory fresh replacement to the last backup you've got, complete with apps, settings and documents. Depending on how much you use your phone, we recommend backing up between once a month and once a week.