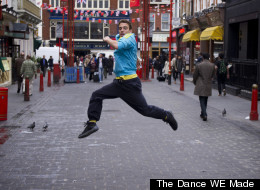 The travel blog over at The New York Times drew our attention to a project transforming the city of London into a dance studio as a lead-up to the Olympics. The project, 'The Dance We Made,' migrates to various London landmarks, inviting members of the public to choreograph with professional dancer Tim Casson.
Casson takes direction from a handful of people on the street -- who share stories, act out movements, and talk out visions for the dance with him -- and turns the input into solo pieces. The Times reports Casson's final compilation of all the segments "may be a record for number of choreographers involved in one dance."
Each day of dancing (there will be 20 in total) is filmed and uploaded to the project's website as it progresses. It's also possible to watch a live feed of Casson at work, as curious pedestrians look on. It's a creative project that not only draws attention to public space and how we inhabit it, but exemplifies the creative force in each and every one of us.
This week Casson will be dancing at Camden Market (June 27) and St. Pauls Cathedral (June 28). The project is part of Big Dance 2012, the UK's largest dance celebration, created as part of the Olympics-focused London 2012 Festival.
Peep the video below from day nine at Canary Wharf and head to Vimeo to see the rest.
WATCH:
The Dance WE Made - Day 9 - Canary Wharf : Cabot Square from The Dance WE Made on Vimeo.