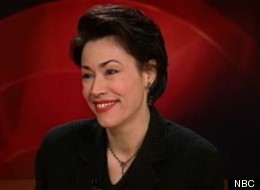 Ann Curry officially announced that Thursday, June 28 would be her final morning on "Today" in a hosting capacity after 15 years with the news program, most of which was spent as a newsreader.
As Curry's tears flowed during the Thursday morning announcement, her colleagues Matt Lauer, Al Roker and Natalie Morales remembered some of her finest moments at "Today," which only scratched the surface of her time on the show.
From climbing Mt. Kilimanjaro to interviewing the Dalai Lama to bungee jumping to cutting off her hair for Locks of Love, take a look through the slideshow to see the very best of Ann Curry on "Today."
Ann Curry's Best Today Moments
Ann Curry's first day as "Today" anchor opposite Matt Lauer in June 2011.

Ann joins "Today" in 1997.

Ann Curry sits down with the Dalai Lama.

Ann bungee jumps from Middlesbrough Transporter Bridge.

Ann helps reunite Japanese family post-tsunami

Ann gets a Locks of Love haircut.

Ann Curry takes on Newt Gingrich in "Today" interview.

Ann Curry and the "Today" team cover "Dynamite."

Ann climbs Mt. Kilimanjaro.

Ann Curry travels to Sudan.

Mahmoud Ahmadinejad says jailed hikers will be freed.