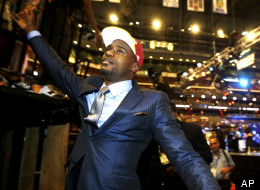 The mood amongst the in-house audience at the 2012 NBA Draft had already improved considerably when NBA Deputy Commissioner Adam Silver took over hosting duties from a particularly cantankerous David Stern to open the second round. Not long after, the crowd produced perhaps the most memorable moment of the night when Silver called on Bernard James, who was in the stands with his family.
The Florida State forward, who served three tours in the U.S. Air Force from 2003 to 2009, was selected by Cleveland (then traded to Dallas) with the 33rd overall pick. As the 27-year-old military veteran made his way to the stage, fans in attendance at the Prudential Center began chanting "U-S-A! U-S-A!"
WATCH VIDEO ABOVE
Before joining the Seminoles, James served six years in the Air Force, achieving the rank of Staff Sergeant and serving in places such as Iraq, Afghanistan and Qatar.
After rekindling his love for basketball while in the service, James would eventually help lead FSU to its first ACC Championship in school history after the Seminoles upset the Tar Heels in the conference tournament final. He averaged 10.5 points and 8.2 rebound per game in his second of only two years with Florida State. The United States Basketball Writers of America honored the 27-year-old by giving him The Most Courageous Award.
Click HERE for the first round results of the 2012 NBA Draft.