Felipe Barbosa's Firecracker Stuffed Animals Are Too Cute (PHOTOS)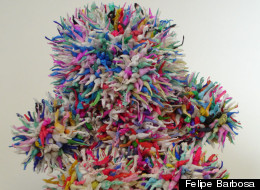 As we wait expectantly for the Fourth of July, we are given a taste of the fun to come with Felipe Barbosa's adorable stuffed animals made of firecrackers.
The little guys, ranging in species from a panda to to the ambiguous but utterly adorable "doll," are reminiscent of the long lost Chia pet. (If, of course, Chia pets were made of firecrackers.) Brazil-based Barbosa manages to use his material so unexpectedly we almost forget these furry creatures are a fire hazard. We desperately want one of the rainbow creatures for to call our own, although we can only imagine they wouldn't make the best cuddle buddies.
See a slideshow of the dangerous toys below:
Felipe Barbosa Girafe Firecracker stuffed animal 40x30x26cm 2005 Courtesy Cosmocopa arte contemporânea

Felipe Barbosa Panda Firecracker stuffed animal 33x20x26cm 2005 Courtesy Cosmocopa arte contemporânea

Felipe Barbosa Blue Horse Firecracker stuffed animal 40x33x26cm 2004 Courtesy Cosmocopa arte contemporânea

Felipe Barbosa Great Bear Firecracker stuffed animal 100x96x87cm 2008 Courtesy Cosmocopa arte contemporânea

Felipe Barbosa Horse Firecracker stuffed animal 40x33x26cm 2005 Courtesy Cosmocopa arte contemporânea

Felipe Barbosa Doll Firecracker stuffed animal 20x14x10cm 2005 Courtesy Cosmocopa arte contemporânea

Felipe Barbosa Colorful Panda Firecracker stuffed animal 36x30x29cm 2008 Courtesy Cosmocopa arte contemporânea

Felipe Barbosa Gorila Firecracker stuffed animal 33x44x25cm 2007 Courtesy Cosmocopa arte contemporânea

Felipe Barbosa Rabbit Firecracker stuffed animal 33x26x22cm 2008 Courtesy Cosmocopa arte contemporânea

Felipe Barbosa Frog Firecracker stuffed animal 50x67x43cm 2008 Courtesy Cosmocopa arte contemporânea

Felipe Barbosa Patolino Firecracker stuffed animal 33x23x27cm 2008 Courtesy Cosmocopa arte contemporânea

Felipe Barbosa Pink Bear Firecracker stuffed animal 30x21x16cm 2006 Courtesy Cosmocopa arte contemporânea

Felipe Barbosa Piu Piu Firecracker stuffed animal 23x17x26cm 2007 Courtesy Cosmocopa arte contemporânea

Felipe Barbosa Kentucky Bear Firecracker stuffed animal 106x96x98cm 2007 Courtesy Cosmocopa arte contemporânea

Felipe Barbosa Big Bear Firecracker stuffed animal 100x96x87cm 2008 Courtesy Cosmocopa arte contemporânea