Carl McCoid, Miley Cyrus Fan, Tattoos Cyrus On Body (PHOTOS)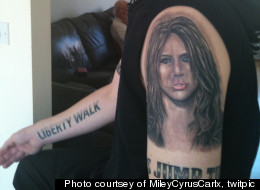 The cure for the breakup blues for one divorcé? Idolizing Miley Cyrus.

Carl McCoid, a 39-year-old man from the UK, spent nearly $800 to have Cyrus's likeness and lyrics tattooed all over his body, reports the Daily Mail
McCoid said that falling head over heels for the 19-year-old popstar helped him get over his divorce in 2009.
On Friday, McCoid showed off his 15 tattoos in the Daily Mail, including a portrait of Cyrus on his left arm and lyrics to her song "Can't Be Tamed" inked across the other.
Now that he's unveiled the tats, McCoid said he hopes the recently engaged singer -- who's a notable tattoo fan herself -- will want to meet him.
While McCoid's tattoo tribute may be a weird way to get over a split, it's not the most bizarre story we've ever heard. In January, British DJ Tony Alleyne told the Daily Mail that converting his one-bedroom apartment into a replica of a "Star Trek" spaceship served as valuable "therapy" after his wife divorced him. (Unfortunately for the Trekkie, his ex-wife owns the property and now wants to sell it.)
Click through the slideshow to see McCoid's Miley Cyrus tattoos: